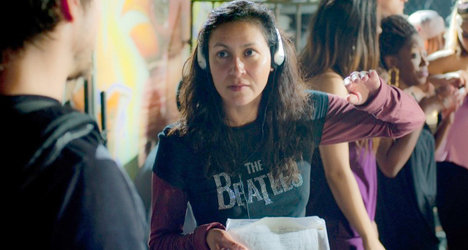 It's been a long road traveled for Chicago-born filmmaker Carmen Marron over the last 7½ years to get to the point in her career she is at right now. On May 13, Go For It!, Marron's very first feature film, will debut in movie theaters across the country.
"I've probably encountered every single challenge there is to making an independent film," Marron told me during an interview about her hip-hop dance film. "It's been a really long uphill battle but I got through it by having a 'Si se Puede' attitude."
In Go For It!, which she directed, wrote, and produced, Marron tells the story of Carmen Salgado (Aimee Garcia), a street dancer from Chicago with aspirations to go to formal dance school in California. Marron, who grew up a street dancer herself in Chicago, says her inspiration in making Go For It! was to help create more powerful role models for young women, something she feels Hollywood is sorely lacking.
During our interview, Marron talked about the parallels between herself and the film's female protagonist and why Go For It! is different from other recent hip-hop dance movies.
Go For It! is currently playing at San Antonio theaters. For locations and showtimes click here.
How much of your own life did you include in the film?
Well, like Carmen I grew up in the inner city of Chicago and had immigrant parents. Most of my friends were Latinos. I was inspired by events in my life and experiences I came across working as a guidance counselor. I definitely faced a lot of the same issues Carmen does.
Was it a conscious decision to make a film that could empower young Latina women?
Oh, definitely. I wrote this story about a young woman trying to find her identity and figure out who she wants to be in this world. I think that's what all young women go through. They ask themselves, "How do we become a woman and what do we want for ourselves so we don't get absorbed in society, especially as a Latina?" Growing up, my mom was always like, "You need to get married and find yourself a boyfriend." I really didn't want to fall into that trap. I related to this character because I wanted more for my life than just being a homemaker.
When did your dream to be a dancer start and end for you?
It started when I was young and saw Flashdance and movies like that. It ended by the time I finished high school because I realized I wasn't as good as all the others. I had to focus on my education.
Was it hard to let go of dancing?
Yeah, I missed it. To this day, I still try to take dance classes when I can. I have a huge love and respect for dancing and dancers. This is probably my way of enjoying it and appreciating it as an adult.
How did your parents' immigrant background influence the type of person you are today?
My dad was a huge influence. He basically taught me to love education because he never had a chance to go to school. That's something he always longed for and something he instilled in me. Getting an education was non-negotiable. He knew it would open up a lot of doors for me. I knew education was going to be my way to a better life.
Do you consider yourself a feminist?
I definitively believe women can do just as great of a job as a man can, and in many cases better of a job. I believe some day we are going to have a great woman president. But I also really respect women who are very traditional and love being stay-at-home moms and raising their kids. I'm really more about what the individual woman really wants to do and what her dreams are in her heart.
We've seen plenty of hip-hop dance films over the last few years. What makes Go For It! something unique?
In most dance films – and I've seen them all – the dancing is the main character and there really isn't a strong storyline. Go For It! really is an inspirational drama that just happens to be about dance. There really is a strong message behind it. There's a real vibe to it that will help the audience connect even deeper.