Cristián de la Fuente — TV's In Plain Sight
By Kiko Martinez
San Antonio Current contributing writer
Hollywood is still a pretty tough town for Latino actors says Chilean heartthrob Cristián de la Fuente. While roles aren't as stereotypical as they have been in the past, de la Fuente says they are still scarce. That's why he feels so lucky to be a part of a TV series like "In Plain Sight" on the USA Network.
On the show, which follows a U.S. Marshal working for the witness protection program, de la Fuente, 35, plays Rafael Ramirez, the baseball-playing "on-again, off-again boyfriend" of Mary McCormack's character Mary Shannon (above with de la Fuente).
During our interview with de la Fuente, who became a household name when he and Cheryl Burke placed third during the sixth season of Dancing with the Stars, the actor/model/Chilean Air Force Reserve pilot talked about how Latinos roles have changed over the years and whether or not he think he'd be able to handle living under an alias.
"In Plain Sight" began its second season April 19. It airs on Sundays at 9 p.m. on USA.
With so many shows getting the ax during or after their premiere season, how did you feel when you got word that "In Plain Sight" was picked up for a second season on USA?
I was really happy. We're used to working in a business where a show can be cancelled after two or three airings. To be able to have a second season is great. At first, the show was renewed but only with Mary `McCormack`. So, I had to wait a couple of weeks to know that my character was also coming back. In this business they can do anything. That's why you always have to be grateful for what you have.
You've been on a few of shows that were cancelled after one season like "The Class" and "Threat Matrix." Is it really fair to cancel a show that quickly?
You know, shows usually take more than one season to develop. In one season it's really hard to make a great show. When you have two or three or four seasons to develop them, that's when shows become really popular and successful.
The USA Network's catchphrase is "Characters Wanted," so what makes Rafael Ramirez an interesting character to play?
The good thing about Rafael is that he's not the typical Latino character. Many times in TV and film it's easier to play the Latino as a stereotype. He's not a drug dealer or a bad guy or a Latin lover having affairs with everybody. It's easy to go to that place, but in this case Raf is a very down-to-earth guy that's in love with his girlfriend.
Has Hollywood transcended the stereotypical Latino role?
It's getting better. There was a time many years ago where if a movie needed a Latino he was going to be the drug lord from Colombia, the guy kidnapping people, or the guy that was killed in the first 10 minutes. We live in a different country now. We live in a country where Latinos are the biggest minority. We live in a country where Latinos can decide an election.
I know you've worked with Eva Longoria for the ALMA Awards. What did you think when she took her name out of contention for an award so other Latino actors could get recognized?
I think it's important that everybody does what's in their power to try to help each other. Being Latino you're always going to have more obstacles. We're a lot of actors and there are not a lot of roles for us. What Eva is doing, not only by taking her name out of consideration for the ALMA, but by bring the awards to another standard, is great. I remember I was nominated for an ALMA Award about nine years ago and it was a small show that was broadcast on a small network. Now, with Eva as the executive producer, it's on ABC in primetime. She has made it a great show that all Latinos should be proud of.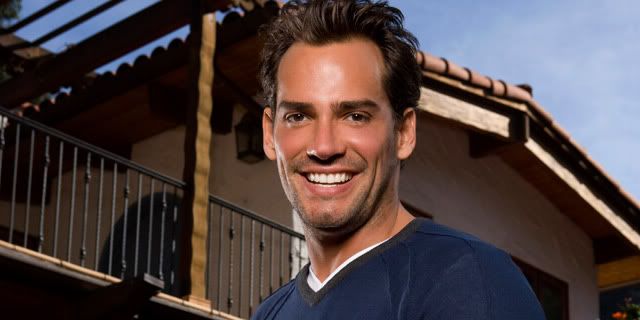 Back to the show, do you think you could personally handle a situation where you were at the wrong place at the wrong time and forced to enter the witness protection program?
It would be tough. If that ever happened, God forbid, I would do it to protect my wife and my daughter. If I had to run to the end of the world and change my identity to be able to keep them safe then I would do it. I would start all over again just as long as we could be together.
There is a character named Natasha in Season 1 that asks for breast implants in exchange for her testimony. What would you ask for?
Just the safety of my family, really. I don't think I would look good with breasts.
Who do you think is going to win Dancing with the Stars this season? Your former partner Cheryl Burke and `actor` Gilles Marini are in the final five.
They are looking good. Hopefully they make it to the finals. But I would also like to see Tony Dovolani `partnered with The Bachelor's Melissa Rycroft` win because he's doing really well and he's never won. Cheryl has two trophies. I think it's nice if someone new gets the trophy. Tony is a really nice guy. We became good friends during the show. I wish both of them luck.