10 Restaurants on the River Walk You Should Be Eating at this Weekend
There are a lot of restaurants options in the River Walk area, but most of it is just noise catering to tourists. Here are some restaurants with waterfront views or just a block away from the River Walk that might change your views on grub in this slice of Downtown.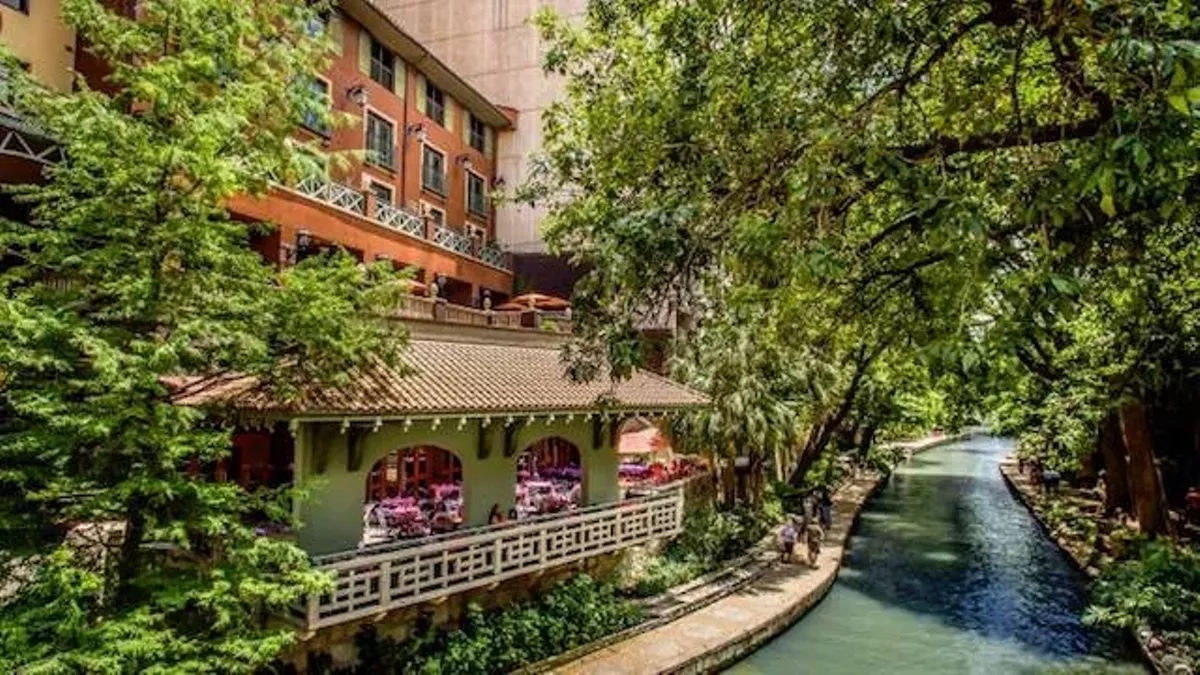 Ácenar
146 E. Houston St., (210) 222-2362
If you're going to have Tex-Mex, head to Ácenar where the views are as great as the salads and the shrimp tacos.
Photo via Ácenar Mexican Restaurant/Facebook
What to get: Every taco is special in its own way, but some are just better than others. Grilled and sauteed in chipotle butter, the shrimp tacos covered with avocado are exploding with flavor.

Photo via Ácenar Mexican Restaurant/Facebook
La Panaderia
301 E. Houston St., (210) 592-6264
This is truly the place of all your carbohydrate dreams. You'll be so mesmerized by all the warm, flaky bread surrounding you that it won't even occur to you that there's beautifully exposed brick on the wall and wonderful hardwood floors all throughout.
Photo via La Panadería/Facebook
What to get: What's not to love about fresh-baked bread? The pan dulce wooed the likes of Guy Fieri this summer, and the sandwiches and salads aren't to be missed.

Photo via La Panadería/Facebook
Bohanan's
219 E. Houston St., (210) 472-2600
Just a block from the River Walk sits the utterly gorgeous and elegant Bohanan's. This second-story steakhouse also features an Old World inspired bar with live jazz performances.
Photo via southtexasjazz_official/Instagram
What to get: Quality cocktails are the cherry on top of this classic steakhouse that nails seafood fare just as well. The Mediterranean tuna salad or buttery grilled cheese sandwich should be your lunch go-to.

Photo via Bohanan's Prime Steaks & Seafood/Facebook
Rosella at the Rand
114 E. Houston St.
Rosella at the Rand is new to the scene, but its triple threat with a cafe, full bar and a restaurant makes it a top contender in Downtown. You could order a juicy burger to go with your latte if you wanted to at Rosella — beats the heck out of Starbucks.
Photo via Rosella at the Rand/Facebook
What to get: Great coffee made way for an equally boastful breakfast and lunch menu at the original location, but now, chef Rafael Pena is working his magic with happy hour and dinner. Split the slider triplets, trust us.

Photo via sanantoniomunchies/Instagram
Pinch Boil House & Bia Bar
124 N. Main Ave., (210) 971-7774
Opened by best buds Andrew Ho and Sean Wen, Pinch adds Vietnamese flair to the Downtown area. With wall-to-wall windows and a city vibe to match the menu, this is a great spot for lunch by the River Walk
Photo via Pinch Boil House and Bia Bar/Facebook
What to get: Stop in for a seafood feast, or grab one of their sandwich specials like the bánh mì sandwich, which comes stuffed with pork loin, chicken thigh or marinated tofu.

Photo via Pinch Boil House and Bia Bar/Facebook
Range
125 E. Houston St., (210) 227-4455
This is a great option to keep on hand if you're looking for a juicy steak near the River Walk. It's one of SA's newer additions to the food scene and the aesthetic oozes modern with granite, mirrors, blue linens and leather-bound menus.
Photo via rangesanantonio/Instagram
What to get: Jason Dady's latest eatery packs in chophouse favorites, along with bountiful salads, great sandwiches and eye-catching starters like the Parisa.

Photo via rangesanantonio/Instagram
Schilo's
424 E. Commerce St., (210) 223-6692
This super cool retro diner is all about the classics inside and out. A meal in Schilo's is like having dinner at your mom and dad's, except here you know for sure the food is going to be incredible.
Photo via Schilo's/Facebook
What to get: This deli is a master of the classics. A big frosty pint of homemade root beer and some schnitzel on the side is just what you need before a day of sightseeing at the River Walk.

Photo via alpenaloha/Instagram
Esquire Tavern
155 E. Commerce St., (210) 222-2521
Situated right on the River Walk, the Esquire Tavern is one of San Antonio's best spots to grab a cocktail and look out on the river. Grab a seat on the deck or have some libations in the newly added Downstairs bar — you won't regret the experience.
Photo via balki_bubbles/Instagram
What to get: The upstairs has great pub fare like their bison burger (pictured) and downstairs has an amazing charcuterie board along with fried chicken on Tuesdays (complimentary with purchase of Champagne).

Photo via danganressha/Instagram
Nonna Osteria
401 S. Alamo St., (210) 224-8800
The just-opened restaurant is part of the Silo Restaurant Group empire, which now includes pastry chef Jenn Riesman, so don't skip dessert.

Photo via Resy.com
What to get: We won't hold it against you if you go straight for dessert. The Marriochino Ubriaco is sort of a dessert if you consider the ingredients: Nutella-based espresso drink topped with China China Amber and a Brûlée Green Chartreuse Marshmallow.

Photo via mollyinga/Instagram
Bella on the River
106 River Walk St., (210) 404-2355
Positioned right where the San Antonio River meets the RiverWalk, this ode to Mediterranean life is a welcomed addition to the San Antonio international food scene.
Photo via ulytheexplorer/Instagram
What to get: Cozy dining and Mediterranean foods meet here. Try the eggplant Josephine, and finish the night with the famous Virginia's pistachio cake.

Photo via Bella on the River/Facebook