10 Restaurants to BYOB in San Antonio
Why pay four dollars for a single beer at a restaurant when you can bring a whole six-pack for seven dollars? If you're constantly asking yourself these kind of questions on your nights out, grab your DD and stop by these BYOB-friendly eateries around town that'll fill you up with food — and your own drinks — without breaking the bank.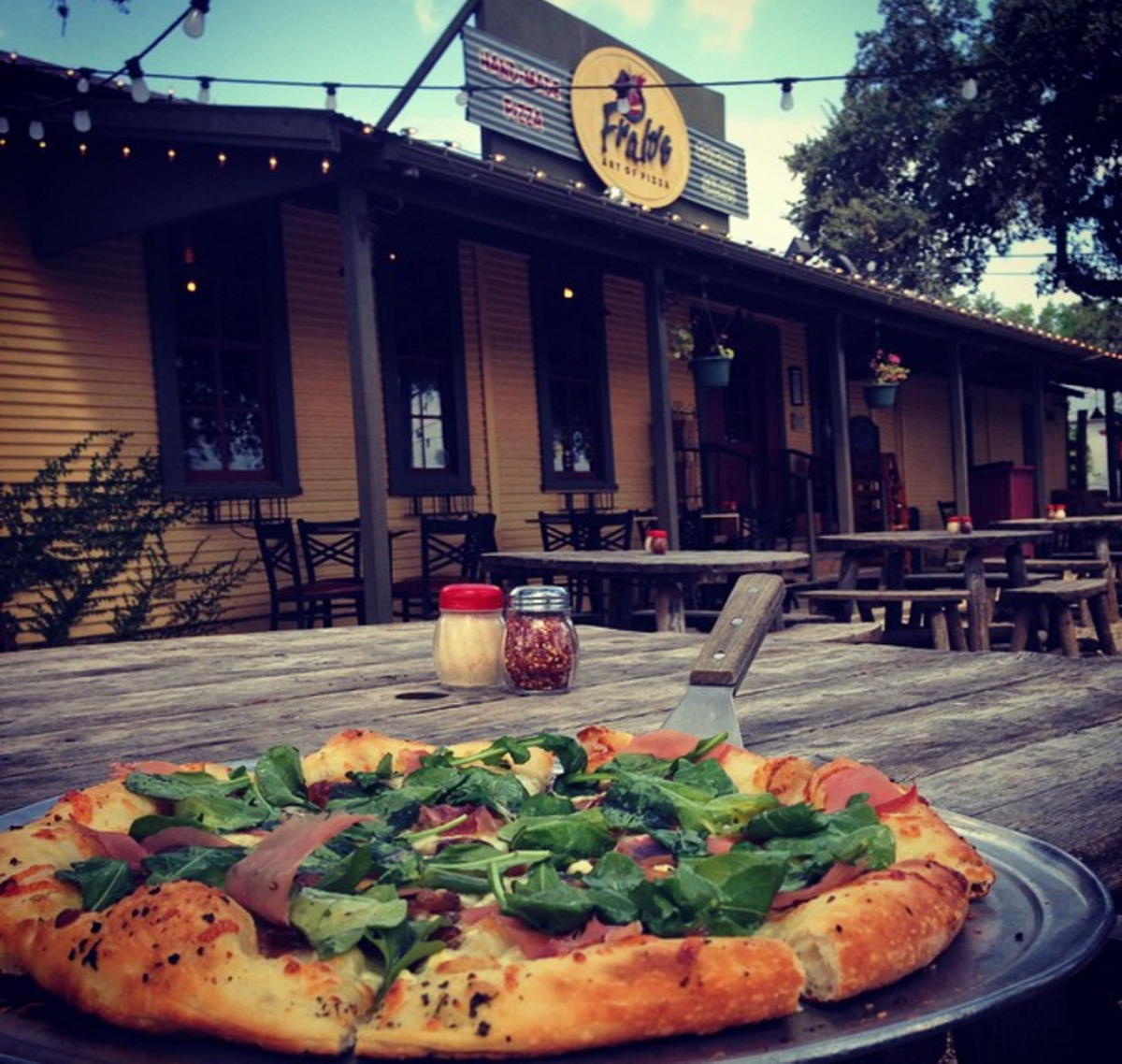 Fralo's Pizza
23651 W IH-10, (210) 698-6616
For a great meal a little farther out of town, Fralo's is a pet-friendly, family-friendly, live-music venue with a large patio for seating. The hand-tossed pizza is a huge plus and the environment is great for a BYOB night.
Instagram/@joshkeown
Cascabel Mexican Patio
1000 S Saint Mary's, (210) 212-6456
This local spot holds its own among some of southtown San Antonio's favorite spots. Dishing up homestyle Mexican eats in a colorful patio setting, be sure to BYOB this place.
Facebook/Cascabel Mexican Patio
Dresden Cafe
3023 Thousand Oaks, 210-233-1503
Just because this spot is located in a strip mall doesn't make the housemade sausages any less delicious. This husband and wife owned specialty place focuses on freshness and quality for a meal that, when paired with a salad and a beer, is all you can ask for.
Facebook/Dresden Cafe
LA Crawfish
10919 Culebra Rd #150, (210) 688-9123
For anything from crawfish to chicken wings and pho, LA Crawfish is applauded for making the most out of a small but diverse menu. BYOB and enjoy the spot that has gotten the attention of Cooking Light and the "Asian Chops" television series.
Facebook/LA Crawfish TX
Pasha Mediterranean Grill
9339 Wurzbach Rd, (210) 561-5858
This place serves the best of Eastern Mediterranean fare from gyros to kebabs, falafel & more. Served with unlimited, complimentary pieces of naan larger than your head, BYOB to this spot and enjoy.
Thai Taste
5520 Evers Rd, (210) 520-6800
If spice keeps you eternally wary of Thai food, try this spot for customizable spice levels. Familiar Thai dishes entice for a simple, traditional experience great with brought-from-home beer or wine.
Facebook/Thai Taste
Thai Dee Restaurant
5307 Blanco Rd, 210) 342-3622
Thai Dee is a casual spot that serves the best of traditional Thai food along with some great regional dishes. Bring your own beer or wine and enjoy this quaint, delicious spot.
Yelp/Thai Dee
The Clean Plate
1022 N Main Avenue, (210) 229-9866
For clean, delicious, and globally inspired food, The Clean Plate is the perfect BYOB pairing. Picnic table patio seating and local, sustainable food are what to look forward to at this cool place.
Facebook/The Clean Plate
Yellowfish Sushi
9102 Wurzbach Rd, (210) 614-3474
This one-of-a-kind (well, besides its multiple locations) sushi spot is a combination of two cultures: Japanese and Mexican. Dubbing themselves JapaMex, enjoy fresh, eco-friendly choices that pair well with a night of BYOB.
Instagram/@yellowfishsushi
Green Vegetarian Cuisine at Alon
10003 NW Military, (210) 233-1249
Everyone who knows anything about great vegetarian food knows about Green Vegetarian Cuisine and its pledge to stay green (environmentally too). But not everyone knows that this healthy spot is also a great stop for BYOB--bring a couple of beers, and if you need a glass the charge is just two dollars a person.