10 River Walk Secret Patios, and How to Find All of Them
The River Walk has a reputation for its cluster of restaurants, but secret patios with killer views? That's need-to-know information passed down from local to local. There's no time like the present to ditch overcrowded tourist traps and explore some of these secret patios in lesser-known River Walk restaurants and a few off the beaten path that are still on the water.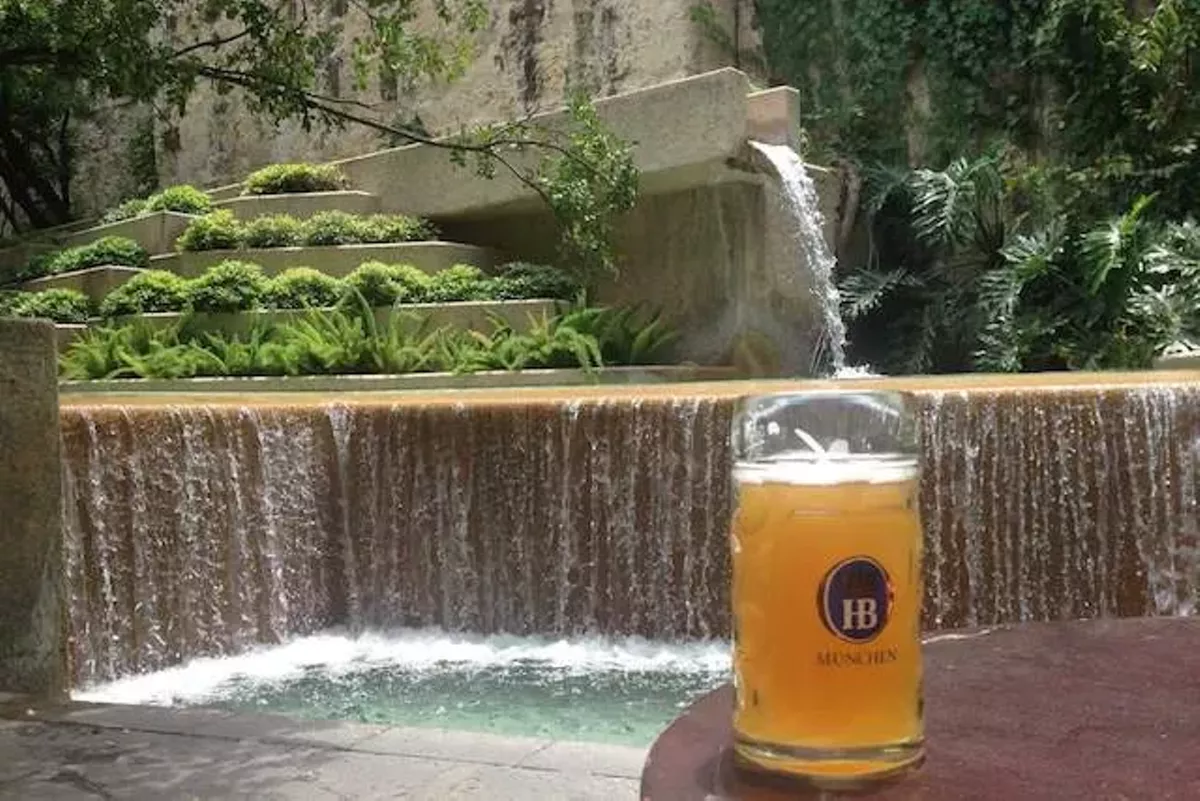 Bier Garten Riverwalk
126 Losoya St., (210) 212-7299
The Bier Garten is San Antonio's little slice of Bavaria offering incredible riverside views and a great selection of beer.
Photo via Bier Garten Riverwalk/Facebook
WHAT TO GET: BEEEEEEEEEER
You're going to want to get beer at the bier garten. While they serve a bunch of other German goodies like sausage, brats and pretzels, it's really the vast beer selection that keeps people coming back for more. Check out the Hofbrau Hefeweizen if you're looking for something a little sweet.

Photo via sealeyjd/Instagram
Supper
136 E. Grayson St., (210) 448-8351
This half-European bistro, half-Southern farmhouse brings it all together with wall-to-wall windows and traditional decor.
Photo via Supper/Facebook
WHAT TO GET: Cinnamon Toast Waffles
There are a ton of great breakfast items at Supper, but the Cinnamon Toast Waffle is an experience worth having. While this dish comes with berries and dulce de leche, we recommend a side order of smoked bacon for $4.

Photo via safoodnstuff/Instagram
Guenther House
205 E. Guenther St., (210) 227-1061
An afternoon at the Guenther House is like taking a field trip to the early 1900s. This Victorian-style home sits guests in a tea room, dining room or outdoor arbor, which we strongly recommend.
Photo via salserarn/Instagram
WHAT TO GET: Strawberry Waffle Platter
A sweet cream waffle comes topped with strawberries and whipped cream and a side of applewood smoked bacon or country sausage patties. But no one's saying you can't get both.

Photo via eatsintown/Instagram
Halcyon
1414 S. Alamo St., (210) 277-7045
If you're looking for a place to hide away and zone out for a few hours, look no further than Halcyon. This large brick establishment is known for their strong as hell black coffee, lounge interior and casual porch overlooking Southtown.
Photo via halcyonsouthtownsa/Instagram
WHAT TO GET: Insomniac Cocktail
You should still take advantage of Halcyon's great coffee even if you're there at night. The Insomniac mixes vanilla vodka, amaretto, Irish cream and a double shot of their house Velvet Espresso.

Photo via halcyonsouthtownsa/Instagram
La Gloria
100 E. Grayson St., (210) 267-9040
La Gloria has a distinctly authentic Mexican taste to its cuisine thanks to Chef Johnny Hernandez's extensive travels through our neighboring country. With its own patio seating and the Pearl right next door, the outdoor area always has something going on.
Photo via La Gloria/Facebook
WHAT TO GET: Guac
La Gloria is all about paying homage to Mexican culture with its guacamole, which is also vegetarian-friendly.

Photo via letseatsa/Instagram
Burgerteca
403 Blue Star Suite 105, (210) 635-0016
Chef Johnny Hernandez's latest venture is making Mexican-style hamburgers at Burgerteca, a restaurant by the river that opened in December 2017. Since then, the giant Burgerteca statue has become one of San Antonio's favorite photo companions.
Photo via debbie.sultemeier/Instagram
WHAT TO GET: Chilaquiles
Give the new guys a run for their money with an order of Chilaquiles, a beef patty with salsa verde, corn chips, queso fresco, crema, black beans and a fried egg.

Photo via the_meat_sweat_quest/Instagram
Biga on the Banks
203 S. St Mary's St., (210) 225-0722
Biga on the Banks features an ever-changing menu centered around seafood, lamb, game and beef. They also provide private dining with river views and barge dining.
Photo via bigaonthebanks/Instagram
WHAT TO GET: Steak and Red Wine
Biga has hundreds of wine options — it would be criminal not to give at least one bottle a shot. An 8 ounce beef tenderloin pairs very well with wine, but let's not pretend like that's some new revelation here.

Photo via Biga on the Banks/Facebook
The Luxury
103 E. Jones Ave., (210) 354-2274
The Luxury is a laid-back, patio-centric eatery that makes a mean fried chicken and serves up to 150 beers.
Photo via statutory_crepeist/Instagram
WHAT TO GET: Craft Beer
The Luxury has 150 beer options and a good chunk of those cater to its more selective fans. This River Walk spot is no stranger to having deals craft brews like Magic Hat #9 and Karbach Weekend Warrior Pale Ale.

Photo via The Luxury/Facebook
Bella on the River
106 River Walk St., (210) 404-2355
Bella on the River is
the
date night destination on the River Walk with its intimate seating on the river and exceptional wine list.
Photo via ulytheexplorer/Instagram
WHAT TO GET: Salted Caramel Ice Cream
Whatever you do, don't skip dessert! Bella on the River has quite a few delicious treats to offer, but the salted caramel ice cream with a uff pastry Cookie, almond toffee, and espresso foam particularly stands out from the rest.

Photo via Bella on the River/Facebook
Restaurant Gwendolyn
152 E. Pecan Suite 100, (210) 222-1849
It's simpler times at Restaurant Gwendolyn, a place that entirely operates like its 1850. They're constantly changing the menu, which gets made from seasonal local ingredients and without any modern-day electrical gadgets.
Photo via Restaurant Gwendolyn/Facebook
WHAT TO GET: Martini
In keeping with the authenticity of the 1850s, Restaurant Gwendolyn serves a special, yet simple martini that harkens back to its original form.

Photo via Restaurant Gwendolyn/Facebook