13 Restaurants to Take an Out of Towner
Whether they're seasoned gourmands or Tex-Mex fiends, we've compiled a list of places to take your out-of-town guests to give them a truly San Antonio experience. You'll wow them at the Pearl, entertain them on the Riverwalk and take them east for great pollos. Just make sure to wear your stretchiest pants.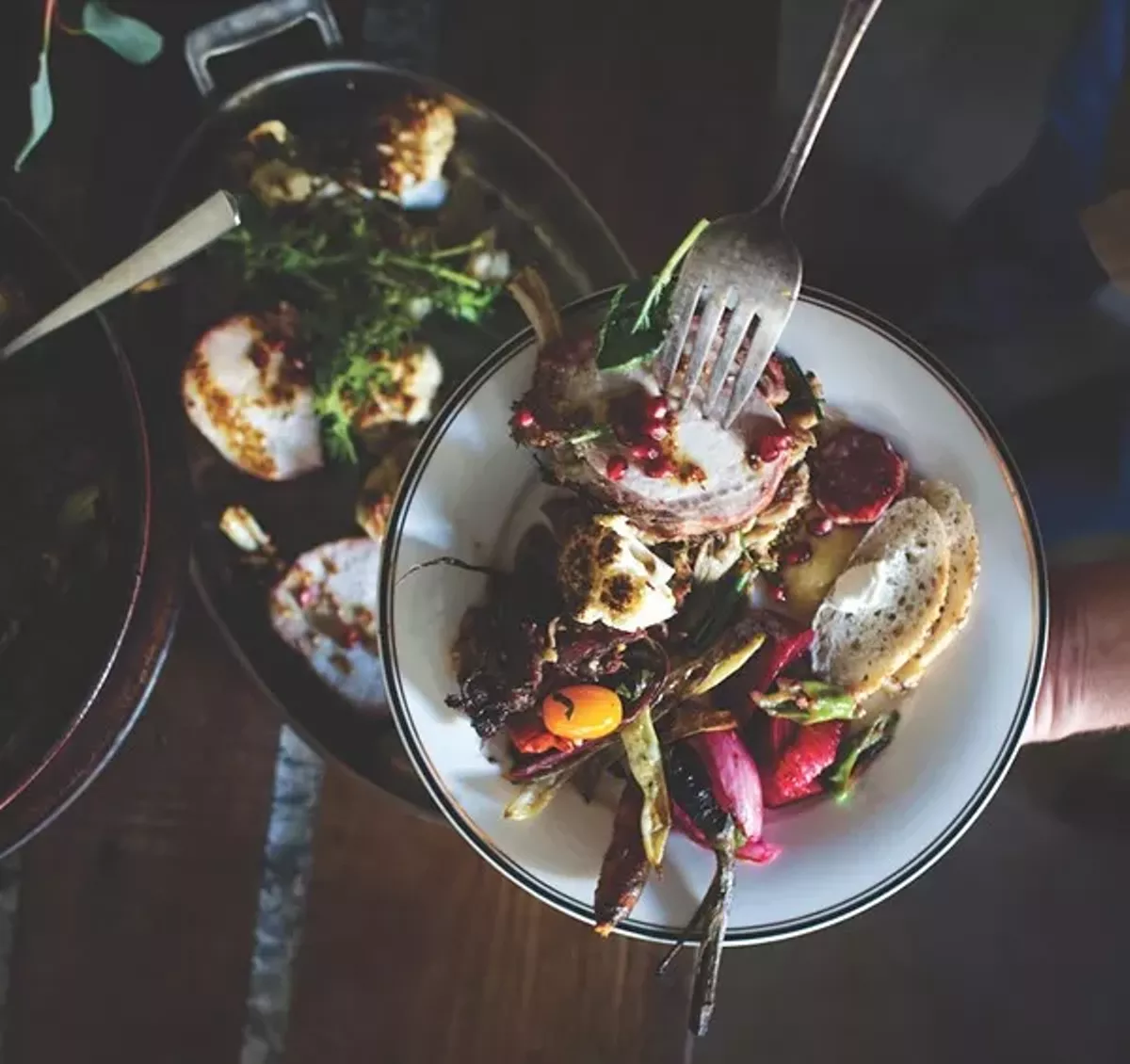 Hotel Emma
136 E. Grayson St, (210) 448-8351, thehotelemma.com
The folks at Bon Appetit were just as charmed by Hotel Emma's grandeur as San Antonio was after its opening in November. It's difficult to visit the Pearl without stopping by for a drink and sit at Sternewirth, or an appetizer at Supper. Our favorite part: the grab-and-go, locally sourced fare from Larder. It doesn't hurt they have one of the best pastry chefs in town serving up delectable desserts.
Photo via SA Current
Bakery Lorraine
Multiple Locations, bakerylorraine.com
There's no hard pitch here, just great macarons (not macaroons), tarts, eclairs, brownies, caneles, pop tarts, cookies…
Photo via SA Current
Cured
306 Pearl Pkwy. Suite 101, (210) 314-3929, curedatpearl.com
A James Beard Award finalist runs the history-filled joint that's also heavy on the local produce. Don't miss the charcuterie boards.
Photo via Jessica Elizarraras, SA Current
Cookhouse
720 E. Mistletoe Ave., (210) 320-821, cookhouserestaurant.com
This New Orleans kitchen hits the spot whether at lunch with stacked and messy po'boys and gumbo, or come nighttime when chef Pieter Sypesteyn and co. tackle fine dining in a casual setting.
Photo via SA Current
Folc
226 E. Olmos Drive, (210) 822-0100, folc-restaurant.com
Put those reservations in ASAP if you want to try the No. 1 burger in the state. Not into burgers? The rest of Folc's new American menu is equally dreamy.
Photo via Casey Howell, SA Current
El Bucanero
Multiple locations, bucanerosanantonio.com
Hearty portions of your favorite ceviche, funky tostadas mixtas loaded with octopus, La Gran Pachanga — a 12-pack of your Mexican canned beer of choice topped with camarones ahogados — are all more than enough reason to take your visitor to El Bucanero (both locations, but we're partial to the original) like yesterday.
Photo via SA Current
La Gloria
Multiple Locations, chefjohnnyhernandez.com/lagloria
Your visitors want margaritas. They want chips and guac. They want to be on the river. Take them to La Gloria's patio and get them nice and toasty with the house marg, mango margarita or sangria. It's the San Antonio thing to do.
Photo via Facebook (La Gloria)
Los Barrios
4223 Blanco Road, (210) 732-6017, losbarrios1.com
Your guests need puffy tacos. Take them to Los Barrios for some of the best in town and stuff yourself silly with cheesy Tex-Mex.
Photo via Facebook (Los Barrios)
Mi Tierra
218 Produce Row, (210) 225-1262, mitierracafe.com
Mi Tierra's been a San Antonio institution for the past 75 years. That means your grandma from wherever probably visited when she was a little niña. Go make some new memories with the family and stroll over to Viva Villa Taqueria for some Big Red soft serve.
Photo via SA Current
Two Bros BBQ Market
12656 West Ave., (210) 496-0222, twobrosbbqmarket.com
The cherry-glazed ribs, those addictive jalapeño poppers, the crack-like banana pudding somehow all taste better on Two Bros. BBQ Market's massive patio. Take the kids, take a group, grab a beer or our favorite, grape Kool-Aid and relax.
Photo via SA Current
Ray's Drive Inn
822 SW 19th St., (210) 432-7171, raysdriveinn.net
If you're gonna eat a puffy taco, better make it one of Ray's. Or really, make it three of Ray's.
Photo via Yelp (Ray's Drive Inn)
Biga on the Banks
203 S. St. Mary's St., (210) 225-0722, biga.com
Back before San Antonio had much of a foodie scene, Bruce Auden was one of the pioneers behind Southwestern cuisine. Nowadays, the seven-time James Beard Award nominee keeps the flavors varied while using local produce as often as possible.
Photo via Ron Bechtol, SA Current
Pollos Asados Los Norteños
4642 Rigsby Ave., (210) 648-3303
If your guest wants to get away from the Riverwalk, or if you're sick of paying for parking, take them to Pollos Asados Los Norteños, a bustling spot that delivers half and whole birds, roasted to perfection and paired with great sides. It's the puro San Antonio your visitors deserve to know.
Photo via SA Current