August 11, 2017 Slideshows » Arts
20 Latina Makers from San Antonio You Should Be Following on Instagram
You already knew that Alamo City is a place full of rich artistry and skilled craftsmanship, but did you know you could see it all, and more, on your Instagram feed? We've done some digging, and have come up with this list of 20 Latina Makers from San Antonio who create and share their work right here in the good ol' 2-1-0. With the simple tap of a "follow" button, you too can experience the beautiful, expressive artistry of these creative minds.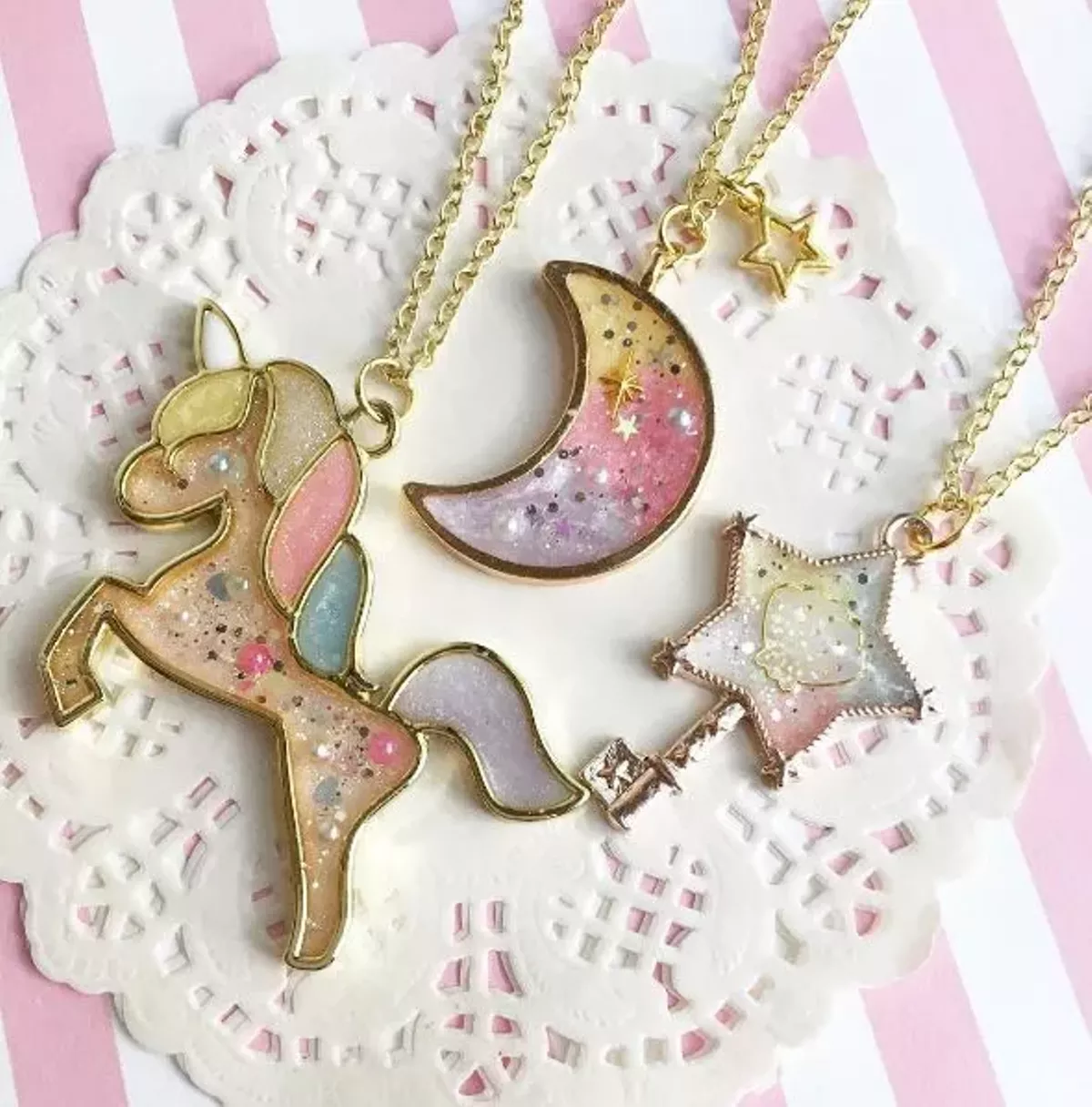 Luna Kitty Designs
@lunakittylove
Victoria Tijerina's ultra-feminine local jewelry brand, Luna Kitty Designs, boasts delicate hand-made pieces that are nothing less than eye candy. The sweet allure of Tijerina's work is heavily grounded in magical-girl aesthetics and kpop-culture, and is mixed with a healthy dose of biting sassiness.
Photo via Instagram,
lunakittylove
Sabrina Alfaro
@xingona.prints
Owner of Xingona Prints, San Antonio local Sabrina Alfaro embraces her Latina heritage on her own terms. Her work is often centered around the assertion of an independent Chicana identity, along with positive messages of inclusivity as well. At the precipice of her brand is the redefinition of the word chingona, which has traditionally carried negative connotations within Latinx culture. However, Alfaro (along with many other members of the Latinx community) have taken those connotations and turned them into something beautiful. Instead of representing something negative, chingona is a description of power through independence. Very cool indeed.
Photo via Instagram,
xingona.prints
Floja Life
@flojalife
Regina Román, a San Antonio-based artist and designer, uses various forms of colorful media to depict the every-day experiences of Chicana life in the contemporary United States. With its feminine yet fierce aesthetic, Floja Life will have you enchanted.
Photo via Instagram,
flojalife
Allysha Farmer
@allyshafamer
With her dizzying patterns and rich textures, Allysha Farmer's work in ceramic pottery and sculpture is truly some of the coolest craftsmanship in San Antonio. Following her on Instagram is sure to spice up your feed with some much-needed eye-candy.
Photo via Instagram,
allyshafarmer
Sarah Castillo
@casarahcasarah
With fiber, sculpture, painting, drawing and photography among her media of choice, Chicana feminist artist and Más Rudas Collective collaborator Sarah Castillo is the curator behind Lady Base Gallery, an independent art space dedicated to women and members of the LGBTQIA community.
Photo via Instagram,
casarahcasarah
The Wednesday's Art
@thewednesdaysart
Rebecca and Jackie Gonzales are two sisters who are, in their words, going to "take over the world one sticker at a time." The pair founded their design label, The Wednesday's Art, as an outlet to share their celebrations of feminism and Mexican culture. If you happen to see them set up at a local market, be sure to check out their awesome vulva pillows. They're soft and anatomically accurate.
Photo via Instagram,
thewednesdaysart
Cherise (Rhys) Munro
@rhysmunroart
As a San Antonio muralist, Cherise Munro's full-bodied works (done predominantly in oil) are so grand in scale yet so detailed that they are breath-taking to behold. Her paintings are rich and velvety in both color and texture, and often depict themes of human strength.
Photo via Instagram,
rhysmunroart
Barbacoa Apparel
@barbacoapparel
As 1/3 of the trio that founded this San Antonio-based design company, Nydia Huizar knows what it means to channel her roots. Many of Barbacoa Apparel's designs are based in local culture with a distinct Latino flavor; puro San Antonio, and a touch of Texas too.
Photo via Instagram,
barbacoapparel
Jessica Trevino
@picasso_pixie
As a jack-of-all trades, this local craftswoman wears many different artistic hats. She can paint, draw, bake, design--and make candles. While many of these hand-made candles come in relatively common scents such as "Cedarwood Vanilla" and "Texas Mountain Laurel," she produces a more uniquely-scented line with titles like "Tattooed Boy Stinx" and "Magic Mike."
Photo via Instagram,
picasso_pixie
Chifladazine
@chifladazine
When editor-in-chief of Chiflada Zine, Claudia Cardona, decided that she wanted to create a new publication, she wanted it to be wholly inclusive. After Cardona spent some time brainstorming with co-founder and co-editor Laura Christine Sinner, the name Chiflada (meaning "crazy" or "bratty" in Spanish) was selected. Although this name may seem strange at first, it was chosen to represent the unheard voices of the Latinx community--voices that are often dubbed "crazy" by mainstream culture for their desire to be heard. With the help of Chiflada Zine, those unheard voices are finally beginning to grow louder.
Photo via Instagram,
chifladazine
Connie R. Chapa
@arte_de_coco
With women at the center of her work, Connie Chapa's paintings are the perfect blend of dreamy techniques and colors, often with an erotic bite to the subject matter. Reminiscent of work featured in Juxtapoz Magazine's early days, the local artist is not to be missed.
Photo via Instagram,
arte_de_coco
Cha-cha Covers
@chachacovers
While the San Antonio raised sisters Ana and Ruth Guajardo are both artists, Ana expresses her passions through a very unique medium: nail art. With over 25,000 followers on Instagram, the Latina entrepreneur has taken the nail industry by storm, and is sharing the love of her Mexican culture along the way.
Photo via Instagram,
chachacovers
Sweet Craft Jewelry
@sweetcraftjewelry
Nicole Gonzales launched Sweet Craft Jewelry in 2013 on Etsy, the online indie vendor shop. Ever since then, she's been meticulously laboring over tiny pastries (and the occasional savory snack) by using polymer clay to craft adorable earrings, rings and necklaces.
Photo via Instagram,
sweetcraftjewelry
Daryan Arcos
@chula_dair
Daryan Arcos is a San Antonio native who creates surreal, abstract designs with moody color schemes and heavy textures. Her smoke-like illustrations can keep your eyes moving for hours, with something new to discover every time you take a look.
Photo via Instagram,
chula_dair
Stinkin Patches Co.
@stinkinpatchesco
When it comes to handmade artistry, Michelle Griego of Stinkin Patches Co. has got it ironed down. Her line of custom embroidered patches are colorful, quirky, and socially aware. With a dash of classic San Antonio cultura sewn in with modern-day icons (like the beloved poop emoji), Griego is taking her business to the next level one stitch at a time.
Photo via Instagram,
stinkinpatchesco
Very That
@verythat
https://www.instagram.com/p/BWqIH8TDoeO/?taken-by=verythat As an all-around badass Chicana, Christina Martinez sees and makes beauty in the world. Through her self-built design label, VeryThat, she shares the love of her Mexican heritage in the form of charmed necklaces, stickers, t-shirts, and tiles that often bear images of cultural icons like Selena Quintanilla and Frida Kahlo.
Photo via Instagram,
verythat
Kayla Matta
@pandulcegallery
Kayla Matta is more than just a creative mind, she is an entrepreneurial force to be reckoned with. As a self-described "Mami on a Mission," Matta is committed to making the representative voice of Latinx's within the United States an audible one. With her opening of the collaborative space, the Pan Dulce Gallery, Matta is bringing many local artists together to share their experiences through creativity.
Photo via Instagram,
pandulcegallery
Kristy Perez
@kpz_art
Through her delicate yet biting design, Kristy Perez expresses raw emotion that reveals fragile beauty within the chaos of inner turmoil. Perez is a San Antonio-based multimedia artist who works in both minimalist sculpture and haunting illustration. With such telling titles as Magic Bone and The Baddest Bitch, this local artistic powerhouse is truly a creative force to be reckoned with.
Photo via Instagram,
alfonsoespronceda
Regina Morales
@helloreg
With a style that is distinctively reminiscent of 1960's-era comic books, Regina Morales is a graphic designer and artist who creates images that are both gruesome yet irresistibly alluring. Can you keep your eyes away from her detailed workmanship for long? We're guessing you can't.
Photo via Instagram,
helloreg
St. Sucia
@stsucia
When it comes to brown women in the media, there's a noted lack of authentic representation. However, two San Antonio women, Isabel Ann Castro and Natasha I. Hernandez are doing something about it. The pair founded St. Sucia as an outlet to share their own experiences, and to publish unfiltered narratives that were gritty and raw in nature. In just a short time, St. Sucia has been recognized as a critical part of a movement that empowers brown women by letting them tell their stories of trauma, anger, identity, pain and love.
Photo by
Marie Hernandez