August 22, 2018 Slideshows » News
20 Vintage Photos of College Life in San Antonio
As college kids wrap up their summer and make their way back to campus, and in anticipation of our upcoming College Guide, we decided to rummage through UTSA's archives for a look at college life from back in the day. Have fun scrolling through these gems.

Photos via UTSA's Digital Collections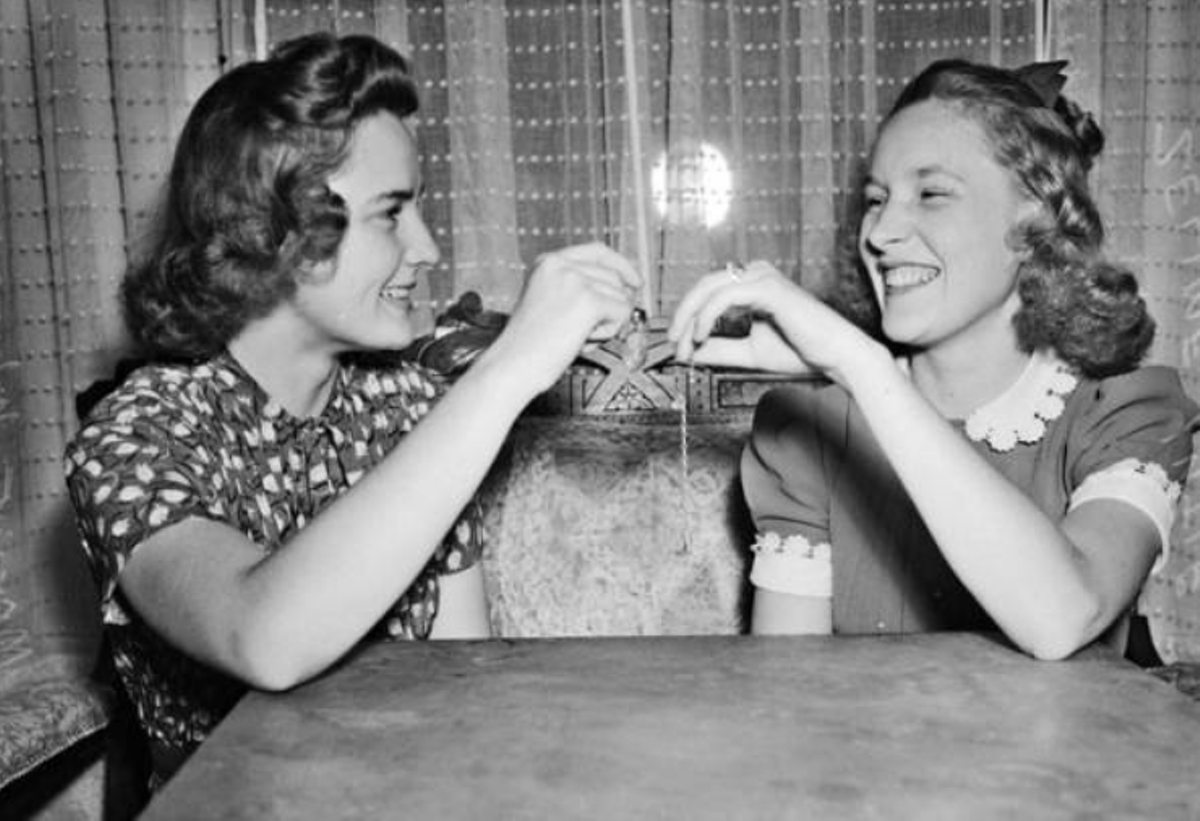 Everyone has their secret to passing exams, and for some that include superstitions. Incarnate Word College students Maxine Whitten, left, turned to a rabbit's foot and Zelime Lytle a charm for good luck.
Nell Donnell, Tom Mock and Betsy would have for sure been modern-day hipsters. These San Antonio Junior College students are shown mourning the death of a cockroach in this 1939 picture. The college colors were at half mast in honor of the quirky campus mascot, "Razdover."
Mae Wang, left, and Jeanne Chen enjoyed a relaxing afternoon on a lawn at Our Lady of the Lake University. The two attended the university thanks to a four-year scholarship through an overseas student service.
These University of San Antonio students had lots of fun during an informal jam session. Don't get this one with UTSA, which is part of the UT school system. University of San Antonio was a Methodist institution that was originally founded as San Antonio Female College in 1894. The name was changed to Westmoorland College in 1918 before reaching its final name in 1937. Just five years later, the university was combined with Trinity University and the formed the new campus in 1952.
University of San Antonio must have been hella cool. Here some male students held a drag show (they called it a women's fashion show).
This 1937 photograph shows Guy Todd (left) and Clayton Holcomb, members of the St. Mary's football team, working as janitors for their part-time jobs.
This 1939 photo shows Gordon Beitel, a student at San Antoni Junior college. He lost in the annual mock court trial sponsored by the college. His penalty for losing was pushing a peanut with his nose across a 30-foot space in front of the Majestic. Yes, it was really assessed by the court.
Howard Spencer served on the executive council of San Antonio Junior College when he decided enough was enough. He grabbed a stool and played lifeguard to protest deterioration of the campus in this monumental 1939 photo.
Ursula Crowley, left, and Alice Jaeschke pose for the camera at a local drugstore. The business administration majors at Our Lady of the Lake were able to learn business methods thanks to hands-on experience.
Trinity University kept its cool status by holding special events, like this kigmy dance party back in 1949.
Here you can see Helen White seated as a typewriter while a student at Parrish-Draughon's Business College.
After finishing class at Draughn's Business College, Oscar A. Elizondo (front) and friends pretended to push a car.
These St. Mary's University students were all about school spirit. Note the beanies – back in 1938, when this picture was taken, freshmen students were required to wear them.
St. Mary's freshmen were also required to carry the books of upperclassmen.
It wasn't all bad though. Here an upperclassmen is teaching the St. Mary's school song to freshmen.
Our Lady of the Lake librarian Alice Corkery was super excited to show off pictures in the campus' then-new art library back in 1940.
If you were a student at San Antonio Junior College back in 1939, that meant having to collect wood and coal so classrooms could be warm during the winter.
Betty Ann Bird, far right, threw an off-to-college brunch for herself and friends back in September 1938.
Betty Ann Bird's social affair was attended by many at the Aurora Apartments Hotel, which was only 8 years old at the time. Today, the complex is occupied almost exclusively by elderly as well as mentally and physically disabled residents. It qualifies as Section 8 housing.
This colorful gem is from UTSA's first-ever "fish camp" back in 1993.