November 01, 2016 Slideshows » Arts
25 Dreamy Vintage Photos of Winter in San Antonio
With the help of
Vintage San Antonio
and the UTSA Special Collections, you can reminisce on the white Christmases and snowy winters of San Antonio's past.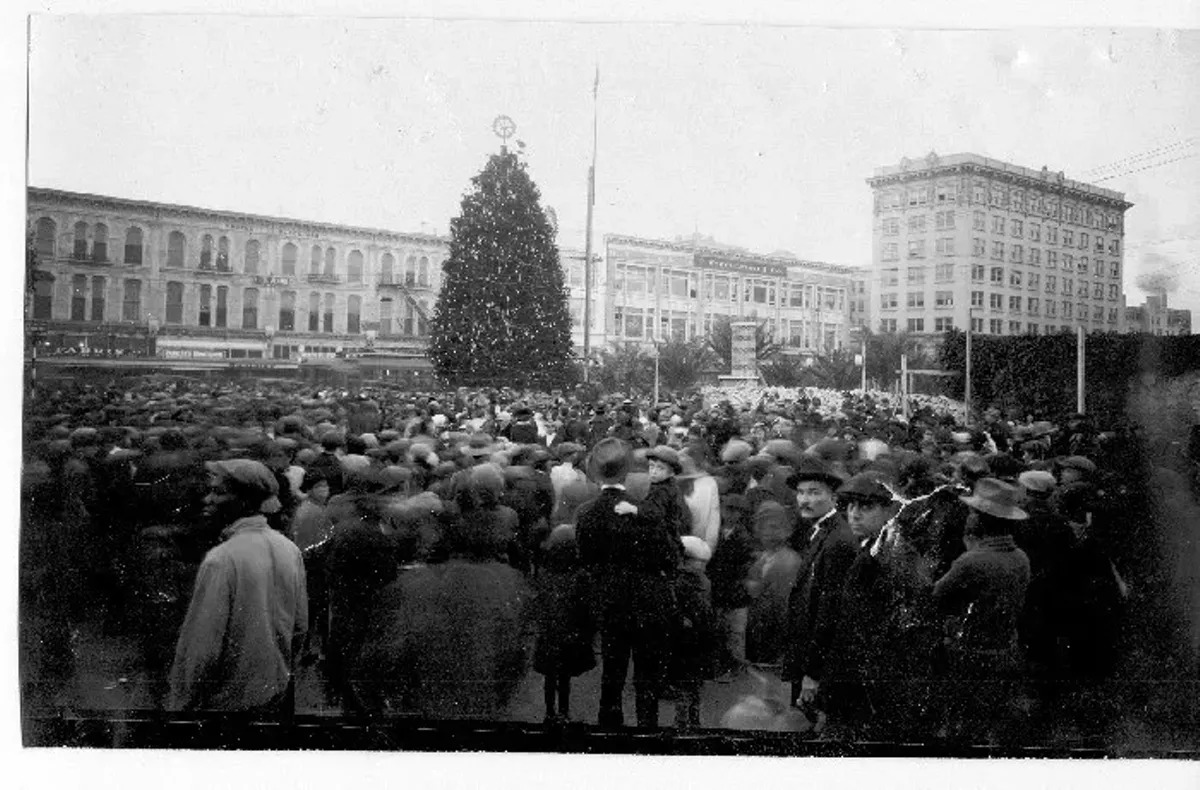 Early 1900s A huge crowd gathers to see the Christmas tree in Alamo Plaza.
1939 J. L. Clark's Gulf Service Station, 1739 Fredericksburg Road.
Circa 1940 Houston Street lit up for Christmas.
1940s Colorized version of Houston Street during Christmas.
January 1947 Snow on the grounds of the Alamo.
Dec. 31, 1943 New Year's Eve at the St. Anthony Hotel's Anacacho Room.
1940s New Year's Eve on the corner of Houston and N. St. Mary's Streets.
Circa 1940 La Villita entrance decorated for Christmas.
January 1949 Snow covering Alamo Plaza,
January 1949 Brackenridge Park river crossing.
January 1949 San Antonio River Walk, photo taken from the Navarro Street bridge.
January 1949 Looking east from the San Antonio Light building after almost 5 inches of snow.
January 1949 On the 1400 Block of Broadway, this photo shows Josie's Drive-In, which was across the street from the Pig Stand.
Circa 1955 Santa descending from atop Joske's Department Store.
Circa 1968 Santa on top of Joske's.
1960 Santa overlooks downtown San Antonio from the roof of Joske's Department Store.
January 1985 Two girls in front of the Alamo building a snowman in the bed of pickup after 13.5 inches of snow.
January 1985 Paul Green skiing in front of the Alamo after the record snow of 1985.
January 1985 Jogger Ed Deleon enjoys the snow in Brackenridge Park the day after the record braking snow that winter.
Jan. 12, 1985 The Alamo after a snowy night.
January 1985 Traffic heading south on I-37 during the big snowstorm of '85.
January 11-12, 1985 Snowy steps at the Arneson River Theatre.
The Alamo lit up for Christmas.
January 11-12, 1985
Snowplows clear the North South runway at San Antonio International Airport during the snowstorm.