Comedy Search – Staff Pick
2 total results
Thursdays, 8-9 p.m.
(312) 971-7252
Comedy
Bexar Stage hosts a completely improvised BYOB show in which performers choose keys from a bowl and invite audience members on stage to share an… (read more)
$5
http://www.bexarstage.com/shows.html
Bexar Stage
(map)
1203 Camden St.
Downtown
(312) 971-7252
Fridays, Saturdays, 8 p.m. Continues through Oct. 13
Theater, Comedy
The mashup is a quintessential postmodern art form. The fusing together of two or more works — most often songs, but certainly not exclusively —… (read more)
$10-$15
http://theovertimetheater.org/much-ado-about-a-midsummers-night-dream-a-shakespeare-mash-up/
The Overtime Theater
(map)
5409 Bandera Road, Suite 205
San Antonio
(210) 557-7562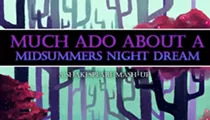 Showing 1-2 of 2 total results in this search.