Events Tomorrow – Tickets Available
7 total results
Tue., Jan. 22, 7:30 p.m.
Theater, Live Music
First introduced on the pages of author Amanda Brown's novel Legally Blonde, the tenacious character Elle Woods now seems inseparable from actress Reese Witherspoon, who… (read more)
$44.50-$89.50
http://tobincenter.org/BMWSigSeries18
Tobin Center for the Performing Arts
(map)
100 Auditorium Circle
River Walk
(210) 223-8624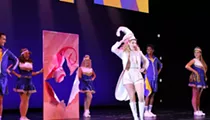 Sam's Burger Joint
(map)
330 E. Grayson St.
San Antonio
(210) 223-2830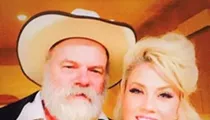 Tuesdays, Thursdays, 7:15-8:15 p.m. and Mondays, Wednesdays, Fridays, Saturdays, 10-11 a.m. Continues through March 16
(210) 708-7472
info@crossfitoptimistic.com
Sports, Special Events
CrossFit Optimistic North Central hosts Optimist Yoga Monday through Saturday. Optimist Yoga is the alignment of movement, breath, and focus to achieve optimum strength and… (read more)
$99/month
https://www.facebook.com/events/292862051434733/
Through Jan. 31
(210) 207-2500
www.mysapl.org
Film
The Mission City Film Festival is now accepting submissions until January 31st. Winners will have their films screened at the Alamo Drafthouse-Park North on April… (read more)
Free
https://filmfreeway.com/MissionCityFilmFestival
San Antonio Public Library Main Branch
(map)
600 Soledad St
San Antonio
(210) 207-2500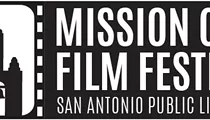 Tuesdays, 7-10 p.m. Continues through Feb. 12
(210) 281-4259
bexardan@gmail.com
Comedy, Theater
This class is designed to help you develop the skills and techniques needed to create a stand-up comedy set. Attendees will learn about structure, stage… (read more)
$199
https://www.facebook.com/events/381008645999729/
Bexar Stage
(map)
1203 Camden St.
Downtown
(312) 971-7252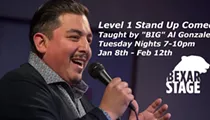 Ongoing, 9 a.m.-6 p.m.
(888) 433-8966
support@puzzlingadventures.com
Special Events
Explore the San Antonio Riverwalk, historic Alamo, and busy downtown shops and restaurants. Learn interesting facts, see the sights, and exercise your mind at the… (read more)
$29.99
https://puzzlingadventures.com/index.php
Riverbend Garage
(map)
210 N Presa st.
Central
Tuesdays, 10:15 p.m.
Karaoke / Open Mic
Test your music knowledge every Tuesday night. This creative game tests your melody knowledge along with facts about artists and songs. Choose a category, answer… (read more)
Free
https://www.facebook.com/events/137218196933123/
Oasis Lounge
(map)
502 Embassy Oaks
Northcentral
Showing 1-7 of 7 total results in this search.