Events Search – Tickets Available
2 total results
Tuesdays, 10:15 p.m.
Karaoke / Open Mic
Test your music knowledge every Tuesday night. This creative game tests your melody knowledge along with facts about artists and songs. Choose a category, answer… (read more)
Free
https://www.facebook.com/events/137218196933123/
Oasis Lounge
(map)
502 Embassy Oaks
Northcentral
Sat., Nov. 10, 9 p.m.-2 a.m.
(210) 719-6540
afrobeats210@gmail.com
DJs, Dance
Epic Bar is hosting a 90's - 2000's Party during this veterans day weekend. Indigenous Roots Wrecking Crew will be spinning the best music of… (read more)
$5-$10
https://www.facebook.com/events/234185263937927/
Epic Bar
(map)
1375 Austin Hwy
Northcentral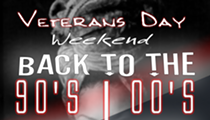 Showing 1-2 of 2 total results in this search.