Events Search – User Submitted
5 total results
Thursdays, 7:30-8:30 p.m.
(210) 818-5129
vfaith@usa.com
Kids
Children will be able to learn Spanish at the Helotes Independent Baptist Church with Patch the Pirate Español, music immersion program. For more information contact… (read more)

http://www.vfaith.org
Helotes Independent Baptist Church
(map)
15335 Orange Tower,
Helotes
Sat., Sept. 29, 8 a.m.-12 p.m.
(210) 829-1300
catherine@aapaw.org
Special Events, Benefits, Sports
The Bluffs at Old Town Helotes is inviting guests for a family and pet-friendly tailgate 5k run or walk. Proceeds will go to Alamo Area… (read more)
$30-$2,500
http://solerssports.com/the-great-fundraiser-5k/
Old Town Helotes
(map)
14743 Old Bandera Rd
Helotes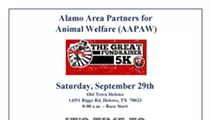 Sat., Oct. 13, 12-6 p.m.
1-210-695-2654
natalietbowman@gmail.com
Art
The Open Studios Art Event will providing viewings and purchase of original hand crafted items. The event will have art pieces from a selection of… (read more)

http://www.greyforestopenstudios.com
Grey Forest Open Studios
(map)
18922 Hillside Dr
Helotes
B Daddy's BBQ
(map)
14436 Bandera Rd
Helotes
(210) 275-9995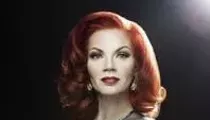 Sun., Oct. 21, 1-4 p.m.
(210) 313-4209
laescondidaevents@gmail.com
Special Events
Join La Escondida Celebration Center for a showcase of talented local vendors. This event will help guests with their garden and wedding needs.… (read more)

http://www.laescondidacelebrationcenter.com/
La Escondida Celebration Center
(map)
9888 Escondida Rd
Helotes
Showing 1-5 of 5 total results in this search.