November 17, 2016 Slideshows » Arts
A Local's Guide to Holiday Shopping in San Antonio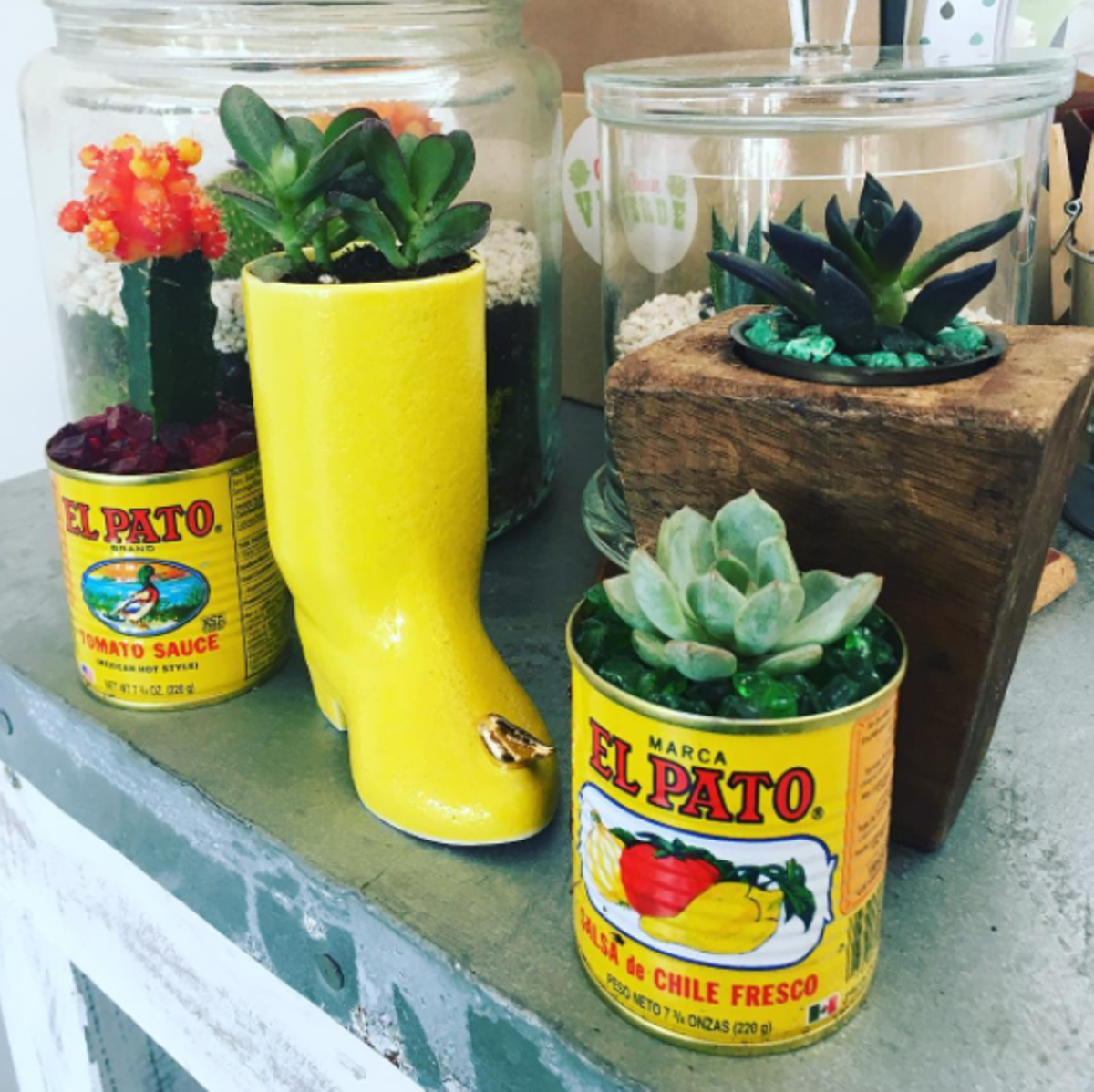 Chica Verde
Chica Verde, 914 Nolan St., (915) 490-9579, chicaverde.net
A fresh addition to Dignowity Hill, Chica Verde wants you to "add a little green to your life" in the form of artfully potted plants and all-around "porch and patio vibes." Formerly a refrigerated storage facility for an adjacent restaurant, the tiny shop opened this past summer to a warm welcome from the surrounding community and recently got a colorful makeover thanks to an exterior mural created by artist Jason Willome. With a background that runs the gamut from marketing and public relations to owning an El Paso toy store and working alongside interior designer D'Ette Cole at neighboring Good Goods, proprietor Valerie Reynolds has filled Chica Verde with old-school saddle blankets ($25), hammocks, assorted found objects, and wares crafted by area Etsy vendors. As for Reynolds' specialty, "awesomely potted" succulents ($16-$40) sprout from vintage camping cups, '70s-era ceramics, spicy peanut tins and other vessels she picks up in the fields of Warrenton and environs during Round Top Antiques Week.
Photo via Instagram,
chica_verde_tx
Good Goods
Good Goods, 904 Nolan St., (210) 229-0663, goodgoodstx.com
Walking into D'Ette Cole's Dignowity Hill emporium Good Goods offers an odd sensory rush of entering an expertly designed environment. Wall arrangements are Instagram-worthy to say the least, mid-century furniture groupings appear ready to host a retro cocktail party, and everything else looks "curated," yet in the least stuffy sense of the word. Opened in the summer of 2015, the shop exemplifies the eclectic taste of Cole — an artist and interior designer who co-founded Uncommon Objects in Austin and Clutter in Warrenton — along with a few collaborators who "infuse goods" sourced throughout Texas and on travels to Europe and India. A pleasant surprise for such a special space, much of what Good Goods sells is priced within the realm of the reasonable. Walking us through the shop on a recent afternoon, Cole pointed out chunky jade bangles ($40), Kenyan river amber necklaces ($30) and strands of African sand-cast beads ($28-$48) as examples of her taste in jewelry. "I shop for what I like," she told us. Perhaps the shop's biggest wow factor, however, is the way Cole repurposes and reconfigures objects and collections in ways that spark the imagination — dozens of wicker baskets form a conglomerate tableau on one wall and framed vintage bingo cards ($18 each) are hung on another with art gallery precision. Save the date: On Sunday, December 11 (3-6pm), Good Goods teams up with neighboring Chica Verde for a holiday fundraiser with food, refreshments, live music and 20 percent of all sales benefiting the Dignowity Hill Animal Welfare Association.
Photo via Instagram,
aly__woo
High Five Shop
High Five Shop 806 E. Mistletoe Ave., (210) 380-1637, facebook.com/highfiveshopsa
Although his original business plan involved buying a trailer, packing it with artist-made goods and staging pop-ups across the country, Joseph Silvas accepted a friend's offer to take over a small but primely located shop on the St. Mary's Strip. Opened last year, his quaint High Five Shop has quickly become a gifting go-to thanks to its curated mix of cards, stickers, T-shirts, zines, pins and prints created by well-known mainstays (including Cruz Ortiz and Tattooed Boy) and emerging artists alike. Himself a working artist who recently scored an award for Best Streetwear Designer at the second annual San Antonio Fashion Awards (for his label Broseph Goods) and a gig painting murals inside the forthcoming Quarry eatery Tacoart, Silvas sees the shop as a way to help "local artists and brands grow by introducing their designs to a wider audience." On a recent visit to the street-smart shop, a number of gift-worthy items made by Mexico City transplant Inés Estrada caught our eye, including her new comics collection Impatience, a hard-to-pass-up 2017 "Catlendar" ($10), an embroidered "magic eyes" cap, and a T-shirt starring a beer-guzzling bear. Somewhat unsurprisingly, Estrada (who also creates work under the monikers Inechi and Gatosaurio) is High Five's biggest seller.
Photo via Instagram,
ma__lady
Fiesta on Main
Fiesta on Main, 20125 N. Main Ave., (210) 738-1188, alamofiesta.com
Although it functions as a one-stop shop for all your Fiesta needs — cascarones, garlands, flower crowns, papel picado and confetti by the bagful — Fiesta on Main is a year-round operation that bustles with activity at the drop of just about any celebration. In recent months, the white-columned shop has transitioned seamlessly from Halloween witches and Día de los Muertos calaveras to Trump and Clinton pinãtas perched on the porch between a gang of Thanksgiving turkeys. Christmas and New Year's fanfare is unsurprisingly waiting in the wings. But as any regular will tell you, party supplies and holiday decor are merely the bread and butter at this distinctly San Antonio operation. Founded as an outlet for Mexican artisans to sell their wares, Fiesta on Main stocks its racks and shelves with an abundance of smartly priced giftables suitable for seasoned locals and sure to charm any of the out-of-towners on your yuletide list. Standing out among the many items we'd be happy to unwrap: colorful lotería T-shirts ($10), itty-bitty folk art figurines (starting at just $2.50 — ideal stocking stuffers), Mexican dresses and guayaberas ($22-$110 depending on the amount of embroidery), and talavera ceramic kitchenware (the $19 spoon rest and $25 teapot both caught our eye).
What's more, Fiesta on Main offers a wide array of bags — ranging from grocery totes emblazoned with Frida Kahlo to tapestry-covered weekenders — that could easily spare you the hassle of gift-wrapping.
Photo via Instagram,
sgoralnick
Articopia
Free, 6-9pm Fri, Dec. 2, 10am-5pm Sat, Dec. 3, Southwest School of Art, Coates Chapel, 300 Augusta St., (210) 224-1848, swschool.org
The Southwest School of Art's Articopia holiday bazaar returns for another year, filling the campus' Coates Chapel with unique and handmade objects ideal for all your gifting needs. Vendors run the gamut from letterpress prints to modern apparel and home decor. For the environmentally conscious, Casey Galloway's Hand Eye Textiles take shape in scratch-made shawls that use fibers she colors using natural dyes then hand-weaves into finished garments— the holy grail for crunchy fashionistas. Boyd's Farm's bath and body products are organic, vegan, and scented with essential oils, providing a gentle clean without harsh chemicals. If you're looking for gifts with a sense of humor, BarbacoApparel's cheeky screen-printed tees will allow you to immortalize your bestie's taco order so that you never forget it again, and Tattoo & Love Letters' punny greeting cards will delight your goofy pen pal. The more re ned among us will enjoy Loyalty & Blood's geometric jewelry designs and Guten Co.'s minimalist ceramics. This year also introduces the Feral Cat Collective, featuring items made by the school's BFA students. Southwest School of Art Members will have access to an exclusive preview from 5-6pm on Friday for an hour of V.I.P. shopping, after which the rest of us can get our shop on.
Courtesy Photo
Zonarte: El Mercado de Aztlan
Free, 6-9pm Fri, Nov. 18, 10am-6pm Sat, Nov. 19 & Sun, Nov. 20, Centro Cultural Aztlan, 1800 Fredericksburg Road, Suite 103, (210) 432-1896, centroaztlan.org

Founded in 1977, the community-based organization Centro Cultural Aztlan is dedicated to preserving, developing and promoting Chicano/Latino art and culture. Known for sprawling celebrations of the Virgen de Guadalupe, Día de los Muertos and lowrider culture, the Deco District mainstay lights up the holiday season with Zonarte: El Mercado de Aztlan. Uniting more than 40 artists and artisans from across the state, the weekend gathering promises handmade gifts, original prints, paintings, sculptures, jewelry, textiles and one-of-kind-treasures "for those family members and friends that are hard to shop for."
Courtesy photo
The Tiny Finch
302 Pearl Pkwy., Suite 116, (210) 253-9570, thetinyfinch.com.
Despite the stubborn Texas temperatures, you'll get a healthy dose of yuletide cheer immediately upon entering the Tiny Finch: a collection of Christmas ornaments are situated in the entryway, featuring clay crosses, hearts, and stars made by Houston-based Barbara Biel ($45). Owner Courtney Beauchamp assembles the Tiny Finch's wide-ranging yet cohesive collection both via partnering with individual designers and sourcing goods from international markets, filling the space with scent and texture with a collection ranging from high-quality soaps and lotions to vintage Moroccan rugs. Animal-loving shoppers can find anything from blown glass hedgehog salt and pepper shakers ($40), to neon pet leashes ($68), to giant soaps in the shape of Japanese red snappers ($48) amongst the store's offerings, while those looking for a bit more of an abstract representation can pick up one of local artist Ali Christensen's colorfully wrapped deer antlers ($85-130).
Courtesy photo
Choice Goods
Choice Goods, 108 Blue Star (entrance in alley behind Brick), (210) 858-2361, tatumoriginals.com
Tucked in the back of Brick in the Blue Star Arts Complex, Choice Goods Gallery champions San Anto's eclectic art scene through a colorful mixture of wares created by proprietor Robert Tatum and an array of like-minded artists. A California native based in Southtown since 1992, Tatum has left his witty, irreverent mark on businesses across the city in the form of murals and signs often featuring animals (his "OK Monkey" at The Luxury is a neighborhood favorite). Although anchored by prints, T-shirts and bags emblazoned with Tatum's signature birds, dogs, kitties, squirrels and hybrid beasties, a big part of the fun at Choice Goods is discovering the work of local creatives like sci-fi illustrator Mike Fisher and fiber artist/designer Michele Morrill. Shoppers with slightly deeper pockets shouldn't miss Choice Goods' new fine art offshoot Showdown Gallery, located at 103 Blue Star.
Photo via Instagram,
tatumoriginals
Peace Market (Mercado de Paz)
Free, 10am-6pm Fri, Nov. 25, 10am-6pm Sat, Nov. 26, noon-6pm Sun, Nov. 27, Esperanza Peace and Justice Center, 922 San Pedro Ave., (210) 228-0201, esperanzacenter.org
The Esperanza Peace and Justice Center is once again presenting the truly splendid Mercado de Paz, now in its 27th year. A local mainstay for fans of all manner of arts and crafts, the Mercado de Paz is a whole lot more than just a weekend pop-up arts fair. As stated on the nonprofit's website, the Mercado de Paz combines the arts with considerations of "economic sustainability, international exchange and social consciousness." What else would you expect from the consistently active team at Esperanza?
The indoor/outdoor event is family-friendly and, starting on Black Friday, provides a conscionable, community-centered alternative to the biggest corporate shopping days of the year. This year's Mercado will feature more than 100 international and local artists/artisans, live music provided by local performers, and tons of food choices, including vegetarian and vegan options. In summary, the annual tradition is an ideal go-to, whether you're looking to bolster your art collection, score some points for the proletariat in the grand battle against our capitalist overlords, snag some one-of-a-kind gifts, catch some live music, occupy the kiddos for the day, or simply hang out and avoid the rest of your family.
Courtesy photo
Holiday Fair
Free, Holiday Fair 10:30am-5pm, free museum admission and River of Lights 4-9pm Sat, Dec. 3, San Antonio Museum of Art, 200 W. Jones Ave., (210) 978-8100, http://samuseum.org
Sharing an exceptionally festive date with the yuletide favorite Tamales at Pearl and the Museum Reach River of Lights, the San Antonio Museum of Art's one-day Holiday Fair combines creative shopping with kid-friendly art-making activities, music and food. After browsing for bags, pillows and textiles from Fresco Fabrics, puro San Anto T-shirts, prints and stickers from BarbacoAppparel, inedible yet delicious-looking gems from Sweet Craft Jewelry and Frida Kahlo-inspired headpieces from Las Ofrendas, guests can enjoy free admission to SAMA's galleries and score a prime spot on the River Walk as the San Antonio River Authority flicks the holiday switch to the tune of live jazz drifting down the river.
Courtesy photo
sloan/hall
sloan/hall, 5424 Broadway, (210) 828-7738, sloanhall.com
Opened in 1994 by Michael Sloan and Shannon Hall, sloan/hall has maintained a carefully curated collection in its storefront for upwards of 20 years. After moving into the converted Magnolia/Mobil service station in 2011, visiting the store itself has become something of an experience. The neon Pegasus isn't the only attraction by far, though — an almost impossible array of goods are displayed throughout the store whilst maintaining the building's open and airy atmosphere, ranging from Rifle Paper Co. cards to Opening Ceremony's clothing line. Of particular note are two local designers: Doris Flores' collection of 18-carat gold-fill jewelry offers a variety of colorful, understated necklaces and earrings featuring semi-precious stones that will satisfy minimalists and maximalists alike, as they are well-suited for layering ($50-$315), and Kass Carrell's Liberty 61 clothing line features classically cut soft tees made from recycled bamboo ($68) and dresses with layered linen skirts ($340) in shades of olive, green, and ivory. Men aren't left out of the shopping experience, either – Matthew Owen's KUUTSUU leather goods are also made in Texas, and feature a drool-worthy doctor's satchel ($750) that the ladies may want to snatch up as well.
Photo via Instagram,
sloanhall
Hecho a Mano
$10, 6-9pm Fri, Dec. 2; $2 (free with donation of two canned goods), noon-6pm Sat, Dec. 3 & Sun, Dec. 4, Galería Guadalupe, 723 S. Brazos St., (210) 271-3151,
guadalupeculturalarts.org


This year marks the 30th anniversary of the Hecho a Mano market at the Guadalupe Cultural Arts Center. Held annually, the market features a wide array of local artists and craftspeople with goods ranging from traditional talavera pottery to delicate jewelry. Fans of craft fairs and eclectic goods will find much to love, particularly those looking for knickknacks with a colorful flair representative of San Antonio. Artisans are chosen by a panel of jurors each year, making the market a fresh experience for newcomers and veterans alike. On Saturday and Sunday, donations of canned goods will be accepted in lieu of the admission fee, benefitting the Inner City Development Food Bank – a fitting gesture to the spirit of the season. Courtesy Photo
Queer the Cheer
Free, 6-11pm Sat, Dec. 3, Southwest Workers Union, 1416 E. Commerce St., (210) 299-2666, facebook.com/saqcollective
Devised by local artist/educator/musician Ernesto Olivo and a handful of collaborators from varied backgrounds, the SA Queer Collective aims to "emphasize and promote" the diverse talents of the Alamo City's LGBTQA community. A holiday highlight since its inception back in 2013, SAQC's festive Queer the Cheer market and celebration carves out a "unique and safe space" for LGBT, queer and ally artists, crafters, makers, musicians and performers to gather, support one another and celebrate the season with tamales, beer and wine (offered by donation). Encouraging attendees to "buy local and buy handmade," the organization's fourth annual outing comes complete with a live soundtrack courtesy of the retro soul stylings of Alyson Alonzo and the dreamy emo goddess pop of Polly Anna.
Courtesy Photo
Brickmas
Free, 3-10pm Fri, Dec. 23, 9am-1pm Sat, Dec. 24, Brick, 108 Blue Star, (210) 262-8653, facebook.com/brickatbluestar
Facilitating the seasonal needs of workaholics, procrastinators and others who put holiday gifting on the back burner, Brickmas brings together an assortment of local favorites for last-minute shopping in the Blue Star Arts Complex. Hailed as "the final market of the season," the two-day event encourages guests to "shop local, support handmade, and get the best gifts San Antonio has to offer" by snapping up San Antonio-centric gems from BarbacoApparel, "chingona" offerings the "one-stop Chicana stop" VeryThat, all-natural, soy wax candles from Karma Candle Makers and food-inspired polymer clay ornaments and jewelry from Sweet Craft.
Courtesy Photo