A Warmaker Whose Middle Name Is Strange
By Steven G. Kellman
click to enlarge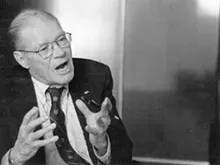 Former Secretary of Defense (1961-68) Robert S. McNamara gives 11 "lessons" in Errol Morris' film, The Fog of War.


The Secretary of Defense's confession comes 40 years too late

Although it certainly possesses fangs and claws, it does not come on little cat feet - what Karl von Clausewitz called "the fog of war." But it does come often, making motives and actions difficult to discern through the terrible murk. More than most other conflicts, the Vietnam War was fought in a fog, and Robert Strange McNamara, Secretary of Defense from 1961-68, was its leading foghorn. In 1964, when asked his reaction to dubbing it "McNamara's War," the Pentagon chief replied: "It is a very important war and I am pleased to be identified with it and do whatever I can to win it." By 1995, he was recanting. "We were wrong," he declared. "We were terribly wrong."

The Fog of War is an extended monologue that, along with books and public appearances, must be seen as a strenuous effort by the former warmaker to revise his image and even perform penance for the 25,000 American troops killed on his watch. Among other claims that McNamara now makes are that the Gulf of Tonkin Resolution, which authorized full-scale combat against North Vietnam, was based on faulty intelligence. Identifying with a Quaker activist who immolated himself in front of the Pentagon, McNamara presents himself as a closet dove who shared President John F. Kennedy's desire to withdraw from Southeast Asia and opposed President Lyndon Johnson's escalations. He even concedes that, as part of the planning team responsible for the firebombing of Tokyo and more than 60 other Japanese cities during World War II, he was guilty of war crimes. All that spared McNamara from the capital punishment meted out to Prime Minister Tojo was the Allied victory.

Although The Fog of War makes effective use of archival footage, most of the film consists of a sharp, but melancholy old man speaking directly into the camera. Occasionally, a question can be heard from director Errol Morris, invisible outside the frame. But this is interrogation not inquisition, and when asked, for example, why he never spoke out against the war after leaving Johnson's administration, McNamara is allowed to beg the question, responding merely that the subject is too complex. He says nothing about the 13 years (1968-1981) during which, under his presidency, the World Bank provided material support to corrupt regimes and financed assaults on the environment. In his 2000 film Mr. Death, Morris offered the quirky portrait of Fred Leuchter Jr., an ethical imbecile who denied the Holocaust and manufactured electric chairs. But Morris' McNamara is an ancient bird of a different feather. Prepared to revile an arrogant technocrat - the brilliant efficiency expert hired away from the Ford Motor Company to manage the DOD's killing machine - I left The Fog of War befogged by unexpected respect for a thoughtful, troubled human being.

The Fog of War:
Eleven lessons
from the life of
Robert S. McNamara

Dir. Errol Morris; feat. Robert McNamara (PG-13)

Current
Choice
ζ

"Empathize with your enemy," advises McNamara, in one of 11 "lessons" he provides as the purpose for his twilight retrospection and that Morris uses to organize his film. An ability and willingness to enter into the mind of Nikita Khrushchev enabled McNamara and Kennedy to avert disaster during the Cuban missile crisis. Refusal to consider how Iraqis think is the cause, he maintains, of President George W. Bush's current quagmire. The Fog of War encourages empathy for McNamara himself, whose eighth lesson, "Be prepared to reexamine your thinking," is as valid for the viewer as it is for an 85-year-old reflecting on a life rich in accomplishment and error. "There's something beyond one's self," says McNamara, who made substantial financial sacrifices to enter public service. Despite the vanity of "the best and the brightest," he is a quaint and lovely relic of an era in which ambition to advance the common good was not so uncommon.

A pulsing, perky score by Philip Glass provides the musical equivalent of an agile mind leaping through the kinds of ethical issues that quickened the young McNamara at the University of California. But he has come to recognize the limits of human thought. "Rationality will not save us," he offers as a lesson of his experience during the Cold War, when sheer luck, more than ingenious planning, averted nuclear annihilation. Whether or not current leaders are both virtuous and wise, the film is a chilling reminder that proliferating weapons of mass destruction make survival of the species that much more haphazard.

It is possible to imagine a sequel to The Fog of War, made 40 years from now. Instead of McNamara, an octogenarian Donald Rumsfeld (who bears a slight physical resemblance to his predecessor) repudiates his own military policies. "We were wrong. We were terribly wrong," Rumsfeld might admit about an administration that refused to concede error about anything - not global warming or tax policy or civil liberties. Confessing his mistakes 40 years too late to save millions of Vietnamese and Americans destroyed or deformed by his stubborn actions, McNamara alone cannot do enough to dispel the fog. •
---
click to enlarge
McNamara with director Errol Morris
First Person
Errol Morris uses technology to humanize the interview
As told to John DeFore
Oscar-winning filmmaker Errol Morris has changed the face of documentaries in many ways, tweaking everything from the genre's aesthetics to its philosophy. At the 2001 Sundance festival, he conducted a rare demonstration of one of his most unusual innovations, the Interrotron:
From the beginning of my work as a filmmaker, I was interviewing people. In fact, I was interviewing people long before I even had a camera.
Everyone has seen those television interviews where you have an interviewer, a camera, and a subject. When the subject looks at the camera, he's not looking at the interviewer; he's looking over there. There's not a real interaction between the people - if he wants to look at the interviewer, he's not looking at the camera. So there really is no direct eye contact between the audience, the person viewing the media, and the subject. It's impossible.
So when I got a camera, the idea was to encourage people to look into the lens. I didn't know how to do it, so I just put my head as close to the lens as possible. My head was alongside the camera. And if the shot was wide enough, you actually got the idea that person was talking directly to the lens. But they were not really looking at the camera, they were looking at me, just to the side of the camera. And I got an idea, which had been on my mind for a number of years, to create a system where I could look directly into someone's eyes, they could look directly into my eyes, and we would at the same time be looking directly at the lens of a camera. Both of us: I would be looking directly into the lens of my camera, he would be looking into his camera. This, for me, is pure first-person.
As he says this, Morris is speaking via the device he is describing, which works like a politician's Teleprompter.
It's been rigged up with two cameras, two two-way mirrors, and two television sets.
The TV screens reflect onto the mirrors, which are placed in front of the cameras. Morris goes on to talk about this new version of human eye contact versus "the old kind."
click to enlarge
I believe there still is a connection. We actually are talking to each other. I am in some real sense looking at you, and you are looking at me. It is through the medium of a number of cameras and mirrors, but nonetheless we are looking at each other. I really believe that this idea - that technology and intimacy work at odds with each other - is wrong. The telephone is one perfect example; my line is, "Being there is the next best thing to using the phone." There is a lot of truth in that. There are things you can say to another person in a telephone conversation that you would not say if you were standing and talking with them face-to-face. Technology just changes things.

When I first used this, I wasn't sure it was going to work. There was the idea that people would run out of the studio screaming. So the first interview I did, I considered a disposable interview. It was with Fred Leuchter, who became the subject of my film Mr. Death. I remember him sitting down, and he started to talk, and he continued to talk, and talked, and talked, and talked ... That interview went on for close to four hours. At one point, I got tired; I said to Fred, let's take a break and walk around. And Fred said, "No, that's OK, I'll just sit here." So we all went out of the studio, and he was just sitting there! Waiting patiently to start talking again! Later we came back, and he started talking, and it became quite clear that this device worked extraordinarily well.

Before the Interrotron, I started what I now consider to be my trademark style of interviewing. I'd go into a room and put a tape recorder, which was already running, on the table. I wouldn't make any reference to the tape recorder, but I would make it plainly visible. I'd put it on the table and we would start talking. And I was amazed that often these conversations could go on for a very long period, and I could say very little. It became kind of a game after a while: Can I do an hour interview (the cassettes were an hour on each side) without saying anything, so my voice wouldn't be present on the tape? And it turned out that in fact that was possible. I could do it again and again and again.

I think that everybody has a need to provide some narrative about themselves. To themselves as well as others. Language gives us the ability to create stories for ourselves. •