From chandeliers fashioned from animal skulls to lovingly sanded doorframes, Christian Brunner is creating an oasis eight blocks from downtown
Christian Brunner excels in building large-scale sculptures, but his compound on North Flores Street could be the grandest installation of all.
A former biochemist , Brunner transformed into a sculptor and painter whose design projects enliven Mexican restaurants and nightclubs.
"I liked it and I was good at it," he says of science, "but it wasn't what I wanted to do."
click to enlarge
Brunner refurbished an old coal chute in the kitchen. "I wanted a Santa Fe look. And I painted it with chalk paint so you can write your shopping list on it."
(Photos by Mark Greenberg)
The son of a philosophy professor and a sculptor, the well-traveled Brunner was born in Germany, lived in Boston, and moved to San Antonio about four years ago, when he began refurbishing three decaying 19th-century structures that darkened the west side of the street like rotting teeth.
Still works-in-progress, the white main house and guesthouse are now inhabitable and filled with artwork, books, odd furniture, and vinyl records — classical, jazz, and "for parties, German techno." The interior also reflects the owners' sense of humor — a mural of a cowgirl collides with nearby sumptuous red curtains — and utilitarianism, be it a sleek, metallic bathroom or a refurbished, black coal chute painted so "you can write your shopping list on it."
Except for three crumbling walls, the former Jacal store, built in 1811, is in ruins, partially encased inside a rosebush with a trunk whose girth is bigger than many crepe myrtles.
Built from long-leaf pine, the exterior of the main house is embellished with a second-story veranda, 6-foot windows, and a blue-and-white metal roof. Brunner's meticulousness is evident throughout both homes: he hand-stained individual boards in the oak floor, painted the exterior with hand-ground and mixed pigments, built several fireplaces, stuccoed the walls, and installed lights fashioned from old glass insulators.
click to enlarge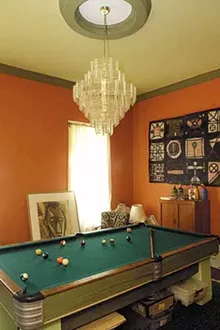 "I have a fetish for lighting," says Christian Brunner of the chandelier in his pool room. "This one is really kind of white trash, but it works in contrast with the regal kind of things."
Brunner led me on a tour of his "metro ranch," where, behind the palm fronds, olive trees, and oleander bushes, live he and his partner, Lane, a fund-raiser for the Democratic Party. We're accompanied by their German shepherd, Max, and exotic Xoloitzcuintls, Luna and Sunshine, a rare hairless dog breed whose skin is as hot as a lava rock.Sensors beep from the alarm system as we walk from room to room.
"Germans, we're perfectionists," Brunner says. "If you want something done the way you want it done, do it yourself. In the morning, I write down in my little black book what I want to accomplish and in the evening, I write down what I did and what is missing. It's very analytical."
How did you find this house? When you saw it, did you have a vision of its possibilities?
I drove by it and I thought it had an aura. It wasn't too ornamental. The back had been burned out. People had looted the house, taken the fireplaces, and there were homeless people living in it. It had serious foundation problems. Some people said, You should bulldoze it, but I said, No way.
How did you get the homeless people to leave the house?
I wrote them a note on a big piece of cardboard: "Dear homeless, I'm sorry I'm taking over your space. I don't want to call cops on you, but please don't come by anymore." And they didn't.
Where do you find these decorative elements?
I have millions of scrapbooks. I take down everything I see, cut things out and put them in my book. I go to estate sales, travel a lot, go through dumpsters. I have a fetish for lighting. I collect fixtures. I got a whole bunch of these from an old cafeteria, Wyatt's.
Is that a real zebra skin?
Yes. But I don't believe in killing in animals .
And these are your paintings?
When I was working in a lab, I made a recombinant HIV virus that would express different surface proteins. How beautiful, but how deadly, too.
I love the stairwell mural.
One of the first artists I met here was Robert Tatum. I was going for a little Texas whorehouse feel. And I'm upholstering this room. It's vinyl and foam and it's tufted, like in a crazy house.
click to enlarge
Robert Tatum painted the mural in the main house. "I wanted a Texas whorehouse look," Brunner says.
This would be useful if you lose your mind while working on the house.
`Exit to yard`
There was nothing here before. I had to hire somebody, and he quit on me after three days; he had to use a machete to get through the yard in the back. I put in all the walkways and the pebble stone and all the plants except for the palm trees. I built an irrigation system and the water gets distributed with little tubes running all over the place. I'm getting more interested in sustainable building and I'm xeriscaping.
I'll put in a pool right here. My idea is to put one gigantic dome and make it the pool house. The pool leads you into the dome. It will have glass walls, you can watch people in the pool.
I'd never leave this place if I lived here.
I have a studio across the street. I don't have a car and I only really go out when other people take me somewhere. I have a bike. Usually I don't leave. I can be here for weeks on end.
You should build a walkway over the street.
Or a tunnel. With a train car, and maybe power it by collecting rainwater and making it go over a wheel and store it.
`Arrive at old store`
They used these cedar posts and wood strips and filled it with stone and stuccoed over it. This will be an outdoor dining room and exhibit hall, with a long table and Mexican furniture and an earthen floor. In general, we're trying not to disrupt the structure. We had it braced so it wouldn't collapse.
Can I ask you a personal question? How much have you spent on this property?
Let me say that for what I've spent on this, I couldn't even get a shack in King William.
What do you think about modern American architecture, such that it is?
The religion of the U.S. is capitalism, so architecture is driven by developers. There is a cost-efficiency ratio and so you end up with houses built from laminated plywood chips.
click to enlarge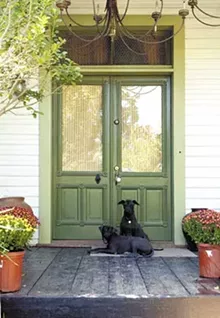 Luna and Sunshine, a rare Xoloitzcuintl breed, patrol the property. "Frida Kahlo was the first to save the breed. The Aztecs used them to warm their feet because their body temperature is elevated. In Germany and France they're popular as medicinal dogs."
How does this house express you and your art?
Learning to do this house has contributed to my to artwork and its becoming more mature. The most enjoyable thing is I can find own style; I'm not trying to restore the house to its original glamour with period furniture. I want the house to be kind of conservative on outside, but on the inside I want it to be more out there and make it my style. Germans are more about monochromatic clean lines and grays. Being close to Mexico helps me be more aggressive with color and have more confidence in my choice of color. But this house is about my boyfriend and me; it's us.
`Gazes at the yard.`
I'm a very outdoors person. I love the climate here. I love having the dogs; I want a donkey.
Is that legal in the city?
Oh no, but it would be great to ride around here on a donkey. •
By Lisa Sorg