A McNay exhibition captures the nexus of wealth and art that birthed America's art renaissance
Villa America: American Moderns, 1900-1950 at the Marion Koogler McNay Art Museum is many shades of the American Dream. As a touring collection, it surveys the era when America went from being curmudgeonly aghast at the 1913 Armory Show (eek, cubism!) to gaining artistic dominance over Europe. But it is also about the wealthy who support and live with art as a lifestyle. This emphasis shows up in the show's title, its collector, and its latest venue.
click to enlarge
Iconic pieces include "Roberto," by Walt Kuhn.
A Minneapolis native, collector Myron Kunin inherited his father's business, the salon-owning Regis Corporation. Bored and overly competent in the business world, he began educating himself about American art, and his eye is equally competent there as well. He promotes from within, you might say, finding under-appreciated artists and selecting work from less-collected eras of well-known artists: An early figurative Philip Guston painting, for example, called "Halloween Party" (1942), is a rare glimpse of the artist's future. Kunin's paintings have left the corporate office walls and are on the last leg of a national tour organized and curated by Elizabeth Armstrong.
click to enlarge
"Villa America," by socialite heir Gerald Murphy, gives its name to a touring show of early 20th-century American art on view at the McNay.
Villa America takes its name from the first work in the show. Only 16 paintings by socialite heir Gerald Murphy have been identified and only half of those are known to exist. Villa America contains a whopping two. Murphy made a small, flag-like canvas to identify his driveway on the French Riviera. This is the home, dubbed "Villa America," where he and his wife lived from 1921 until 1932, entertaining such émigrés as Cole Porter, Dorothy Parker, and Ernest Hemingway. As chic, yet troubled, American hosts, they appear in F. Scott Fitzgerald's Tender is the Night. The Murphys' return to America during the Depression underscores some of the exhibition's themes: "Return from Bohemia," and the heyday of American Regionalism.
click to enlarge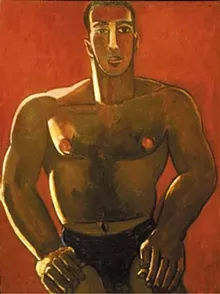 Marsden Hartley's "Madawaska-Acadian Light-Heavy."
As the exhibition snakes through gallery after gallery, it never ceases to astound. There is Walt Kuhn's famous acrobat, sitting in his pink leotard like a coiled spring, hanging next to Marsden Hartley's bare-chested wrestler with thick black outline and a background like dried blood. Paul Cadmus and Ben Shahn both have the honor of being rejected for WPA mural projects for their social commentary and use of Walt Whitman poetry, respectively. Grant Wood's "Return from Bohemia" (1935) shows the artist painting while his Iowa neighbors hover over his shoulder. Wood spent two years sitting in Parisian cafes, getting latte foam in his goatee until, as he told the New York Herald Tribune in 1936, "It was then I decided that all the really good ideas I'd ever had came to me while I was milking a cow. So I went back to Iowa."


Villa America:
American moderns, 1900-1950

10am-4pm Tue-Fri,
10am-9pm Thu, 10am-5pm Sat,
noon-5pm Sun
Mar 15-Jun 4
$8 adult; $5 seniors, student;
Free for McNay members, children 12 and under;
By donation on Tue

Marion Koogler McNay Art Museum
6000 N. New Braunfels
824-5368
mcnayart.org



The outdoorsy Georgia O'Keeffe wasn't exactly slouching through contemporary culture. Her "Green-Grey Abstraction" (1931) is one of the few paintings of hers to impact me. Morris Louis might have made its skeins of color if he hadn't been stuck in a gambit devoid of lush paint.
Charles Sheeler's "Winter Window" is just as tightly painted as his famous industrial scenes, but imagines his studio windows looking out over a fictional alpine scene, complete with tiny skiers tracking across his perfect, pale-blue snow. While his subjects are taking a refreshing break from work, the artist's handling of material refuses to clock out.
Several works in Villa America converse with the McNay's collection and particularly with their recent High Drama exhibition. `See "Back in over-the-top style," June 2-8, 2005.` Pavel Tchelitchew is a Russian-born artist with ties to the theater and Magic Realism. His "Weeping Negro" (1933) is so teary, it's nautical. Senegalese dancer François Benga, a performer at the Folies Bergère with Josephine Baker, appears in three portraits by Tchelitchew — one a deep perspective portrait that traveled with High Drama. This is one of those key works that makes Kunin a surprising collector. •