A new show about scrapping illustrates the strength of a hobby
"My name is Debbie D - and my favorite thing about scrapbooking is actually the socializing."
"Hi. I'm Barbara M - and I love scrapbooking because it tells people's stories, and you can read about other people's stories."
"My name is Carrie M - and I love scrapbooking because it pays my bills."
click to enlarge
Local scrapper Diane Williams auditions for a spot on an upcoming local TV show about the craft of scrapbooking.
(Photos by Mark Greenberg)
It's a sunny Saturday morning in July in South Texas, which means the asphalt in the parking lot outside the small makeshift television studio is inching quickly toward 100 degrees, and there's not a tree in sight under which to hide your car. But these women are cheerful. Perky. They are here to confess their addiction to an innocuous-seeming hobby in hopes that it might earn them a spot on a locally produced television show being developed by PrimaDonna Productions. The clock has just struck 10:30, but the crew behind the cameras has congenially grilled almost a dozen women on the joy, creativity, and expertise of scrapping - the very modern craft of assembling personal memories into elaborate books that are to your childhood scrapbook as an iPod is to an 8-track tape.
Among the sample scrapbooks that the hopefuls have submitted is a triangular 3-D book that stands up like a tree, each page bearing a small origami envelope in which the book's owner can write journal entries. In another sample, faux slide frames in jellybean colors hold thumbnail photos. On a third, a gilt, segmented Chinese dragon is the highlight of a Mulan-themed spread.
Carrie M., a gregarious brunette with corkscrew curls and dimples, is doing double duty when she steps in front of the camera to audition. She works at Scrapbook Addictions, one of San Antonio's most popular specialty scrapping stores. All morning she has sat alongside the show's creator and executive producer, Nancy Parker, peppering the friendly chatter about color palettes and family photos with technical questions. Do you use non-archival material in your books? she asks each auditioner. Several of the women, although they've been scrapping for years, admit to using untreated newspaper clippings. "Anything that you add that you don't buy at a scrapbook store you need to spray," Carrie admonishes.
Archival Mist, a spray-on alkaline buffer, is one of the thousands of products that stores such as Scrapbook Addictions sells to a booming market. Debra Beagle's World of Scrapbooking website reports that in 2002, industry sales were close to $3 billion, with sales projected to reach $12 billion by 2007. Parker, who works in marketing and public relations, became interested in the market possibilities of scrapping in 2001 when a co-worker she barely knew offered to make a scrapbook of Parker's second wedding. Soon after, she attended her first crop - large gatherings at which fellow scrappers buy and sell supplies and make scrapbooks together - where she estimates 800 people filled the booths and cropping rooms. "It's a cottage industry that's outgrowing the 'cottage' part of it," she says.
click to enlarge
Local scrapbook maven Nancy Parker looks over samples of work by several scrappers who will be auditioning for spots on an upcoming TV show about scrapbooking.
Even the fanciest augmentations - tiny 3-D stickers of U.S. Air Force planes, miniature Navy dress whites, or adhesive champagne glasses that look as if real bubbles are clinging to the sides - don't run much over $15, so it takes a lot of sales to get to $3 billion. "Honestly, initially I thought it would be 30-50-year-old housewives," says the show's producer, PrimaDonna Productions President Nikki Young, "but everybody does it."
Young, Parker, and director Chadd Green will script the show after they have auditioned the available talent, but they are thinking of a model based on Queer Eye for the Straight Guy, in which a group of personalities with complementary skill sets will guide croppers through special themes and new techniques. "We want to keep the focus on storytelling," says Young. Parker tells me that the essence of scrapping is giving your heart to someone else. Technical knowledge is crucial, but ultimately her show will be about the people.
Parker also emphasizes the potential size and diversity of the audience, but the demographics for the show's talent pool are narrower. Mothers and teachers dominate this morning's auditions, which makes sense when you consider who would be willing to patiently and cheerfully explain a painstaking process on camera.
Variety comes primarily through age. Local actress Polly Price wheeled in her vintage scrapbook sample, almost 2-feet square, on an old luggage cart, the scent of mothballs in her wake. Parker and crew chuckled over Price's quick tongue (What don't you like about scrapping? "Getting old.") but Parker could scarcely contain her dismay over the state of Price's newspaper clippings, some more than 50 years old. "You desperately need to get some Archival Mist on your stuff."
click to enlarge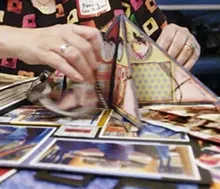 Many scrapbooks are ambitious and creative, such as this one that has an origami envelope on each page in which the book's owners can write journal entries.
Carrie M. represents the young set. "I'm an ag girl," she says when asked about her background. "I've had my arm up to here (she indicates her elbow) in a cow."
One of Carrie's sample books is from the 1999 Aggie bonfire catastrophe, when the traditional giant log pile collapsed, killing 12 students. It represents two common themes among scrappers: therapy and the preservation of history.
"Everyone you talk to goes, I do it for stress reduction," says Parker, who began scrapping as an adult when she cared for her ex-mother-in-law who was in the advanced stages of Alzheimer's. She found that the only way to keep her calm was to look at family photo albums together. "I just kind of figured out that if I could add things, if I could put in pieces of her dress that, maybe for me, it was more interesting." Later she adds, "I can't emotionally re-do the same book."
Women who scrap take their duty to preserve family history very seriously. There are solemn, approving nods all around the studio when Debbie D. says, "If I were to die tomorrow, my family would know how much I love them, and also my grandchildren would know me in some way." Parker intends to donate some proceeds from the show to Alzheimer's research and this, too, is a common thread underlying cropping. The Hallmark of scrapping, Creative Memories, which has been in business almost 20 years, supports Alzheimer's research through its annual Time for Triumph campaign.
You can't have a movement, of course, without a faction or two. Parker is not a fan of Creative Memories, which, she says, has very rigid guidelines that would disallow some of the most inventive designs, such as the chopsticks that act as banner poles on the Mulan pages. As she flips through auditioners' books, she is quick to spot and ask about pages that might be Creative Memories templates or products. Croppers are mostly self-taught, supplementing their experiments with classes at a local supply store or with friends who scrap, and Parker is interested in finding the most imaginative and knowledgable of these craftspeople. She appreciates clever uses of the ever-evolving array of scrapping products - die-cut letters, vellum mosaics, embossing, and elaborate stickers - but her favorites, she says, incorporate more tangible pieces of history, like the scraps of material from her ex-mother-in-law's days as a Southern Baptist missionary in Chile.
Parker's most elaborate book began as a gift for her nephew, who is in the armed forces. As relatives continued to send her documentation of other family members who also served, the book grew into a military family tree. Supplemented here and there with themed stickers, the bulk of the book consists of historical photos and letters, including a copy of correspondence from President Hoover to her great-great grandfather. This illustrates another popular theme among scrappers: patriotism. Debbie D. showed off a handmade miniature accordion file filled with tiny tags covered in photos and messages for a family member stationed in Iraq. She also passed around a book, Red, White, and Blue, by Susan Isaacs, that she is modifying with collage to make a scrapbook memorial of 9-11.
A visit to Scrapbook Addictions is like a peek into the hearts of Security Moms - one of the swing votes credited with delivering the 2004 election to George W. Bush - and the contradictory soul of Red America. Among the sticker sets is a miniature casino set, including a slot machine, a tiny straight flush, chips, and die. A Harley-Davidson set is darling, with tiny jean pockets and bike decals, but an image of Lynn Cheney making a book for Dick pops unbidden to mind. A miniature police-officer set includes bullets for the handgun, a nightstick, and handcuffs. It's possible to modify that, I suppose, to make a Rodney King memorial page, but given that there seems to be as many military starter pages as matrimonial pages, it's pretty clear who's cropping and who is not.
Despite assurances that men crop, too, I've yet to meet one. On a recent Sunday afternoon, there are only two people in Scrapbook Addictions who don't fit a 30-50 female demographic. One is a daughter (mother-daughter cropping is popular), the other a patient husband. The shopkeepers are busy, suggesting tools and techniques to new croppers and adding shoppers to their mailing list.
Back at the studio, Barbara M., who has a master's degree in education, is finishing up her interview. "It's like what used to be the old-fashion quilting bees," she says, and Parker nods enthusiastically. •
By Elaine Wolff