Help yourself to an Aveda treatment and help a salon student graduate
Oh, sure, you thought, when Silver Ventures announced last November that an Aveda Institute would be opening on the grounds of the old Pearl Brewery, that's nice for hairstylists, but what's in it for me?
A $14 pedicure, for starters, in which an advanced student of the cosmetology program - hair, nails, and makeup - rubs your callused feet with warm oils and sea salt and wraps them in heated towels before applying a perfect coat of polish.
click to enlarge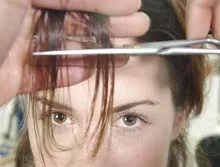 June 9, at the conclusion of its first six-week semester, the school opened for business. More than 40 cosmetologists and esthiologists (who practice skincare, including facials), many who traveled from as far away as Seattle to attend the Institute, need to complete 1,200 hours of hands-on practice before they can graduate and head off to lucrative jobs in Aveda-affiliated salons.
Educational Director Holly Zapata says that professional stylists can make between $60,000-100,000 per year, before tips, once they're in the real world where a cut and color is easily a three-figure indulgence. While the advanced students are completing their practice hours at the Institute, however, a haircut is a mere ten-spot, and foil color and permanent waves and relaxers start at $30.
click to enlarge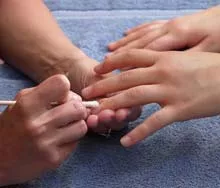 The Aveda Institute isn't your average beauty school. There's no linoleum or harsh lighting in sight and it smells good. The spa area in particular is redolent of citrus, herbal grasses, and other essential oils that are incorporated in the skincare treatments. The school is housed inside the brewery's old garage, where the renovation by DHR Architects left much of the original brick walls exposed, and natural light floods the cosmetology area and shop (which carries Aveda's complete line of products; a friendly clerk helped me select an $11 lip tint with sunscreen).
The store provides a clear view of the newly opened Texas Farm to Table café operated by Brian and Elise Montgomery. As the name promises, the Montgomerys plan to fill their larder with Texas produce and to build the menu around fresh, healthy food. That philosophy is a good fit with Aveda, which has been a pioneer in sourcing products from environmentally and economically sustainable cooperatives and producers.
click to enlarge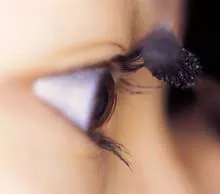 Aisa, the young woman who gave me a pedicure, is originally from Del Rio. She told me excitedly that salons already are calling the school to ask when the first crop of grads will be available for hire. When she was finished, my heels were as soft as a newborn's and my toes twinkled like rubies in their flip-flop setting.
After my pedicure, Angela Davis gave me a $30 mini-facial that left my skin velvety soft. She's aware of the famous ex-Black Panther whose name she shares, she said, but this Davis describes herself as a former military brat who succumbed to San Antonio's charms. Like Aisa, she plans to work in San Antonio after she graduates, enriching the local pool of salon and spa talent. But before that can happen, the students must practice on the public; it's what the Jack Welch types like to call a win-win situation. •
By Elaine Wolff