Flight Gallery promises to make art history of works that don't sell before the Eve of Destruction
Artists who contributed work to Eve of Destruction also had to conceive violent endings for their pieces in the event they are not purchased by 11 p.m. Friday, October 7. Works of art with one foot in the grave have been contributed by (top to bottom) Ryan Walker, Supher, Cruz Ortiz, and Chris Tracy, among others.
click to enlarge
click to enlarge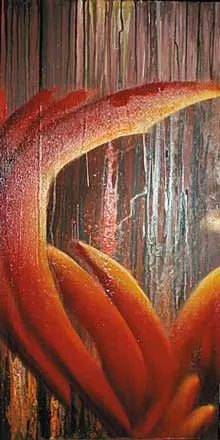 click to enlarge
click to enlarge
T
here has been a lot of destruction lately; I think we can all agree on that. Now, as boiling summer is overdue to turn into autumn, when leaves will lose their lives and fall into crunchy corpse piles, there is an event we all can really relate to:
Eve of Destruction
is the brainchild of Flight Gallery's Justin Parr and Ed Saavedra, who threaten to destroy all works in the group show that aren't purchased by 11 p.m. on First Friday, October 7. Suddenly, a pulse is put on how much you like that painting.
The public could preview the entries at a party four days beforehand, get attached, buy early, or risk waiting. Friday evening, viewers can still save art with their checkbooks, or even pledge a portion of the purchase price in hopes that others will do their part to save it. Those pieces that aren't bought will be executed according to the artists' designs. That means each artist has to come up with two ideas one for the creation of the artwork and one for its destruction (if it comes to that). Participating artists include recent Artpace resident Cruz Ortiz, Three Walls director Michele Monseau, and Artlies editor Anjali Gupta, as well as Pacer Staktrane from Berlin and others.
Asked if this is about performance or about selling lots of work, Saavedra and Parr reply that, in addition to the fun involved, "The fact that one of our city's most hyped visual-arts-related events includes in its name the epithet starving artist' is symptomatic of a larger community attitude. This show is a metaphor for a new attitude we'd like to smother the greater metro area with: If you like it, buy it. Otherwise it's art history."
But for this show to work, frankly, the work should be really good. We should feel heartbroken if it's lost to posterity. Think of the art lost in World War II that we only know through outdated black-and-white slides. Or the Bamiyan Buddha statues gunned down by the Taliban in Afghanistan, and the art lost in the Iraqi invasion. Now those are tragedies.
But on the flip side, there will undoubtedly be pleasure taken in the various methods of destruction (the invitation hinted at pyrotechnics) and the destroyed art will be on view for the rest of October. Folks who think there is too much art out there will be pleased to see some of it go away. Those who love Happenings will appreciate the destruction. Plus, musical entertainment will include Astronautilis, DJ Scuba Gooding (prhymates), DJ Lenyrd Spinyrd (prhymates), and Austin band The Evildoers.
Like anything that happens around the time of major historical events, "Eve of Destruction" is recontextualized by the recent hurricanes' paths of destruction. No matter that the show was planned beforehand and had nothing to do with mother nature, it shares the same cultural space. About making art in a vacuum, the curators stated: "Context is nearly everything. We don't work in a vacuum (we don't even own one between us), so why would we expect to show in one?" •