Mydeathspace.com memorializes the grislier side of the final log-out
Have a quick look at someone's Myspace.com account. A lot can be learned about the life of a particular person by spending a few minutes scanning the information he or she has provided through blogs, surveys, and photographs. Take, for example, 17-year-old San Antonio native Stephanie Sanchez. She is a senior at El Sendero Assembly of God Academy, loves the band Coldplay, is hooked on MTV reality shows, and considers herself a hopeless romantic.
click to enlarge
Now that you know something about her life, log onto Mydeathspace.com and find out how she died. Sanchez was murdered on December 12, 2005, by her boyfriend Adrian Estrada, 22, a former youth pastor who stabbed her during an altercation at her West Side home. At the time of her death, she was 3 months pregnant with their child.
Created in December 2005, Mydeath-space.com, which has no affiliation with Myspace.com, is an online "extension of a normal obituary" that you would find in any daily newspaper, according to San Fransisco native Mike Patterson. On the site, Patterson archives the deaths of Myspace users who have passed away with an active Myspace account. Along with a photograph of the deceased, which is linked to his or her Myspace website, Patterson provides online and scanned newspaper obituaries, links to friends' blogs that talk about the death, and other memorial websites.
In one case, a quadruple-murder in Forsyth County, Georgia, Patterson supplies a link to an online forum containing an unsettling 911 call made on the night of the killings. Gunshots can be heard on the recording, along with the screaming of one of the victims, 18-year-old Mariel Hannah, who is currently featured on MDS.
"MDS gives viewers a closer look into the lives of Myspace members who have passed away prematurely," Patterson says, adding that all the deaths he has posted have been submitted to him via email, many times by family members and friends. Patterson says he receives an average of 5-10 notices each day. Currently, he adds, he has more than 800 e-mails in his "Submit a Death" inbox that he needs to review, verify, and post. In the last five months, Patterson has continued to add to the website archive, which now contains more than 250 deaths and 40 suicides. He also has included the profiles of eight murderers who, at the time of their crime, were Myspace members.
"If it has to do with Myspace and death, the profile gets posted on MDS," Patterson says. "We are certainly not 'honoring' murderers on MDS, but the murderer entries are often interesting and get a large number of comments from viewers. Most of the time, the comments aren't pleasant."
"It's hard to not want to look. It's the same reason we go to historic cemetaries ... just to read the names. It makes you wonder: Who were these people?"

- "DAISY," Mydeathspace.com user
These "unpleasant" comments, which are not only addressed to the murderers but the deceased as well, are one of the major issues for visitors who believe MDS is sensationalizing death. Critics say the site offers strangers an easy and anonymous way to leave offensive remarks about people who have died.
"It's honestly disturbing," Kyle Broughton said when he first saw the MDS website and some of the comments that were left for his high-school friend Drew Bingham, who passed away in March. Bingham, according to his Myspace site, was studying criminal justice at San Antonio's Northwest Vista College. He died after falling off a rooftop patio during Spring Break in South Padre. One comment left by a visitor named "Ashley" said, " ... he probably had it coming."
"Everything about `MDS`, even the name, just makes me uncomfortable," Broughton added.
On the MDS home page, Patterson has posted this message: "We have given you the opportunity to pay your respects and tributes to the recently deceased Myspace.com members via our comment system. Please be respectful." When this request was not taken as seriously as he had hoped, Patterson, who says he receives occasional death threats, decided to make his point as clear as possible and in some cases has followed through with this posted warning: "If you are an A-Hole, we reserve the right to post your e-mail address in an A-Hole section on our site."
click to enlarge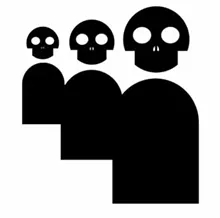 Patterson admits that it is very difficult to stay on top of the negative comments and delete them promptly — the site receives more than 80,000 hits per day — but he says he is working on a new commenting system that will block certain words and the e-mail addresses of people who continually abuse the feature.
These precautions mean nothing to parents such as Bob Shorkey, whose 24-year-old stepdaughter Katie Knudson was killed in a drive-by shooting in Fort Myers, Florida, on February 23. One month later, she was listed as Death No. 70 on MDS.
"Shut `MDS` down," Shorkey said. "I think it is the lowest thing I have seen concerning our daughter's death. Death is fascinating, but not to the family. This is not for all the world to draw graffiti on the tomb of the dearly departed."
Although he does not advertise it on the site, Patterson says any family member who is unhappy with MDS profiling the death of their son or daughter can "e-mail and request that they be taken down."
One MDS profile that was removed recently is that of Samaris Tassinaro. Tassinaro, 19, a New Jersey resident, died on April 24 in a vehicle collision. Her fiancé, Dean, said he was shocked when he discovered that no one had informed the family that MDS existed and was featuring Tassinaro on their death list.
"I disagree with the fact that family is not notified nor has access to modify the things that are written about their loved one," he said. "A family member shouldn't have to stumble upon this website and see obscene and hurtful things written about their loved ones. It's hard enough trying to grasp them not being here anymore, but to have to deal with such childish behavior on top of that is ... poorly executed by the creator."
Like many who have lost loved ones, Dean has decided to transform Tassinaro's Myspace account into a memorial where friends and family can log on and leave messages for her. The opportunity to grieve online has prompted many of Tassinaro's friends to visit her site and mourn their loss.
"It's been a month and I still can't wrap my head around this," writes friend Kelly. "Every day I think about you and it hurts so much. But I have to tell myself you are gone."
"Everyone has their own way of coping with death," Dean said. "If by keeping `Tassinaro's` Myspace around it allows people to better grasp her not being here, then obviously it serves a purpose."
Patterson agrees. He says MDS is not a place to grieve and that family and friends should stick to Myspace to express their feelings. Instead, he says, his site should be used as an educational tool to show teenagers that life is fragile. There are currently 15 alcohol-related automobile accidents in the MDS directory.
"Teens viewing all the drunk-driving-related fatalities will hopefully stop and think next time they're put in a similar situation after a party," Patterson said. After visiting the site for a few weeks, MDS user "Daisy" summed up what she felt was at first "morbid curiosity."
"It's hard to not want to look," she said. "It's the same reason we go to historic cemetaries and walk down the rows of tombstones just to read the names. It makes you wonder: Who were these people? I think, in some ways, it makes death a little more comforting because we can see that it happens to people just like us."