Travel journalism is taking vicarious adventure to new highs and lows
Rob Riggs spent Labor Day weekend camped out in the Big Thicket region with members of the Texas Big Foot Research Center, searching for a creature known variously as the Wild Man of East Texas or the Southern Big Foot. Riggs had a camera with him, of course, although in more than three decades of documenting others' sightings, the Hardin County native has yet to see one himself. He's heard them, though - "The nearest thing I can come to describing it, is that it's like a train whistle, except it's a different tone, obviously" - and that close call, along with tracks and firsthand tales, has been enough to fuel an entire career, including a 2001 book published by Paraview Press and subtitled "Exploring Nature's Mysterious Dimensions."
click to enlarge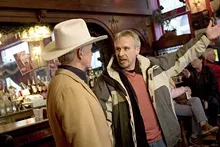 Cash Peters, above in parka, chats up a local dude in an episode of Stranded with Cash Peters, in which the English-born traveler is dropped without supplies or preparation in a variety of locations.
There used to be a name or three for people like Riggs, and they weren't all nice, but nowadays he has a new title: travel writer. And producer. Footage from Riggs' Piney Woods stakeout will be used for a Travel Channel program scheduled to air this winter. Riggs also is a co-author of Weird Texas: Your Travel Guide to Texas's Local Legends and Best Kept Secrets, the latest book in the Weird U.S. empire, which includes guides to the curio cabinets of five other states and a television pilot for the History Channel (best watched, I might add, late at night in a hotel room).
The wilderness may be largely settled in the 21st century, but cable and satellite television is a vast territory populated by hungry media executives clamoring for programming to which ad revenue can be tethered, and specialty channels such as Travel face a bigger challenge than their polygamous brethren: How do you put a fresh face on 24 hours worth of globetrotting? The answer seems to be leave no demographic or formula unturned. Caviar? Check. Wallets made from human skin? Check. Viewers who spent childhood evenings mesmerized by Leonard Nimoy's exploration of Easter Island on In Search Of... will feel at home with Riggs and the Weird U.S. crew. Travelers who follow their stomach can rely on Anthony Bourdain, author and host of A Cook's Tour, to sample Icelandic mud baths and the beating hearts of cobras ahead of them on No Reservations. And Saturday evenings can be spent in the not-so-capable hands of 5 Takes' young guides.
5 Takes, which must have been pitched as "The Real World on the road," follows a crew of 20-something, newly christened Travel Journalists (or "TJ" in the show's shorthand) as they encounter Greek folk dancing and German food for the first time. The insights are not deep - folk dancing is fun, but hard; sometimes you get homesick - but the show occasionally captures the essence of travel: joy in discovering something new.
"I got turned on to travel back in 1969 when I went to Europe for the first time," says Joseph Rosendo, producer and host of Travelscope, the 20-year-old radio program that just made its television debut on the local PBS affiliate, KLRN. Rosendo was tasting wine for the first time in Germany when he had his epiphany. "Whatever that is, bring me more," he remembers thinking. "That was basically my experience with Europe."
As you might expect from a public television program, Travelscope takes an educational approach informed by Rosendo's belief that travel is the best way to overcome prejudice. "You should be trying to figure out what it is about these people that makes us the same or makes us different, and how can I come away from this a better person," he says. And where shows such as Travel Channel's new series Travel Spies, which purports to send three Prada-clad "experts" undercover to top hotels and restaurants, don't seem to waste a breath of Tyrolean air on philosophical concerns, Rosendo is aware of the irony of travel journalism. "It's a very fine line to be walking, as a travel writer to be writing about destinations. One of our jobs is to go to paradise `and` report on it, which then will bring a whole influx of people that will probably change these people's lives."
Still, there's a little Marco Polo in all of us, and Rosendo views his programs and eponymous publication as a way to encourage conscientous travel. "Try to impact the destination as little as possible," he says. "Try to get into where these people are coming from; try to mirror them instead of imposing your views of what this society should be like on them."
"Oh, my gosh. I wish I were so virtuous," Cash Peters says, laughing, in the heavy English accent (Ringo Starr-like in its heavy nasality and muddled vowels) familiar to fans of NPR's Marketplace and the Savvy Traveler. While filming his new Travel Channel series, Stranded with Cash Peters, the host spent time tempting the confirmed Luddites of the South Pacific's Tanna Island with radio and other wonders of Western civilization. "I tried several times: 'Wouldn't you just like to sit in a car?'" he recalls. "I couldn't understand why they wouldn't wear trousers. It really was the most phenomenal experience. There are people in the world that genuinely don't share your enthusiasm for progress."
click to enlarge
Joseph Rosendo, right, has been producing the radio program Travelscope for more than 20 years. In August, a video version of the show premiered on KLRN, Channel 9.
That charming English self-deprecation aside, Peters' curiosity about other people - about "the other" in all its forms - drives the show. Stranded's premise requires Peters and crew to be dropped unawares and unprepared in farflung destinations, from Newfoundland to Transylvania to Miami, Florida. No money, no clue. It's a clever gimmick. He must make friends fast and find locals who are willing to adopt him for a few days. But "It's not a survival show," says Peters. "We're trying to infiltrate cultures who are passionate about what they do. And that passion can be anything."
In Miami, Florida, he discovered, the citizens are passionate about preserving their shallow lifestyle - against what incursion, I'm not sure. Peters, who claims to be happiest with a cup of tea, cake, and a book to read, fell in "puppy love" with Savannah, Georgia. "Their passion is peculiar to the outside world, I think; their passion is good manners. I showed up with my shirttails hanging out, I had no idea how to eat food. They sent me for etiquette lessons."
Travel journalism, when it it is not selling the vicarious experience of luxury, is peddling the vicarious experience of immersion, the modern-day Dr. Livingstone. Peters describes Tanna Island as "just five days of gigantic bugs," and the native Newfoundland diet resulted in a hospital visit and surgery. "Everywhere we've been we have become part of the culture," he says. "Whatever they eat, we eat; wherever they sleep, we sleep." In Louisiana, Peters and crew latched on to local shrimpers, whose passion is a life or death matter. Since Hurricane Katrina, the Stranded team has been in touch with several of the episode's participants, but that installment probably won't air for some time, until they are sure everyone they met is all right and it feels appropriate, says Peters. "We are not just making TV shows, we've gone in there and made friends."
Which may be a conceit, but it's a conceit that has warmed the hearts of travelers as long as humans have had wanderlust. And it seems to be more true today, says Rosendo. "Definitely Americans are better travelers `now`," he says. "I think what did it, the '60s generation, they were traveling in Europe, they had experiences like I did - that real interest in putting themselves in a situation where they were a part of the country."
If Cash Peters gets stranded in East Texas, being part of the country's passion may require a trip to the Big Thicket's Bragg Road, where Riggs is documenting a connection between mysterious ghost lights - not unlike those sighted in Marfa, but more active - and the Texas Bigfoot. Riggs would be happy to serve as guide because, while the area was recently designated a county park, the Wild Man has a reputation for aggressiveness and even the more passive phenomena can be scary to the uninitiated. "I've interviewed people who've been really traumatized," says Riggs. "Occasionally the lights will show up and just scare the crap out of people."
But after the giant insects of Tanna Island, a reclusive hairy ape man might seem downright civilized. •
By Elaine Wolff