Cinema Libre gives indie (and progressive) movie-making a boost
So, you're an independent filmmaker with a host of unreleased pet projects—intrepidly hammering out the Great American Screenplay between bouts of self-doubt and unemployment, straining red-tendriled eyeballs during murderous late-night editing sessions, hoping against hope this isn't the night your lead actor chose to pick up an extra shift at the Olive Garden ...
Need options?
Cinema Libre Studio wouldn't mind being near the top of your list.
click to enlarge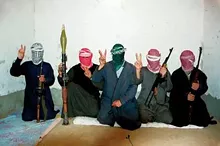 Image from the Cinema Libre Studio productions Mission Accomplished.
Based in Canoga, California, the self-funded production, post-production, and distribution house posits an "all-in-one" model of film dissemination, and prides itself on being attuned to the plight of the struggling-but-doting indie auteur—particularly if said auteur has a message to relay.
"The interesting, the thought-provoking, the new and brave and bold, come out of freedom," says Cinema Libre spokeswoman Beth Portello. "We're trying to help independent film become independent again."
Hollywood's studio system, she says, often neuters some of the more compelling artistic efforts with marketing demands and entrenched mores, rendering them sterile and toothless.
"It's no longer their vision," says Portello. "It goes through the machine, and everything becomes this package of sameness."
Cinema Libre, which won national recognition with the success of 2004's Outfoxed: Rupert Murdoch's War on Journalism, lodges a wealth and array of moviemaking services, resources, and facilities, and offers a virtual Disneyland for the starving celluloid-artist-cum-cinephile: Stretch out and watch your budding feature in the Michelangelo Antonioni Screening Room! Do voice-over or ADR dubbing in the Satyajit Ray Audio Suite! Still have some last-second cutting to do? Choose from the Jean Luc-Godard and Costa-Gavras (Avid) or Wim Wenders and Akira Kurosawa (Final Cut Pro) editing bays! There's even a site—named for Russian film pioneer Sergei Eisenstein—for transferring digital video to 35 millimeter film. Not sure, but you may have to perform an IMDB.com search just to use the bathroom at Cinema Libre.
Of course, due to limited space and no shortage of willing space-takers, a whirlwind day at fun-filled "Indieland" might weigh a bit heavier on the pocketbook than on the soul: The rates for 35mm transfer start around $225—per minute of run time. But Portello says the company works with clients individually, often granting service discounts or alternate agreements to select projects.
In recent years, the company has been instrumental in releasing a slew of issue-related films in theaters and on DVD. Notable among these are war-themed pieces by clouty cine-mavens Tim Robbins and David O. Russell, respectively, and The Future of Food, a documentary by Deborah Koons Garcia (wife of late Grateful Dead frontman Jerry). Granted, these folks aren't necessarily "struggling," in the traditional sense, but there exist varieties of struggle.
click to enlarge
Cinema Libre Studio production McLibel.
Before a collaboration between Cinema Libre and internet moviemeister Netflix, Robbins had been unable to secure distribution for Embedded Live, a filmed performance of his controversial stage play Embedded, which satirizes media coverage of the Iraq War. But a deal was struck, and the result is an impassioned, multi-media polemic aimed squarely at the Bush administration, limned on both stage and screen by Robbins and his Actors' Gang. Serving as writer, director, and actor, Robbins gives us standard wartime good guys (three soldiers and two indie reporters), but has considerably more fun with his villains: the military (gruff, dysfunctional drill sergeant Colonel Hardchannel, who censors information and staves off fear by belting Rodgers and Hammerstein); the press (a naive and complicit media-at-large, all aw-shucks and gushy at the chance to hang out with "real" soldiers); and, of course, the brass (a scheming, cultish cadre called the Office of Special Plans, who sport grotesque commedia dell'arte masks and roman á clef "codenames" like "Dick" and "Rum-Rum"). The play targets everything from war motives to the travails of Private Jessica Lynch. (Here, Lynch is a character named Jen-Jen Ryan, so that the rescue effort becomes that of ... ahem ... "saving" Private Ryan.) Conceptually, Robbins more or less expects you to meet him halfway, so effectiveness on the political front hinges largely on the extent to which you already believe (or are at least open to) what he's saying. But he offers more than just partisan ideology—the erstwhile "Nuke" LaLoosh weaves in a number of incisive, earnestly affecting, and occasionally devastating scenes. Even the spittle-spewing Hardchannel gets a sympathetic moment (before again bursting into song). Inevitably, some will cheer Embedded, while others will be disgusted.
Garcia's The Future of Food is a cautionary tale of genetic engineering and corporate control in the nation's food supply. In particular, writer, director, and producer Garcia points to leading agriculture-biotech firm Monsanto as culprit—the Monsanto she depicts is committed to amassing gene patents and turning a profit at any cost, be it disenfranchising farmers, subverting natural law, or proffering untested products for mass consumption. Garcia, waxing Carson-Schlosser-Spurlockian, provides scads of unsettling statistics and testimonies, which boil down, essentially, to this: Genetic alteration is unpredictable, possibly dangerous, increasingly industrialized, and spreading by the minute. Her sources aren't shrill; they present various arguments that appear eminently scientific and grounded in fact. Food, in fact, had me so worried at one point that I found myself sincerely wishing I'd paid better attention in Mr. Kaestner's genetics class back in high school. That's worried.
But if Garcia's film falters, it is by way of all-too-common omission. Food, like so many message-docs before it and to come, undercuts its own formidable case by neglecting to include a dissenting voice. Even the strongest and most carefully reasoned cases lose steam and smack a little of bombardment if tainted by imbalance. Regardless, The Future of Food is well done and appropriately harrowing, and will spark dialogue, even action, among viewers. This, presumably, is triumph enough for Garcia.
Russell's Soldiers Pay, created as an addendum to an anniversary-edition DVD of his Three Kings, was reportedly scrapped by Warner Brothers after the director was quoted saying he hoped his documentary short would "make a difference in the election." But thanks to Cinema Libre, Soldiers Pay has a second life as a decidedly frank, no-frills DVD collection of interviews with former servicemen, Iraqi refugees, and other, frequently dissonant, voices, painting a disparate portrait of the aims and effects of modern American warfare. The bulk of the focus is on the soldiers, who address topics ranging from "Why I joined ..." to the pains of post-traumatic stress disorder. Cogent points are allowed by parties on both sides during the film's 36 minutes, significantly widening the scope (and potential audience) of Soldiers Pay.
Russell's would-be Special Feature is extraordinary among political pieces left or right for that very rarest of sensibilities: Though one might wager a guess at the probable war stances of David O. and co-directors Trisha Regan and Juan Carlos Zaldivar, the filmmakers have made, to their great credit, what appears to be a genuine and concerted attempt at equity. Differing opinions are aired throughout, with none given overt precedence. At reel's end, little is concretely resolved, but a laudably fair portrayal has been achieved, wherein the only unassailable assertion is one with which we likely can all agree: Necessary or not, war, plainly, sucks.
Cinema Libre's recent titles also include Sweet Misery, about the toxicity of artificial sweetener Aspartame; American Chain Gang, about renewed chain-gang practices in U.S. penal systems; and a bevy of other independent documentaries and features.
Due emphasis, of course, on "independent." •