The proclivities and passions of the Pre-Raphaelite Brotherhood and their muses
Full disclosure: In my teens, I was the kind of girl who regularly visited Renaissance Faires, wrote airy-fairy poetry in my "Unicorn Notebook," and emulated Stevie Nicks. At 16, I went to London on a class trip, where I visited the Tate Gallery and was swept off my granny boots by an ethereal beauty - drowned but still looking wonderful, drifting down a stream strewn with hyperrealistic daisies. She was John Everett Millais' "Ophelia," a seminal work of the Pre-Raphaelite Brotherhood, a group of artists and poets living the bohemian life in mid-19th-century London. The model was Elizabeth Siddal - muse, maybe mistress, and eventual wife of Dante Gabriel Rossetti, the larger-than-life founder of the Brotherhood, best known today as a painter of iconic redheads with spectacular hair.
click to enlarge
Pre-Raphaelite artworks on view at the McNay include, "Lady Lillith" by Dante Gabriel Rossetti.
At the time, I didn't know who the "Raphael" in "Pre-Raphaelite" was but it didn't much matter - I was hooked. I also didn't know that when Siddal died from an overdose of laudanum, her drama-queen husband would bury her with all of his unfinished poetry, only to dig her up 10 years later in order to retrieve the wormy manuscript. He'd found inspiration again in a new muse, Jane Morris, the wife of his friend and protege, William "Topsy" Morris (as in the father of the Arts and Crafts movement).
And that's just one gothic episode in the juicy soap opera that plays out over decades of Pre-Raphaelite canvases. It sucked me in - and seduced a Delaware textile manufacturer and art collector named Samuel Bancroft, whose "passion for the personalities involved `in the Brotherhood` was equal to the pleasure derived from the art they produced," according to the catalog for Waking Dreams: The Art of the Pre-Raphaelites from the Delaware Art Museum. After laying eyes on his first Rossetti in 1880, Bancroft eventually would amass the most significant collection of Pre-Raphaelite art outside the UK, a portion of which is now at the McNay through December 31, its third stop on a nine-city tour.
click to enlarge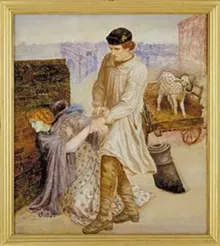 "Found," also by Dante Gabriel Rossetti.
The Brits really love their Pre-Raphaelites: The heavy-lidded women and complicated floral iconography are as familiar on calendars and greeting cards over there as, say, Degas' dancers are here. And most of the finest examples of Pre-Raphaelite art are housed in London's Tate and the Lever Gallery in Liverpool. Nevertheless, Waking Dreams is a charming introduction to the myriad artists associated with the movement, spanning the 1840s to the 1920s, when Pre-Raphaelite influence continued to reverberate in the decorative arts. The exhibit also features a couple of lesser-known but no less interesting painters - Simeon Solomon and Marie Spartali Stillman - as well as some real corkers in the Arts and Crafts department (a gremlin tobacco jar, fabulous art-nouveau jewelry). But it's the ladies who glom all the attention.
In 1848, a half-dozen idealistic art students in their late teens and twenties - including central figures Rossetti, Millais, and William Holman Hunt - decided to form a secret society. They launched a literary magazine, The Germ, which basically no one read (some things never change). They even made a kind of top-10 list of their idols, "The Immortals," whom they rated with a star system. (Jesus Christ earned the top spot; George Washington, Homer, Edgar Allen Poe, and Fra Angelico also made the cut.)
click to enlarge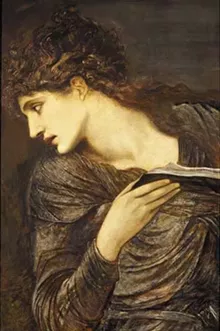 Ned Burne-Jones' "Study for the Head of Nimue in 'Beguiling of Merlin.'"
The Brotherhood's lofty purpose was to create truth - the kind that's generally spelled with a capital "T" - and so they adopted a naïve style of painting inspired by early medieval Italian art (i.e. before Raphael came along with his pesky illusory perspective). They embraced the teachings of socialist art critic John Ruskin and went to great lengths to paint the tiniest details from nature. An English professor's dream, they turned to Chaucer, Byron, Keats, Shakespeare, and Arthurian legend for subject matter. And they went trolling for "stunners" on the streets and in the theaters of London. These shopgirls, actresses, and prostitutes would become the artists' muses and in some cases, artists themselves.
The aforementioned Lizzie "Guggums" Siddal was the first working-class girl to embody the Pre-Raphaelite ideal. Said William Holman Hunt of the consumptive (often a Victorian way of saying "oppressed" and/or "depressed") beauty: "Thinner & more deathlike & more beautiful & more ragged than ever, a real artist, a woman without parallel for many a long year." Discovered in a dressmaker's shop, she weathered a 10-year relationship with Rossetti, who nurtured her as an artist and poet while cheating on her with a blowsy blonde prostitute named Fanny Cornforth (among others).
In Waking Dreams, Fanny is the model for the voluptuous "Lady Lilith" (bitchy first wife of Adam), though her face was later painted over at the request of the patron. She also posed as the country-girl-turned-prostitute in "Found," considered the most important piece in the collection, though it's certainly one of the most awkward and least lovely to look at. The fallen woman was a popular subject among the Brotherhood (Waking Dreams boasts two Mary Magdalenes), but a complicated one for Rossetti, who spent a tortured 20-odd years on "Found" and never completed it. Brotherhood scholars have gotten a lot of mileage out of this work, but feminist art critic Linda Nochlin might have had the best take: that for Rossetti, looking at "his" women was maybe a bit too much like looking into a mirror. "I have often said that to be an artist is just the same thing as to be a whore," Rossetti once remarked, "as far as dependence on the whims and fancies of individuals is concerned."
click to enlarge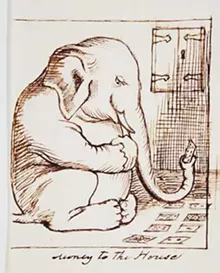 Collector Samuel Bancroft also obtained Rossetti's whimsical drawings of his mistress and muse Fanny Cornforth as a pachyderm.
Individuals like Samuel Bancroft, though he and Rossetti never met (the artist died, alcoholic and drug-dependent, in 1882). But Bancroft, who had an unseemly interest in the private lives of the Brotherhood, did manage to score a meeting with Fanny, who sold him some wonderful ephemera, including Rossetti's whimsical drawings of Fanny as a pachyderm (Dante was apparently Rhinoceros to Fanny's Elephant. Make of that what you will). Anyway, who can blame Bancroft? Much of the fun of looking at Pre-Raphaelite art is the voyeuristic thrill of playing detective.
Take John Millais' lovely naturalistic landscape, "The Waterfall," which features the unidentified figure of Effie Ruskin, wife of Brotherhood mentor and champion John Ruskin. Not long after this picture was finished, Effie would leave her husband for Millais and her unconsummated marriage would be annulled (shocking!).
The Brotherhood is the stuff of novels and adapted screenplays, and I'm surprised more people haven't jumped on it (whither Merchant Ivory?). The brothers do make a cameo in John Fowles' The French Lieutenant's Woman, and Rossetti's poet sister Christina served as one inspiration for A.S. Byatt's Possession (a movie and a bestseller with Ned Burne-Jones' "The Beguiling of Merlin" as its cover). When Madonna copped the look for Ray of Light back in '98, I was sure the Brotherhood was poised for a pop-culture comeback. So far, I'm still waiting.
But here's a little scene I can conjure in San Antonio's immediate future: a McNay docent earnestly recounting one of the more lurid Pre-Raphaelite tales to a bunch of listless high-school students - inspiring at least one moody teen to write Ophelia poems and wallpaper her (or his) room with redheads. And that can't be a bad thing. •