A new generation of artists and young professionals is making their home in the heart of San Antonio's East Side
This story is the first in a series about the East Side, its culture, and impending changes brought on, in part, by an influx of young artists and other members of the "creative economy."
The East Side's time has come. Depending on your point of view, that may be a death sentence or great news. The historic Old Hays Street Bridge, whose rusting rectangular truss can be seen spanning the railroad tracks just outside of downtown, will be restored by the San Antonio Conservation Society as part of a new inner-city greenbelt. A multi-culti crowd ranging from infants to retirees crowded Dignowity Hill Park last weekend for the First Annual Contemporary Art Month Pushcart Derby `see story, page 63`. Real-estate listings as low as $12,000 can still be found on sabor.com, but they're also inching toward the $200,000 mark, sometimes for houses that still need substantial work.
click to enlarge
Chris McKnight sits in front of his East Side home in Denver Heights.
(Photos by Mark Greenberg)
Perhaps the most telltale sign is the number of young artists and professionals in the so-called "creative economy" who are buying houses in neighborhoods recently considered too dangerous to walk through at night. Listing Victorians and modest bungalows, once boarded-up magnets for trouble, are slowly being renovated. New owners are resuscitating or joining their neighborhood associations and, as one recent arrival put it, "preaching the gospel of home ownership to friends." They come for different reasons: Some are returning to the area of town where their ancestors once lived. Others have fallen in love with carved newels, dentil and fish-scale details, and ornate lintels. For others, it's the only option if they want to write their monthly checks to the bank instead of the landlord.
Some of these new residents are economic refugees from King William and Southtown, where home ownership is still viable for investment bankers and King Ranch heirs but is out of reach for most people. Consequently, the specter of gentrification is never far from their minds, but, at least for now, they can pursue their dreams in a part of town that is still something of a real-estate Wild West: creative financing, government grants, and unbelievably low prices if you're willing to do the hard work. Meet three faces of the East Side vanguard:
"East Side, yes!" says Chris McKnight, gesturing across the broad expanse of lawn that tiers down to the street. McKnight is sitting on his spacious front porch in Denver Heights as a late-summer storm blows in. The wind rustles towering pines, loquat bushes, and palm trees that grace the yards of the 1930s Sears Craftsman- and Aladdin-style kit bungalows lining the street. "The biggest challenge is trying to convince people that this is a great place to live."
Denver Heights was once a solidly German neighborhood developed, McKnight says, by the same team that created Monte Vista in the '20s. It went through its toughest times in the '80s and early '90s, and even though many of its homes are single-family and owner-occupied and the streets are relatively tame nowadays, a lot of McKnight's friends still think he lives in the ghetto.
click to enlarge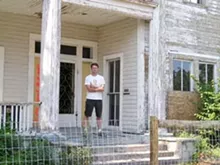 Barry Austin is renovating his East Side dream home - between Dignowity Hill and Denver Heights as the crow flies - with a 203K loan.
True, McKnight, who provides computer support to a local law firm, is an anomaly on his street. "There's no one else under 35," he says, and he has, in fact, moved farther east than most of his peers. It was a matter of family for the native San Antonian, who used to play in this house when he was a child and it belonged to his grandmother. McKnight was living in New York when the house, which had passed out of the family briefly after his grandmother moved to a retirement home, came up for sale in a public auction. McKnight, who watched anxiously on the courthouse steps as the property was offered for bidding, was elated when it didn't sell. In the spring of 2003, he and his sister were able to purchase it, and six months later he moved in. "I would've returned home eventually had I not gotten this house or found another in an equally intact shape, but this definitely accelerated things," he says.
An old addition in the back notwithstanding, the house retains most of its original features, including the black-and-white tiled kitchen countertop built at an angle to act as a natural drain board. Not that McKnight uses the kitchen; he eats out regularly, which raises one of the main inconveniences of his neighborhood: few choices in restaurants and grocery stores.
But, he says, those shortcomings are compensated for by his relationships with his neighbors - facilitated by the front porches - several of which have social or family connections with his grandmother and his aunt, who used to live across the street. His mother gathered pine cones for their Christmas decorations from the tree that still stands on his aunt's old lot, and McKnight employs the same yardman who mowed his grandmother's lawn. "I was an urban administration major at Trinity `University`, and I think that plays a lot into why I'm here," says McKnight. "I love living here so much."
Barry Austin loves his house, too, although this is the first week since he bought it at the end of May that he'll be sleeping there, among the exposed pipes and peeling paint. "It's exactly what I was looking for," he says of the two-story wooden Victorian, built around the turn of the last century. "It goes back to my childhood. My father's family lived in Arkansas and one of my aunts had a big, old, Victorian, two-story house, and I just loved being there."
click to enlarge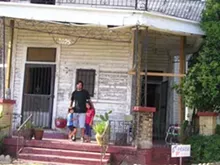 Cruz Ortiz and two of his children, Joaquin and Sierra, stand on the porch of their historic East Side home, once owned by prominent businessman W.H. Leonard.
Austin, an independent art preparateur, knew he would be priced out of San Antonio's historic neighborhoods - King William, Monte Vista, Monticello - that have already been largely rehabbed, so two-and-a-half years ago he began looking at houses on the near East Side. "It's really cheap over here and I knew I wasn't going to be able to afford a house like this anywhere else," he says. His neighborhood, cradled between the Alamodome and the East Side cemeteries, is close to downtown and the Government Hill area just north of I-35, where several other members of San Antonio's arts community have bought homes in the past few years.
Inside Austin's home, appealing architectural details - floor-to-near-ceiling windows on the front rooms and upstairs porch, transoms with the hardware still in place - shine through the chaos of renovation. Austin bought the house with an FHA-backed 203K renovation loan, which provides some funds to bring the house up to FHA code and make aesthetic improvements.
Austin has met several of his neighbors, two of which are young professionals who've bought homes nearby in the past two years. Artist Henry Rayburn has a gallery in the old grocery store across the street, and Austin artist Andy Coolquit is rumored to have made an offer on an East Side property with plans to open a gallery and studio. Austin, who rented an apartment in King William for five years, says he does worry about gentrification, but he has received a warm welcome from local residents. "Whenever I'm here working during the day, it seems I can't get a lot done because of people coming by. They always seem to be a bit shocked that I'm going to live in the place," he says. "The trend mostly is that people buy them, do the bare minimum, and rent them out."
"It's been a challenge to rethink 'gentrification,'" says artist Cruz Ortiz, who in late 2003 moved into a rambling 19th-century Victorian in the East Side's best-known historical neighborhood, Dignowity Hill, with his wife and three children. "I always think about how that mechanism works, but I'm more concerned about the crackheads.
I guess we're a little bit more severe than how Southtown was before. Here it's pretty dangerous."
Cruz' wife, Rina Moreno, grew up on the East Side, in the Denver Heights area, and she and Cruz, who grew up in Universal City, are aware of the politics and prejudices that surround the movement of people and ethnic groups from one part of the city to another. Back in the late 1940s, Moreno's grandfather was part of a wave of "reverse gentrification" on the East Side, they say half-jokingly. When her grandfather bought a lot in Denver Heights and began building a home, "it brought the neighborhood down!" Moreno laughs.
But their new neighborhood's history is a serious matter to Ortiz and Moreno. Their house, built sometime before 1900, belonged to a prominent African-American businessman, W.H. Leonard, who owned a pharmacy and other businesses near the Corner, the African-American social hub at Iowa and Pine where the Keyhole jazz club once stood. As their two youngest children skip merrily in and out of the kitchen, they talk about the neighborhood's namesake, Czech immigrant and physician Anthony M. Dignowity, a prominent abolitionist who was almost killed by Confederates.
With such a rich history behind the house and its environs, it's no wonder some neighbors believe it is haunted. In a way, Ortiz and Moreno feel the house chose them. "We saw the park, we saw the palm trees, and we were like, All right," Ortiz recalls of their first visit. "And then we drove up to it and we were, like, `gasp`. This place was a jungle. There was no front door; a lot of the windows were gone." Moreno knew that the house had been on the market for three years, and one neighbor told her, "Do some homework on it first. Something ain't right about that house." But Ortiz assured Moreno, "Something tells me, this house is ours."
And it was, for the low price of $65,000 cash, which included a back house and a spacious lot. They have since purchased two adjacent vacant lots, but with their busy schedules (Ortiz was an Artpace resident this spring) progress on the house itself has been slow. Moreno enumerates a list of priorities that begins with the leaky roof. They own the house outright, which means they are eligible for a loan that could be used for renovations and other real estate projects, but they've had some trouble with appraisals. One appraiser put a value of just over $20,000 on the entire property.
Yet, three blocks north, among the grand old homes that face Dignowity Hill Park, where Ortiz organized the Pushcart Derby to celebrate and promote the neighborhood, a similar-size and style home (albeit in somewhat better condition) recently sold for $175,000. Chef Lou Lambert is said to be selling his house on the park - for almost a third more than he paid for it a little more than a year ago. "The prices are jumping faster here than they jumped over in Southtown," says Ortiz. "That's the only problem I have. But I don't know how you challenge that. I haven't figured that out." •
By Elaine Wolff