Virtual wealth is a real-world asset when the price is right
Three years ago, Kathleen (not her real name) realized that she was spending too much time online. The 21-year-old college student was a dedicated fan of the computer game Everquest. An active participant in her guild, she regularly participated in massive raids that could last hours at a time. At her peak, she spent more than 60 hours a week in the virtual world.
In Kathleen's view, this was time well-spent. Her game character, a high-elf enchanter, had reached the 65th level. She had accumulated a significant amount of in-game wealth and experience and, along the way, built new friendships and met her future fiancé. But her commitment to the game had caused her to drop out of school, and she knew that her situation was not sustainable. Something had to change.
click to enlarge
Virtual-real-estate tycoon Anshe Chung lives and makes money in the real world and in Second Life.
(Photos Second Live Herald)
She decided it was time to leave the game world for good. After giving away all of her character's treasure — every last piece of platinum and gold — Kathleen sold her character and all of her virtual belongings for 900 U.S. dollars. She spent the money on a plane ticket to Europe, where she traveled to Rome, Pompeii, and Ostia.
Kathleen's character did not exist in the physical world. Her avatar, along with all of the items that it carried, was nothing more than a series of binary digits stored on a computer. Yet, she managed to convert this intangible object into a very real adventure overseas.
Though some may find the concept mind-boggling, real-world money is exchanged for virtual game objects every day. In a recent eBay posting, a fan announced his willingness to pay $1,500 for a top-level Night Elf hunter in the game World of Warcraft. On the same site, bidding for an experienced Lineage character begins at $2,000. And it isn't just game characters that are for sale. Players also shell out money for the virtual objects carried by their avatars. A complete set of rare party hats from the game Runescape can be purchased for the "cheap" price of $850.
Players can also convert in-game currency to U.S. dollars. A Hong Kong-based company called Internet Gaming Entertainment buys and sells currency for such games as Everquest, Star Wars Galaxies, World of Warcraft, and City of Heroes. The company's management team estimates that more than $900 million in virtual assets will be exchanged in 2005, with a projected market that exceeds $7 billion by 2009.
Such transactions are frowned on by most game developers, but attempts to regulate these activities have proven fruitless. In April, Sony Online announced the creation of Station Exchange, an officially sanctioned market for the exchange of virtual assets between players of their flagship title Everquest II. This move, by one of the industry's major players, is widely perceived as acknowledgement that such transactions may be an inevitable part of the digital landscape.
click to enlarge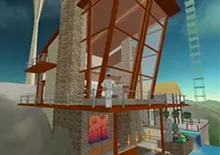 Second Life residents create their world from the ground up using built-in scripting and 3-D modeling tools.
Some virtual-world developers actually encourage players to generate real-world wealth from their in-game activities. Linden Labs, the creators of an immersive world called Second Life, is a case in point. Unlike most massively multiplayer spaces, the vast majority of content in Second Life is developed from the ground up by the world's residents using accessible tools for scripting and 3D modeling. Players buy and sell objects, such as clothing for their avatars, using an in-game currency, the Linden dollar, that can be converted into U.S. dollars.
One resident of Second Life's community, Anshe Chung, is a tycoon specializing in virtual real estate. Born in China, Chung now lives in Germany. Eighteen months ago, she invested $10 to create a basic account within Second Life. She saved money she earned within the game and gradually reinvested in game property. Today, she has parlayed her initial investment into holdings valued at millions of Linden dollars. In a recent interview with the journal New World Notes, Chung estimated that her monthly income from selling virtual real estate is comparable to what a computer professional earns in the Silicon Valley.
Virtual-world researchers have long become accustomed to such stories, but more than a few jaws dropped when the science-fiction themed Project Entropia recently announced that a player had paid $100,000 to purchase an asteroid space resort from the game's developers, the largest sale of a game asset to date. However, many experts question the legitimacy of this particular sale. In the case of virtual-item exchange on eBay, players initiate transactions and negotiate a price in real-world currency. Yet, the value of the resort in Project Entropia was artificially set by the game developers.
The game's developers say they can convert Project Entropia dollars back to real dollars at a minute's notice, but Edward Castranova, an economist at Indiana University who has emerged as the leading expert on the economic dimensions of virtual worlds, wonders if the company could really deliver on this promise.
Whether or not Project Entropia is an aberration remains to be seen. However, most experts agree that the rapidly growing market for virtual goods will dramatically affect the social dynamics of on-line games during the coming decade. On-line currency exchanges have already paved the way for massive gold-farming operations in which people are hired to play the game around the clock, endlessly killing monsters and gathering treasure that can be converted into real-world currency.
There are worse ways to make money. •