Botanica and handmade papers link exhibits in and out of town
Snakes shed all at once, neatly turning their old skin inside out like the sleeve of a shirt. Left behind is a tenuous shell, imprinted in pale colors and the outline of thousands of scales, a natural metaphor for memory, regeneration, and impermanence - themes that echo through the shows installed at PaperPosey.com and three open studios in Helotes.
click to enlarge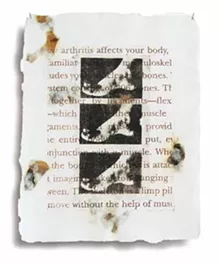 A detail from Leticia Huerta's "206 Bones," a series of gum prints on handmade paper.
(Photos by Susan Pagani)
For Contemporary Art Month, PaperPosey.com curator and gallery owner Jenny McChesney asked artists Rose Harms, Stefani Job Spears, and Beck Whitehead to create works in paper for Pulp Fiction: Storytelling in Handmade Paper.
Harms has three books in the show, all related to nature and memory, but snakes have been on my mind since I read her handmade accordion-fold book, "The Road to Acuña." Its pages mimic the molted skin of a serpent with crumpled glassine, tea-stained and letterpress-printed to resemble reptilian texture. On them, a short poem by Catherine Bowman stretches out luxuriously, a tale of lovers traveling down "the panting road to Acuña." While the snakeskin is a literal translation of the text - "The night we drive in is a snake," the poem begins - as you read on carefully, so as not to tear the thin pages, that delicacy underscores the fragile nature of relationships.
click to enlarge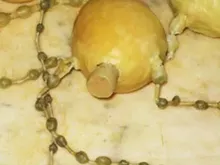 A mysterious vessel composed of wax, latex, string, and paper mache by Tita Bowman.
Spears' works, a series of black-and-white photo transfers on handmade papers that are dyed in the pinks, blues, and yellows of old colorized photos, are nostalgic and moody. With almost no half-tones, the images are very graphic, so that in "Palmetto," a brambly wood looks vaguely like a swamp, and in "Sunday," the trees are menacing, as though mischievous branches might reach out for passersby.
Juxtaposed against the cheery colors, here and there flecked with bright fibers, the result is decidedly eerie, though intriguing.
click to enlarge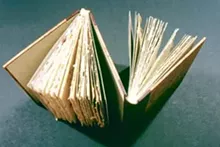 Rose Harm's "County Record" is two books joined by a common middle board and bound in brown goatskin quarter leather. Its pages are handmade paper created by the artist.
Whitehead's pieces look deceptively like painted canvas. In fact, she paints with very fine paper pulp on handmade paper, and then runs it through a hydraulic press, creating a solid piece of paper that is then stretched over a cradle frame while still wet. In places, it looks as though she's worked with a stencil for clean edges, in others there's a smear or splatter. In "Summer 2 Evening," sharp, yellow spears of grass are layered with darker texture. It's a peaceful piece that reminds one of lying on the lawn on your belly, a bug's-eye view of the grass.
If you feel like a nature break would do you some good, you can have your CAM and eat it, too. Grey Forest artists Rose Harms, Tita Bowman, and Leticia Huerta are hosting open studios through July, and they're well worth the drive.
click to enlarge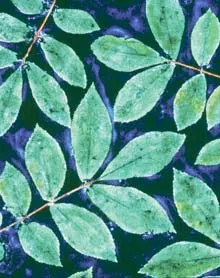 A detail from Beck Whitehead's "Inside/Out #2," a pulp-paper painting.
Stop at Harms' limestone cottage to pick up maps and view new and old book-art works. "County Record" is a dos á dos book. On one side, paper made with varied plant cuttings collected near Harms' home records botanical history. On the other, bits of type and word fragments float to the surface of seemingly identical pages. The book is an angry response to the store Wal-Mart proposes to plunk down on 20 acres of Helotes land, evidence of the natural life Harms fears will be lost in the swath of cement.
Pulp Fiction: Storytelling in handmade Paper
10am-4pm Mon-Sat
Through Jul 30
717 S. St. Mary's
227-0225

Grey Forest Open Studios
By appointment
Through July 30

Rose Harms
18274 Sherwood Trail
695-9670

The Conical Hat Traveling Laboratory
Tita Bowman
18207 Lakeshore Dr.
695-2654

Leticia Huerta
9630 Requa
695-4435

Down the road, Bowman is creating reliquaries in boxes and bottles. So focused is her passion that her rustic cottage has filled with relics and now resembles her art. Most fascinating are a series of wax objects, made with string, latex, and paper mache. They resemble utilitarian canteens with handles and stoppers, and something much more mysterious and macabre: a quail, a heart, or maybe an egg. Pull the stopper and see what's inside.
In her light-filled studio, Huerta displays new works that employ gum prints on handmade paper. In "206 Bones," a graphic series of repeating hands, feet, ponytails, and eyes hang in a grid, resembling Milagros. Behind each image floats a medical treatise on arthritis. It seems both a comment on aging and a prayer for healing, but with whole rose petals pushing out of the paper fibers, it's also lovely and transformative. •
By Susan Pagani