If it's 3 o'clock, then it must be time for coffee
In Puerto Rico, languid mid-afternoons are perked up by the drip, drip, drip of hot, brown elixir. Over cups of steaming coffee, people share stories and histories, sustaining an oral tradition quickly being lost to the 60-hour work week, the 45-minute commute, and the isolation of the gated community.
"It is in these rituals of generosity where clarity is born and humanity is reignited," said Puerto Rican singer-songwriter Lourdes Perez as she began her performance with special guests Somos Tres. "This is being lost as each generation changes."
click to enlarge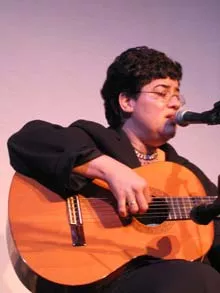 Puerto Rican singer-songwriter Lourdes Perez emphasized the importance of oral histories during her June 5 performance at the Esperanza Peace & Justice Center.
(Photos by Lisa Sorg)
Perez' politically charged performance, which included songs from her latest CD, Este Filo (This Blade), also launched an on-line venture, "La Cuenta de Cuentos," for people to share their personal histories, photos, and memoirs. Also known as the New World Bank (a turn-of-phrase on the World Bank, which ostensibly provides loans and policy advice but actually plunges developing countries deeper into debt and economic crisis), the site will include books and music and an interactive oral history and poetry café.
When the site is fully launched, stories and information can be found at www.cafepress.com/tiendadelourdes or lourdesperez.com.
As part of Perez' increased on-line presence, the Texas Media Empowerment Project and Esperanza webcast the event. Project organizers are archiving the concert and also offering it as a podcast on its website, texasmep.org. "We want to honor you," said Perez. "Don't be afraid to tell your stories." Perez honored her mother, whose recorded voice introduces a song based on her mother's childhood memories in Puerto Rico, including the names of the cows given by the ranchers and the bustle of the sugarcane factories, now long gone. "My mother is going to write the story of childhood decade by decade, a book of her stories," Perez said. "These traditions, don't lose them."
click to enlarge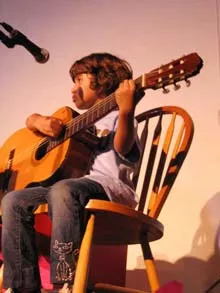 Delhia Reyes, 5, performs "Las Mañanitas" with Lourdes Perez.
Perez emphasized the importance of stories, but also touched on the issue of who is allowed to tell them. In the mainstream media, the stories we hear are either sanitized accounts of the wealthy and powerful - government officials, celebrities, corporate moguls - or soundbites of the beleaguered - runaway brides, 10-year-old felons, girls gone wild. None are as rich or as nuanced as that of a simple family outing, a grandfather growing up on a cotton farm, or an immigrant's tale of arriving in a new country. The voices we hear in the media are no longer our own.
Ironically, Perez' performance happened shortly after the family of former FBI agent Mark Felt, now known to the world as Deep Throat, decided to unveil his tale of helping to dethrone Richard Nixon. The revelation raised questions of whose story is it? Carl Bernstein and Bob Woodward, whom Felt fed information for their Washington Post articles, largely credited with bringing down Nixon? Vanity Fair, to whom the Felt family spilled the beans about Deep Throat's identity? And what of Mr. Felt: Did he - or his family, with dollars in their eyes - decide to tell his story?
"Who will you trust with your stories?" Perez asked. "Who will you trust with your fortune?" •
By Lisa Sorg