Tea time(less) – In the dot-com present tea resists reinvention
Tea leaves scatter across the white tablecloth like so many computer characters, but they're made of material dear to a Luddite's heart, more akin to runes than cursors. Spent at the end of a pot, the velvety detritus reveals a fortune that unfurls backward and forward in time, from the ancient hearths of the Tang Dynasty to, of all things, the internet, where I have been browsing Yi Xing teapots, the elaborate, collectible vessels made of a renowned Chinese clay: a tiny "Lady Bug" pot, the lyrical "Cresting Wave," a lopsided "Mountain Slope," the elegant "Plum Blossom." Each in its perfection shows the hand of the artist and the natural colors of the earth from which it came.
click to enlarge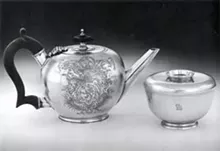 A circa 1736 silver teapot from Dublin, Ireland, left, is part of SAMA's essential collection of Irish silver.
Nowhere to be found is a "Dot Com" pot, made of fiber optics with a dozen or more spouts, although it would be appropriate since tea is everywhere on the net. Serendipitea.com, Perennialtearoom.com, Teafortwo.com, and dozens more websites offer every tea and tea implement imaginable. Emerald Blossom Jasmine Tea is en route to my house from Seattle, Jade Oolong from New York in a modern-day extension of the old trade routes that first brought tea to the Europeans from the Far East in the mid-17th century.
I was living in Austin during the dot-com boom of the mid-'90s, which also coincided with the beginning of an American tea renaissance. In the Southern techie capital this rediscovery tended to go hand-in-hand with yoga, tai chi, and a reverence for a global-bastard son of the Japanese tea ceremony. I think this was because, as decontextualized in the U.S., the Asian tea ceremony is about tradition emptied of cultural baggage. The friends with whom I squatted on tatami mats cradling small, handle-free cups talked of simplicity and groundedness. The English word tea is derived from the Chinese symbol, tê, which looks like a teakettle perched on a tripod over a flame, a fundamental and reassuring symbol of civilization.
English high tea, the other prominent cultural antecedent, is all about baggage: social station, the tell of a misplaced spoon, ritual at the service of snobbery — values very much at odds with the tech boom, in which college dropouts went from rags to riches (and sometimes back to rags) faster than you could brew a cuppa. For that matter, values at odds with the American Dream, but prior to the Boston Tea Party of 1773, tea was more popular than coffee in the colonies.
click to enlarge
A contemporary "fusion silver" chocolate pot by English craftsman Hector Miller (hectormiller.com) has little in common with its 18th-century cousins, which also can be viewed at SAMA.
One of the more interesting details of the recent tea and coffee revolutions is that while both have brought a bounty of flavor and quality to American tables and restaurants, tea-preparation technology has remained fundamentally unchanged. The coffee vanguard has brought us the automatic drip, the integrated grinder, the single-serving pod, cold extraction, and the Nespresso — a futuristic machine that uses hermetically sealed plastic cups the size of restaurant creamers — but tea makers have been content to fiddle with the bags and strainers a bit because, in the end, nothing can improve on the simple perfection of a good leaf and hot water. (I'm not counting bubble tea with its chewy tapioca globules; it's addictive but it's tea like streusel is a type of pizza.)


Brilliant Silver

Sat, Feb 11
9:30am-3:30pm
Registration, 9am

$40 adult;
$30 member;
$10 student

San Antonio Museum of Art
200 W. Jones
978-8133



Whereas a 20-year-old might be flummoxed by the old stove-top coffee percolator (where the hell is the "on" button?), a teapot is still a teapot, as demonstrated at the San Antonio Museum of Art, which houses what experts agree is the world's finest collection of Irish silver, bequeathed to the museum by San Antonio collector John Rowan. Among the mysterious artifacts of another era — ornate harness mounts, freedom boxes (elaborate keys to the city), and a giant mace — the beautifully mundane beckons like a siren in an apron. A simple wooden tea caddy contains three silver compartments for leaves and sugar. A 1730s classic tomato-shaped teapot, engraved with a triumphal coat of arms featuring a raging lion and fierce dragons, is ready for the hot water. A teakettle dated from 1760 is covered in vines and fowl; it sits on its flower-footed trestle like the Chinese tê, confident in its timeless appeal and usefulness.
So it might be worthwhile to pull yourself away from the computer this weekend to attend Brilliant Silver: Masterful Reflection of Craftsmanship and Artistry at SAMA, the 9th Annual Mays Seminar, in honor of the museum's 25th anniversary. For a mere $40 ($30 members, $10 students) you can polish your knowledge in the company of four renowned experts, including Thomas Sinsteden, who quit medicine to devote himself to Irish silver.
But if that seems too old-fashion, even if you do love the tannic, pungently floral smell of freshly brewed Darjeeling, you just missed your chance to see how silver is entering the 21st century at the hands of English goldsmith Hector Miller, whose work was on view at the McNay Art Museum this winter (visit his site, hectormiller.com, for a taste). Miller's pieces, which he calls "fusion silver," look like kinetic reactions frozen midair — an evolution Miller engineered by adapting arc welding to silver. Finally, the teapot may never be the same, even as tea itself remains impervious to technology. •
By Elaine Wolff