Airspace maximizes the dislocation of our anonymous travel hubs
Folks in the local art world employ a kaleidoscope of different skills. Jennifer Davy is known in San Antonio as an art historian, curator, writer, and teacher - and since there are only so many hours in a day, you may not know that she also is an artist and dancer. Davy and her partner, artist Guy Hundere, have renovated Tortilleria La Popular (1415 S. Presa), the former tortilla factory turned convertible home, studio, and gallery space. They recently launched it with Airspace, a show of Davy's art.
In Airspace, Davy has crafted not only a sculptural photography show but an immersing environment. As you enter through the front gate, sounds of people coming and going echo above your head while a muffled voice liltingly announces arrivals with institutional politeness. Inside the long gallery space with concrete floors, Davy's photographs of airport interiors bend in different directions behind shaped Plexiglas. These are hung to perfection on wooden "walls" that are open at the bottom and reveal a love of minimalism: gorgeous materials in a pared-down shape. Conveniently, the walls also are the size of airport-terminal check-in counters where your destination and departure time are posted.
click to enlarge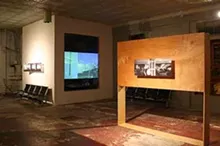 Two installation views of Jennifer Davy's Airspace, on view at Tortilleria La Popular, the new gallery space Davy operates with partner Guy Hundere.
A video makes use of Davy's large office window to show a typical view from a terminal: a plane pulled up to a jetway while reflections of exiting passengers pass by like shades. Three sections of authentic airport seating are scattered throughout the space, emphasizing its function and its modern lines. The only thing missing is San Antonio artist-bag handler Gary Sweeney throwing bags and telling jokes.
Airports are strange spaces. They have the power to fascinate and infuriate, depending on who's around and how late your flight is. They also are hermetically sealed pods. The moment you step outside to the curb, the car fumes and cigarette smoke are overwhelming by contrast.
click to enlarge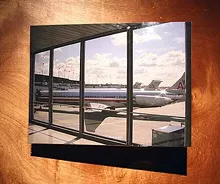 Davy is interested in airports for their artificiality and lack of specific place-ness. You can't say you've been in Paris if you've only been in the airport; it just doesn't count. The idea is appealing, especially since white-walled art galleries and museums have a kind of banal non-placeness as well, especially those designed to make the art appear to hang in a vacuum. But the concept is ridiculous because plain white walls still insinuate their presence, like stagehands dressed all in black making a racket on stage as they shift theater scenes. On the one hand, the spare expansiveness of the Tortilla Factory lends itself well as an airport terminal, but the renovated building is also one of the most distinctive places in town. It is so unique, in fact, that there are really two reasons to visit this show - the art and location - so it's a compliment to say that the architecture interferes a little bit.
Davy has been recording airports with sound, film, and photography since 1998 and the show blends city scenes that stress their interchangeability. "Airspace #7" captures an American airplane parked on a runway. The image angles off the wall like a plastic wing. "Airspace #5" captures a panoramic view of a gate, but something looks suspicious - half the monitors listing departures are reversed.
In his recent Artpace lecture, "Disappearer: Optical Anxieties Before and After Photoshop," John Pilson described photography as a "paranoid object" because we have come to suspect manipulation. Davy has stitched together photographs, like a modern seamstress with Photoshop, in order to stretch scenes beyond a single view. In this way, she merges one gate, with people lined up, with another full of bored travelers still waiting to be summoned. Pilson also said "There are fictions that produce anxiety. Fictions that produce the suspension of disbelief but that you want to believe." Frankly, I would rather know that the artist has fudged the photos a bit because it makes them more interesting. And, anyway, aren't airports the new paranoid objects? •