When the weather outside is frightful, the art is so delightful
Some current Blue Star exhibitions play springtime to Mr. Danny Geisler's multi-venue megaplex of wintry cheer. Like a Canadian goose looking for warmer weather, you can hop from UTSA Satellite Space's "Christmas in December" (115 Blue Star, 212-7146, through December 23) to more temperate shows such as Terra Firma.
click to enlarge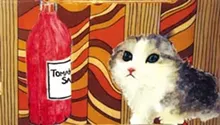 Mixed-media paintings by Jackie Arnette are part of the group show Animal Logic & the Lack Thereof, on view at Three Walls through Friday.
Blue Star Contemporary Art Center's Terra Firma (116 Blue Star, 227-6960, through January 8) is an understated yet powerful exhibition that uses ecological materials to capture the complex order of nature. Mario Reis' 32 squares of unstretched canvas dominate an entire wall with yellow ochre, burnt sienna, charcoal grey, and other shades of regional soil. At first glance, the wall grid is impressive in size and as a modernist twist on land art; then you turn the corner and discover photographs that reveal its construction. Reis ties stretched canvases to plants growing alongside river and stream banks, letting colored silt sift through and accumulate as the canvas bobs on the water's surface, thereby "painting" abstract images the artist calls "Nature Watercolors." Using chance to create art, the technique recalls Marcel Duchamp's "Unhappy Readymade" (1919), for which he mailed instructions to his sister Suzanne in Paris to hang a geometry book out her window and let the elements turn pages and wreak authentic damage. Similarly, Reis hangs canvases in the water, then removes the canvas from the stretchers, records the location, and places them in a colored grid.
Judy Tuwaletstiwa, too, uses materials co-opted directly from the natural world. Shadowbox groupings of insect legs, wings, and casings hang next to a deconstructed bird's nest grouped and gridded. The artist's various small installations are fragile poems, probably Haiku, that use the language of scientific examinations to simply spell out the thing.
There is a lot of gorgeous work in Terra Firma, including room-size land art by Suzanne Paquette that is lovely in its symmetry and muted colors. But I think she has a sense of humor because in some places it looks like a giant sneaker sole has stepped in her sandcastle. Blue Star, along with the Southwest School of Art & Craft, has become the environmental conscience of San Antonio's art scene.
click to enlarge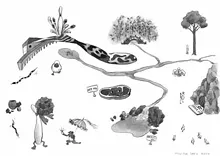 Gouache-on-paper drawings by MinTse Chen.
Playing fauna to Blue Star's flora, Three Walls features the exhibition Animal Logic & the Lack Thereof (106D Blue Star, Building B, 212-7185, through December 23) a show curated by Kimberly Aubuchon of much-awaited Unit B Gallery, which is set to open in San Antonio in January. She has organized a small, yet international, stable of artists that illustrate George Orwell's "Four legs good. Two legs bad."
Jackie Arnette is a local artist who makes what must be a new form of folk art: basement rec-room wall art. Material I recognize as bed sheets from my childhood are glued to reclaimed wood pieces, with animals and vintage text hand-painted on top before a final layer of polyurethane is applied. These are grouped in the corner where each little animal, each kitten and jack-a-lope, just adds to the weirdness of the others. The work is raw, but comely.
Two other artists exhibit unframed drawings that are stunningly intricate but don't take themselves too seriously. I couldn't take my eyes off Keiler Sensenbrenner's ink portraits of deer inhabiting domestic interiors. Cross-hatching, flowered-wallpaper patterns, hairy beasts - their various rhythmic beats keep your eyes buzzing within the artist's perfect sense of composition. On the opposite wall, all the way from Taipei City, Taiwan, MinTse Chen's gouache on paper drawings are part Pieter Breughel fantasy, part Dr. Seuss, part Drunken Master.
Lastly, Damon Bishop's video "Buttons" is about a lonely, nerdy guy who wishes on his birthday cake to have someone to talk to, causing a magical talking teddy bear to arrive. I won't give away the rest of the film, but his time-lapse sequence with a horse-themed calendar is divine. •