click to enlarge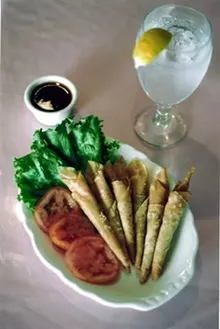 Thai Dee's delicate shrimp rolls - fried spring roll sheets housing chopped shrimp and celery - served with honey drenched sweet and sour sauce. (Photos by Laura McKenzie)


Beauty In The Details

By Laura Fries


Scrumptious, enormous, dirt-cheap dishes at Thai Dee

Thai Dee is one of those paradoxes that manages to be both hard-to-forget and hard-to-remember. It's hard to remember the location - a nondescript building on Blanco Road - but it's hard to forget the food: ridiculously good, huge dishes at rock-bottom prices. A recent dinner visit found a near-empty dining room, covered with light brown wood paneling, and decorated with images of the Thai King and Queen. Sipping on the incongruous Dos Equis (bought from the convenience store next door), we munched on the appetizer recommended by the helpful waitress: shrimp rolls, small cones of fried spring roll sheet filled with chopped shrimp, cilantro, and scallions, not the advertised celery. Dunked into a sweet and sour sauce that smacked of honey, the rolls were fried perfection, light and crisp without being greasy. Inside, carefully deveined shrimp illustrated Thai Dee's attention to detail. The spring rolls showcased this care: The package of romaine, julienned carrot, carved cucumber, hot-pink pork, cilantro, bean sprouts, and vermicelli noodles created a perfect little sculpture inside the translucent wrapper.

Thai Dee Restaurant

5307 Blanco
342-3622
11am-9pm Mon-Sat
Price range: $6-8
Major credit cards
Handicapped accessible
℘

A dish of spicy noodles, while tasty, arrived at the table less-than perfect. Wide rice noodles and vegetables had been tossed in a dark brown sauce, dulling the colorful medallions of carrot, sliced bell peppers, jalapeños, snow peas, and tomatoes. Slivers of overcooked chicken suffered the same fate, resembling mushrooms more than anything else, and there only one little lonely shrimp presented itself to be shared among us. Regardless of the technical difficulties, we consumed the dish with aplomb.

Roast duck curry was divine, a steaming bowl of red curry topped with at least a centimeter of warm duck fat, with tomatoes, bamboo shoots, Thai basil, pineapple, and a generous portion of rich marbled duck. Skin on, the duck had the warmth of bacon,

click to enlarge
Thai Ice Tea

and the pineapple gushed sweet coconut milk. A red beef curry, boasting the same sauce and similar veggies, was marred by overcooked meat, but otherwise shared the same not-long-for-this-world qualities of its duckly cousin.

Shrimp nested inside the Clay Pot - a blackened ceramic dish cradling glass noodles, shrimp, chopped celery, and cilantro. The light broth that coated the noodles prompted one diner to suggest that Liquid Smoke had a part in its creation - a possibility. The dish elegantly married light ingredients, with textural contrasts between the slippery noodles, the crunch of the celery, and the springy shrimp. The mandatory pad thai with tofu was perfectly serviceable, with generous chunks of fried tofu and a sweeter-than-most sauce.

At both lunch and dinner the service was absolutely right: The same waitress who kept our glasses full of convenience-store beer at night worked her same magic with the iced tea during the day. The lunch crowd was noticeably larger - businessmen, ladies' lunchers, and two dudes with a set of Magic cards and brought-from-home containers for the leftovers. For some locals, Thai Dee is worth carting around Gladware. •

` By Laura Fries `

click to enlarge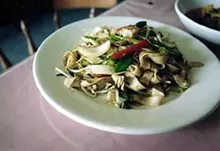 Khee Mao (Spicy Noodles) - wide rice noodles with shrimp, carrot, tomatoes, bell peppers, bean sprouts, jalapeños, sno peas, and Thai basil
click to enlarge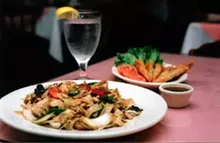 Khee Mao Spicy Noodles, a stir-fries dish of wide rice noodles, chicken, shrimp, carrot, tomatoes, bell peppers, bean sprouts, jalapeños, sno peas, onion, and Thai basil, next to a plate of spring rolls filled with celery and diced shrimp.
click to enlarge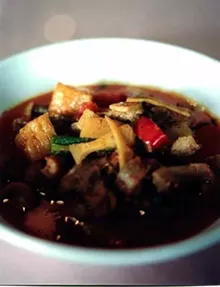 A steaming bowl of roast duck curry: pineapples, bamboo shoots, seeded jalapeños, and Thai basil in a coconut milk red curry sauce.
click to enlarge
Khee Mee Spicy Noodles.
click to enlarge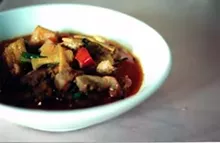 Roast duck curry.