Pretty pictures and funny bones

BEST BOOK OF 2004 BY LOCAL AUTHOR OR PRESS:
Vigorous Vacation, Vibrant Health
by Andrew McGown
click to enlarge
Mark Vickery and Joan Bailey discuss a painting in the Blue Star Contemporary Art Space. Blue Star and surrounding galleries drew typically large crowds for the April First Friday event. (Photo by Mark Greenberg)



A couple of years ago, a good friend told me that an acquaintance of his was despondent over his impending move to San Antonio. He had visited a reading chat room in which he discovered that the most popular book among Alamo City women was one of the Harry Potter series. "It's a children's book!" my friend cried in not-so-mock outrage.

Unfortunately, we in the Best of San Antonio department can't offer the culturally oriented lovelorn much hope. In the Best Book category there were two winners: one a self-published self-help book, the other a phallic, self-involved poetry chapbook published in 2003. The results here bear out the 2004 Cultural Collaborative-sponsored survey that found literary events to be the least-attended cultural happenings in town. We took solace in the vote for a new entry from Maverick Publishing, The Spanish Acequias of San Antonio by I. Waynne Cox. Given the preponderance of "self" in the rest of the list, we were a little suspicious of Waynne's preceding "I." but the book looks not only legit, but well-researched and handsomely designed. Alas, it won't be made into a movie or chanted on stage at an open mic night anytime soon so you'll have to actually read the damn thing.

The winners of this year's Best Of poll were:

Vigorous Vacation, Vibrant Health by Andrew McGown, published through authorHOUSE, in which the Texas-born writer helps readers build a new life around Lake Tahoe. As if you can't hike and bike safely around San Antonio!

Exploits of a Sun Poet by Rod Stryker, published by Pecan Grove Press in 2003. "Once rested / after cleaning the / sticky liquid / off / Freedom's face / I shrug / the boulders back on my / shoulders ... "

So ... Freedom doesn't swallow? EW



Readers' Picks
Best Arts

BEST BOOK
1. Vigorous Vacation, Vibrant Health by Andrew McGown
Exploits of a Sun Poet by Rod Stryker (tie)

BEST PLACE TO BUY ART
1. Blue Star
2. First Friday
3. Starving Artist show


BEST TEACHER
1. Louis Lubbering
2. Paul Lubbering
3. Donna King


BEST MULTI-ARTIST SHOW
1. Comedia A Go-Go
2. Brothers of the Flame
3. Blue Star


BEST ONE-PERSON SHOW
1. Paula Jo Peterson in Shirley Valentine
2. Karl Lubbering
3. Tim Lapping


BEST MUSEUM EXHIBITION
1. The Witte: inc. World of Water, Grossology, Dinosaurs
2. McNay: inc. Vincent's Stations, Picasso to Dali, 50th Anniversary

BEST FUNDRAISER
1. Blue Star Arts & Eats
2. Esperanza Peace Market
3. Los Compadres Artisanos

BEST CULTURAL FESTIVAL
1. Texas Folklife Festival
2. Fiesta
3. Taste of New Orleans

BEST PERFORMANCE NOT A PLAY
1. Comedia A Go-Go
2. Brothers of the Flame
3. Cornyation

BEST THEATER PRODUCTION
1. Driving Miss Daisy at Stoli
2. Cats at Majestic
3. Chicago and Comedia A Go-Go (tie)


BEST FILM FESTIVAL
1. San Antonio Underground Film Festival
2. UTSA Foreign Film Symposium

BEST MOVIE THEATER
1. Alamo Drafthouse
2. Bijou
3. AMC Huebner Oaks

BEST PLACE TO BUY AFFORDABLE ART:
Starving Artists Show

A collector who owns paintings by local artists James Smolleck, Charles Field, and Sky Patterson, likes to describe San Antonio as "the bargain basement for art," and he means it as a compliment. UTSA graduate student Julie Shipp, who's been running a tighter ship than usual at the UTSA Satellite Space, seconds that emotion when she tells potential buyers that the same work would cost them as much as three times more in Dallas. Even if your wallet is wafer thin, you can afford to start an art collection here, if you only know where to look. Our readers are on to this, too. They

click to enlarge
The Lubbering family art dynasty achieved critical mass in this year's Readers' Picks. Father and son Louis, left, and Paul, right, took top honors in the Best Teacher category. The paterfamilias teaches at Incarnate Word College, while Paul holds forth at the San Antonio School for Inquiry and Creativity. Son Karl, top, who has an ongoing exhibition at the Cove, was the public's pick for Best One-Person Show. (Photo by Laura McKenzie)



snagged some low-hanging fruit with the annual Starving Artists Show, which favors figurative, impressionist, and craft work, held the first full weekend of April at the Little Church in La Villita. But if contemporary art is what you seek, readers and critics recommend Blue Star and First Friday (although the same galleries you struggle to shoulder through that evening will be open and crowd-free the following day). Within the complex, you can troll REM Gallery, Blue Star Contemporary Art Center, Joan Grona, UTSA's Satellite Space, Cactus Bra, Three Walls, San Angel Folk Art, and a handful of other small galleries for work ranging from $25 to $10,000. EW

BEST ART TEACHER:
The Lubberings

"They call him the Monet of Texas!" Paul Lubbering's wife shouted in the background as we talked by phone about the crowning of the Lubbering Family Art Dynasty. No less than four family members were mentioned in this year's Best Of ballots, and three of them placed in two different categories. First place went to Louis, the patriarch. "Dad is the one that started it," says Paul. "His father bought him a painting kit because he kept doing graffiti everywhere." The elder Lubbering studied at Trinity University after the Vietnam war and teaches at Incarnate Word High School, where Paul was his student. "Ever since I was a kid, I was like, Can you make a living at this?"

click to enlarge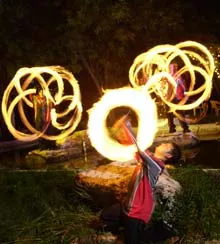 It's a bird! It's a plane! No, it's Brothers of the Flame, whose New Age meets hip-hop floor show is still popular among the masses, who placed them among Best Performance and Best Multi-Artist Show. (Photo by Mark Greenberg)



Apparently so. The Lubberings operate a gallery on Myrtle Street next to San Antonio College and in addition to school duties - Paul is on staff at the charter San Antonio School for Inquiry and Creativity - on the weekends they offer small-group classes in painting, drawing, and art history (223-6977 to register). All hail the Land(scape) Lubberings!!

Another student teacher, Donna King, who has been at Ed White Middle School for 11 years, took third place, which is almost as good as a raise, right? EW

BEST MULTI-ARTIST OR GROUP SHOW:
Comedia a Go-Go (?!)

Like a test question that stumped too many students, the category Best Multi-Artist Show had to be tossed because no one who voted seemed to understand the instructions. Even though there were also Theater and Performance categories, Comedia A Go-Go, a comedy troupe, and Brothers of the Flame, fire-throwing exhibitionists, won this award. I'm a little surprised that the City Council didn't at least make honorable mention. After all, they throw shit and spark mirth weekly. We didn't want to pull a United Nations on you, but you leave us no choice. Here are candidates an enlightened democracy might have selected:

click to enlarge
Vincent Valdez' one-man show at the McNay, Stations, was popular with critics and readers alike and helped McNay win second place for Best Exhibition. Voters also mentioned the 50th Anniversary shows and Picasso to Dalí as reasons they love the museum. (courtesy photo)



Mexican Report at Blue Star Center for Contemporary Art and the Instituto de México. An independently curated exhibition of contemporary work by more than 40 Mexican artists, Mexican Report was filled with exciting sculpture and multimedia pieces, although the painting and photography on the whole were weak. May it forever sever our sentimental love affair with Diego Rivera and Frida Kahlo's Mexico.

H2O: Considering the Hydrosphere at Southwest School of Art & Craft. Despite the gushy theme and overcrowding on the dance floor, like prom night the whole exceeded the sum of its parts and many a star glittered among the also-cames: Anne Wallace, Chris Sauter, Riley Robinson, Rick Hunter, and Jayne Lawrence, to name a few.

OIL at Triangle Project Space. Luz Maria Sanchez curated this smart show featuring painting, sculpture, video installations, and mixed-media work by six Mexican artists that collectively explored the many forms and meaning of this double-edged resource.

Another honorable mention should go to sculptor Ken Little, who last August hosted a two-man show for fellow UTSA instructors Ricky Armendariz and Richard Martinez (also a juror's choice at the 2005 Texas Biennial) at his old Rrose Amarillo Gallery and studio space on San Fernando. Other artists who share the building, including Jesse Amado and Alex Lopez, held an open studio night, too, and Little's band played on the porch. It was an all-around great evening for art. EW

click to enlarge
The Witte came in first for small-hand-friendly pleasers such as Grossology and Dinosaurs and the under-construction World of Water installation that will incorporate the museum's setting on a bend of the San Antonio River.
(courtesy photo)
BEST ONE-PERSON SHOW:
Karl Lubbering
In this category there seemed be to more confusion, this time over the terms "one," "person," and "show." But after we sorted through the detritus that confusion left in its wake (Paula Jo Peterson, an actress, received the most votes for her appearance in Shirley Valentine, and Deepak Chopra, Dr. Phil, and "bagpipe guy downtown" each received as many votes as Hills Snyder, the sculptor Catherine Lee, and Vincent Valdez), Karl James Lubbering - who last year was the readers' pick for Best Struggling Artist - emerged victorious. The musician has an on-going show in the Cove's bar `see related story, page 20`, and was also featured at the New Braunfels Museum of Art and Music (we prefer his contemporary pottery pieces, which can be seen at this link). Second place went to Tim Lapping, perhaps for his photography exhibit, Los Músicos.
There were enough outstanding one-person shows last year that we think readers must have blown a fuse when they came to that portion of the ballot, like walking into a video store on Friday evening and being unable to think of a single movie to rent. A handful of highlights include Valdez' Stations at the McNay, Lee at the Southwest School of Art & Craft, Julie Speed at Blue Star, and Nate Cassie at Parchman Stremmel. EW
BEST MUSEUM EXHIBITION:
Grossology at the Witte
click to enlarge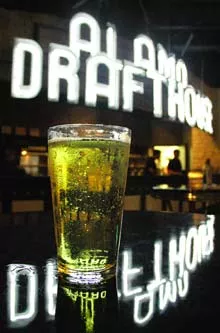 The Alamo Drafthouse lures fans of cinema and strong spirits to its Southwest location with a bright marquee. Current readers voted the Drafthouse Best Movie Theater, and it wins high marks from the critics for a cold, expansive beer selection, delicious pizzas and burgers, and a seamless eating/viewing experience. Plus we love the special screening events such as this week's pairing of the old Amityville Horror with its remake. (Photo by Laura McKenzie)



There were no clear winners in the exhibition category, but when we aggregated by institution, two stars emerged: The Witte Museum and the Marion Koogler McNay Art Museum. Witte? Gross, we say! The popular Grossology exhibit was one of the better "hands-on," kid-friendly touring shows the Witte runs like sewage through their downstairs gallery, but the overall poor quality of the interactive components has become the talk of the town (or at least one lengthy conversation at Liberty Bar). The H-E-B Treehouse, on the other hand, is still a fine vantage point from which to watch the kids play with the water sluice below and admire the improvements to Brackenridge Park.

The McNay has been celebrating its 50th year of existence in high style, much to the city's benefit. From Vincent Valdez' beautiful drawing show, Stations to the retrospective of underappreciated modern sculptor Richard Stankiewicz to the current Taisho Chic exhibit, the McNay continues to remind us how art, and modernism in particular, changes personal lives and society at large. EW

BEST ARTS AND/OR CULTURE FUNDRAISER:
Blue Star's Arts & Eats

Our voters may be sketchy on art, but they do know how to party in the service of art. Blue Star's Arts & Eats, featuring a solid acre of Zagat-worthy restaurants dueling for prizes, is bigger than the Beatles, or at least Duran Duran. The fall event raises around $40,000 for the non-profit contemporary art center.

click to enlarge
(Photo by Laura McKenzie)



You can protest the commercialization of the holidays by staying in during the busiest shopping day of the year, post-Thanksgiving Friday. Or you can shop with justice and equality in mind at the annual Esperanza Peace Market bazaar, held the weekend following turkey day. One-of-a-kind handmade gifts and artisanal crafts abound, with more than 90 vendors participating in last year's event. The catch: The Peace Market isn't technically a fundraiser for an organization, but it does put money directly in the pockets of working artists.

One of our favorite fundraising events will take place April 16 and 17, during Fiesta. The Southwest School of Art & Craft's Fiesta Arts Fair crams 120 artists and craftspeople, a half-dozen bands, food, and a children's art garden onto the shaded historic grounds of the school's downtown campus. Admission is $6 for adults, $3 for children age 5-12, but proceeds benefit the non-profit community art school, and the entry fee buys hours of languid browsing among booths vending everything from furniture to painting to jewelry. EW

BEST CULTURAL FESTIVAL:
Texas Folklife Festival

So you like to party, eh? Well, what do you require? Perhaps you like a cornucopia of international delights, from Celtic flutes to slimy sauerkraut. Stuff your intercontinental appetite, then, at the Texas Folklife Festival. Or maybe your rocks don't really roll until a drunken stranger devours your face and pleads NIOSA. Don't be coy; pucker up. Oh? You love food? Try The Taste of New Orleans, you insatiable beast, and suck up steaming pits of mudbugs. Maybe you'll even get your jaws around a giant boiled rodent. You animal. Enjoy. BC

click to enlarge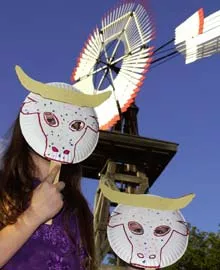 The mega-multicultural Texas Folklife Festival took the readers' prize for Best Cultural Festival. The four-day event, which will mark its 34th year June 9-12 on the grounds of the Institutue of Texan Cultures, celebrates the many nationalities and ethnic groups that made modern-day Texas with food booths, music, dancing, and interactive events suitable for all ages.
(Courtesy of the Institute of Texan Culture)
BEST PERFORMANCE EVENT THAT'S NOT A PLAY:
Cornyation
All three winners in this category are brand names for a lifestyle. Cornyation (cornyation.org), irreverent, glam, and campy, is an official Fiesta event that makes fun of Fiesta. You could check it out on the Empire Theatre's stage April 20-22, but this fundraiser - which last year gave away $55,000 to local charities such as the San Antonio AIDS Foundation - sells out early. Comedia A Go-Go (comediaagogo.com), irreverent and scatological, is a young local sketch comedy group that proudly parades its "Uncensored!" status the third Thursday of every month at Sam's Burger Joint, and at midnight on Fridays at the River Center Comedy Club. Brothers of the Flame (brothersoftheflame.net), favorites on the local goth and rave scenes, also performs at Sam's (on Monday nights) and mixes New Age-y retro-reverence with a hip-hop sensibility. LD
BEST THEATER PRODUCTION:
Cats
Current readers proved themselves less-than-current by nominating not one but three warhorses written in the 1980s, including the gazillionth national tour of Cats. Way to go, Current readers, for supporting new and innovative work in the theater. Sheesh. Anyhow, there were at least three more productions last year deserving of critical kudos: Angels in America at the San Pedro Playhouse, which raised the bar for challenging new work; The Clearing at the Vexler Theater, which featured impeccable acting and a timeless message; and Sylvia at the Magik Theater, a clever adult-oriented comedy that boasted more four-letter words than will likely be heard at the Magik again. "Memory / All alone in the moonlight ... " TJ
click to enlarge
Mojodos screened at this year's Underground Film Festival, the readers' top pick, noted Steve Kellman says, "for it's range of self-indulgent tripe and occasional brilliance."
(courtesy photo)
BEST FILM FESTIVAL:
Underground Film Festival
Festival films are fungible; entries in the Jewish Film Festival also showed up in the UTSA Europe in Transition series and Esperanza's CineMujer festival. But the Underground Film - formerly known as the Golden Shower - Festival is unique, for its range of self-indulgent tripe and occasional brilliance. Before it vanished into hiatus, the Guadalupe's CineFestival, a cornucopia of 90 Latino productions, was a major event on the national calendar. Locals are left with smaller series scattered throughout the year: Jewish, Asian, African American, European, underground, women's, short. With its sophisticated mix of foreign, independent, animated, and nonfiction features, the Bijou Theater is a festival every week. SGK
BEST MOVIE THEATER:
Alamo Drafthouse
Visit the Alamo Drafthouse Cinema and binge in the dark where no can call you a pig. But keep in mind: You can still hear Paul Giamatti scream, "I'm a smudge of excrement on a piece of toilet paper surging out to sea!" at the Bijou. Add a depressingly overpriced side of spinach dip and invent your own self-deprecating side-splitter. Or forgo food altogether and make for AMC Huebner Oaks with those super-comfy seats. Then again, you could just rent a movie and pop Hot Tamales like happy pills. Any way, you win. BC