In 'Desert Blood' an academic turned gumshoe tries to unravel the web of lies that hides the Juárez women's murderers
click to enlarge
A
licia Gaspar de Alba's
Desert Blood
opens in Juárez, the rapidly expanding border town that faces El Paso to the north, with a short, intense description of a kidnapped girl's final thoughts. Immediately, you know this tale isn't set in an idyllic Mexico romanticized through vacation postcards or Chicano nostalgia for the motherland. This is the borderlands, a fractured frontera of brothels and baby traders, narcos and NAFTA, maquiladoras and murderers. Yet, Gaspar de Alba, a native of the area, takes that cliché-of-a-setting, and writes against it. Instead of creating an exploitation piece - a serial killer run amok! - she's pieced together something far more compelling, pertinent, and powerful.
It's 1998, and someone has been killing Juárez women for five years, in steadily increasing numbers since the passage of the North American Free Trade Agreement opened border towns like Juárez up to foreign investment and rapid industrialization. Scores of companies have moved in and attracted thousands of Mexicanos from the country's interior with the promise of good-paying jobs and the lure of further migration. And why not? The televisions and textiles they assemble cross northward, as do the owners and consumers of commerce. These poor, peasant, brown-skinned women lack that luxury, although they form an integral component of this simple equation. Gaspar de Alba's book begs the question, What price do we pay? What is the cost, in human lives, for the low-priced electronic goods and hand-sewn fineries those of us living in the States purchase?
When Ivon Villa, Desert Blood's protagonist, returns to El Paso at the start of the novel, she's barely aware of the deadly events in her hometown. During her inbound flight she reads a piece in Ms. Magazine on the maquiladora murders. She's unsettled by the crimes and upset at her ignorance, but that's not what brings her back to Texas. Villa and her partner, Brigit, have decided to become parents by adopting a baby across the border. A sympathetic priest and her cousin help her cross through those murky moral waters but when the body of the birth mother, a young girl working at one of the factories, turns up mutilated, Villa must confront the story she has only read about. When her own sister goes missing, she's thrust in the midst of the mystery.
click to enlarge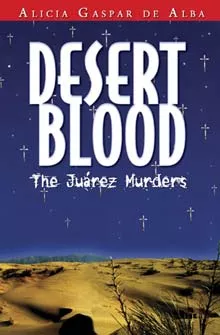 More than a plot device, Gaspar de Alba uses Villa's investigation as a means to take us through the circumstances surrounding the murders. With her academic training and tenure-track career ambitions, Villa is an unlikely - but adept - detective. Her investigation exposes us to the unseen, unsavory world of wealth, power, and silence in this age of neoliberalism. Based on exhaustive research, Gaspar de Alba's novel points to several culprits. Villa, in her search for her sister's abductors, encounters several: street-level thugs arrested and trumpeted as proof of a resolution, at least until another body is found; petty drug pushers and major dealers, whose money and connections allow them to buy impunity; Border Patrol agents and judiciales, false symbols of justice on both sides of the border, allowed to work above the law; the transnational character of the maquiladora industry and the economy surrounding it.
As Gaspar de Alba shows through her graphic, unsettling descriptions of the perpetrators' words and deeds, the climate that allows this intense verbal and physical violence against women pervades all aspects of society, in Mexico and the U.S. Parts of her novel are shocking and disturbing, but the tale should shock and disturb, like the real-life horror story it is, if only to underscore the conspiracy of silence surrounding the case.
Desert Blood: the JuÁrez murders
By Alicia Gaspar de Alba
Arte Publico Press
$23.95, 346 pages
ISBN: 1558854460

This is fact-based fiction in the most startling of senses. Since she's writing literature, Gaspar de Alba is able to take some liberties, such as fictionalizing a killer's calling card with the metaphorical use of pennies symbolizing the value attributed to the women's lives. (To the best of her knowledge, Gaspar de Alba writes, none of the bodies have been found with American currency inside them.) In the end, the pieces of the puzzle wrap up far too neatly, when in real life the murders still continue. Since 1993, according to victims' advocates, an estimated 400 women have been killed and another 600 are missing.
"We don't need to be asking who is killing the women of Juárez; we need to ask why they're being killed. Whose interest is it serving?" Gaspar de Alba said at a recent book signing. "The silence protects the perpetrators and allows them to ply their trade with impunity."
The real-life Ivon Villas of the world are out there, individuals and groups such as Nuestras Hijas de Regreso a Casa, working, writing, agitating, and remembering. Desert Blood demands that we add to their voices, and break the silence. •