Bruno Campos - The Princess and the Frog
By Kiko Martinez
San Antonio Current contributing writer
After a yearlong search for their perfect prince for The Princess and the Frog, Walt Disney Studio found their man.
Actor Bruno Campos had never worked on an animated film before, but he was eager to lend his voice to the character of Prince Naveen, a charming and easygoing prince from the fictional country of Maldonia who is transformed into a frog by an evil voodoo doctor.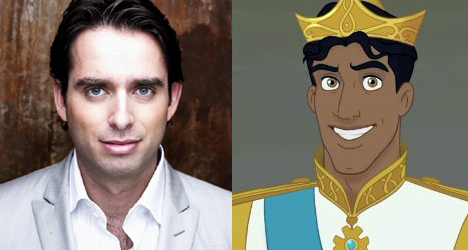 "As a voice performer in an animated film, everything was a complete surprise," said Campos, who was born in Rio de Janiero before moving to the U.S. at the age of five. "All you see are a few drawings and a few clips. I had very little idea about what the other actors were doing. I didn't even get a full script."
Making The Princess and the Frog was a much different experience than Campos was used to since starting his acting career in 1995's Oscar-nominated Brazilian film O Quatrilho. Campos, who studied drama at Northwestern University in Evanston, Illinois, went on to star in a number of TV shows including ER and Nip/Tuck.
During our interview, Campos, 36, talked about his inspiration for his princely character and how important he feels race is in a story that features Disney's first African American princess.
When Disney cast you as Prince Naveen, what did they tell you they were looking for in terms of the type of character they wanted?
The idea was a Cary Grant-ish type of character from this mythical kingdom. They wanted him have a young and fun spirit and wanted someone who was charming. That's what I tried to give them with the scenes I read during the audition. They had been researching for a year for this role, so they knew exactly what they wanted.
You play Prince Naveen both when he is in human form and as a frog. Did you have to get into a different mindset when the look of the character changed or did it feel the same either way?
That's kind of the key question for this character, actually. The answer is no because the comedy part of his character comes out when he changes from the charming, dashing prince into this slimy little frog. He has no notion of that. Through the whole film he feels like he's still got it. That's what makes him so fun and likeable. He's stripped of everything, but his attitude and confidence remain. He also enjoys jumping around and eating flies. He sees it as a great adventure.
Was there anyone you thought of for inspiration for your character?
My dad. He was just a very funny man. He was very charming, outgoing, and loved telling stories. He was a little man with a little potbelly. He had this infectious wit and tenaciousness. He spoke English in this melodic way. I just imitated all of his rhythms.
So much has been focused on the racial aspect of The Princess and the Frog. Do you consider race an important part of this film?
I think people are going to approach it differently. The symbolism of this film is undoubtedly extraordinary and significant. At the same time, I think it should feel colorless. A lot of children will approach it that way. I think they are just going to love the story, music, and characters.
What makes Prince Naveen different from other Prince Charming-like characters of the past?
What's fun about Naveen and different about him relative to past princes is that he's not a perfect man who shows up at the end of the film and gives the princess a kiss and whisks her away to this kingdom. He has his own issues. He's running away from expectations that have been placed upon him. He would love to do nothing more than escape into the streets of New Orleans and be a part of the great jazz revolution that was occurring in the 20s. He learns from Tiana a way of life he doesn't have too much experience in.
What kinds of cartoon did you watch growing up in Brazil?
I liked the Warner Brothers cartoons like Bugs Bunny and MGM cartoons like Tom & Jerry. I remember my first experience watching an animated film was with Disney's Robin Hood. I remember that moment where Robin Hood jumps off the tower and it goes up in flames. For a moment I forgot it was animated. As a kid I was desperately wondering if he was alive or not. Of course, he pops out of the water. All those cartoons, for me, captured this fantasy and exaggerated emotionality that could be carried around forever. It reaches you in a way real life does not.