For ailing residents of Kelly's toxic triangle, answers are hard to come by
Victor San Miguel stands on the porch of his dilapidated white-frame house on Hollenbeck Avenue and points across the street. Without taking a step off his property, San Miguel provides a quick tour of his neighborhood, but it's a grim tour, like a slow walk through a cemetery.
"The woman in that house has leukemia," he says matter of factly. "The one next to her has breast cancer, and another one over there has leukemia."
click to enlarge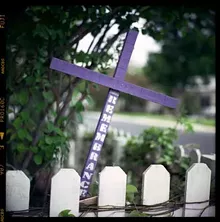 San Miguel, a 60-year-old retired wrecker-driver, has lived on Hollenbeck for 27 years. Three years ago, he was diagnosed with thyroid cancer and his wife also suffers thyroid problems. He walks slowly and speaks in a hoarse murmur, and his right eyelid is almost perpetually shut. But his tattooed arms are muscular and he maintains an aura of toughness, albeit a fragile toughness.
San Miguel's home is only a couple of blocks away from East Kelly — a section of what used to be Kelly Air Force Base that recently came to be known as Port San Antonio. It's about five blocks east of a Union Pacific Railroad crossing that divides these neighborhoods from the bulk of the former military base, an aircraft storage and maintenance facility with roots that go back to 1916. In other words, he lives smack in the middle of what residents call the "toxic triangle," a group of more than 20,000 homes that sit above a plume of contaminated groundwater filled with chemicals dumped or leaked by Kelly employees — contaminants such as Trichloroethene (TCE), an industrial solvent used to clean machinery at the base, and Tetrachloroethene (PERC, or PCE), a paint-stripper with dangerous side effects.
If the cluster of homes in this section of southwest San Antonio constitutes the toxic triangle, Hollenbeck might be its most blighted block. Purple crosses litter many of its front yards, part of a campaign organized two years ago by the non-profit Southwest Workers Union to honor residents who have battled cancer or other life-threatening illnesses. Genaro Rendon, the SWU's co-director, says members of his organization knocked on 350 doors in the triangle to ask if a member of the household had been diagnosed with cancer. He says half the homes qualified for a purple cross. San Miguel doesn't know the vital statistics, but he ponders the emotional wreckage of his neighborhood and simply says: "It's too many problems for one short block. It's not normal."
San Miguel voices the maddening frustration felt by residents of this area ever since a repair crew working on Quintana Road in 1989 dug up evidence of noxious jet fuel leaked from Kelly. Since then, studies have found elevated cancer rates in the toxic triangle, and the anecdotal accounts are staggering. But while Air Force authorities agree that they're responsible for the chemical plume, and have assumed the burden of cleaning up the mess, they still view the cancer studies as inconclusive. To bitter, impatient residents, the Air Force's reluctance to take direct blame for the incidence of disease in the area is demonstrated by what they consider to be an outrageously slow, half-hearted cleanup effort.
"What they've done in the community is next to nothing," Rendon says. He notes that the Air Force's primary solution for residents has been to install Permeable Reactive Barriers, underground walls that contain — and theoretically filter out — harmful chemicals.
"On the base, the metal-plating shop was one of the biggest contributors to the shallow groundwater contamination," Rendon adds. "That has some of the highest concentrations of chemicals on the base, and what they've done is build a cement wall around it. And this is supposed to hold the contamination. They're not proposing to take it out or clean it up, they're proposing to contain it there. We're not for a containment plan. Those types of sites should be cleaned up immediately."
For all the complaints from neighbors, however, Kelly has some high-profile defenders.
"The effort that Kelly Air Force Base and the remediation activities that they're doing, in my opinion, are ongoing and moving in the right direction," says Richard Garcia, regional director for the Texas Commission on Environmental Quality. "The contamination didn't happen overnight. To clean it up is not going to happen overnight, and it's going to go through a process. But I do know that Kelly has been working at closing out some sites, cleaning up others. It's a big site."
With the five-year anniversary of the Air Force Base closure approaching, the long-unresolved issues swirling in the chemical soup beneath this residential area are resurfacing (although they've never really gone away). The SWU plans a community march to the gates of Kelly on July 13 (the anniversary of the base-closing); activists eagerly await a report this summer by a nationally recognized scientific panel looking into the health risks of TCE, a finding expected to guide the Environmental Protection Agency's future regulatory approach to the chemical; the Los Angeles Times devoted much of a March 30 environmental story to the fallout from Kelly's TCE plume; and concerned parties from all sides recently completed the first of two summer roundtable conferences designed to improve dialogue and repair deeply frayed trust.
Things would be so much simpler if this conflict followed an Erin Brockovich-like, heroes-and-villains scenario. In that true-story film, a blue-collar mom becomes an environmental crusader and exposes the arrogant corporation that wantonly contaminated a community's water supply. In this case, nothing is quite so neat or tangible. Kelly's cleanup is being managed by people who had nothing to do with a contamination that occurred decades ago, at a military base that no longer exists, that's creating health risks that remain open to dispute. The guilty parties are perpetually beyond the grasp of the residents and, if Air Force sources can be believed, those guilty parties (the people who actually dumped the chemicals at the base) acted more out of ignorance than recklessness.
"I don't think it was neglect on the part of the Air Force, but I think it was the fact that there were no laws in place that governed it," says Adam Antwine, senior representative for the Air Force Real Property Agency. "There were a whole lot of unknowns about what happens when you pour things in the ground or they leak in the ground. I think it was a combination of those things that gives people the impression that there was some cover-up."
"What the scenario has been is study after study. People are sick, there's elevated levels of cancer, but the activity to take care of these problems has not been seen."

Genaro Rendon
A couple of years ago, Dominga Adames applied for a reverse mortgage for her home. Because a reverse mortgage is a loan that the homeowner doesn't have to repay until the house in question is sold, credit ratings are not a factor in the loan's approval. "We were told that we were approved and everything was set," she recalls. "Two days before the closing date, they told me that the loans go through HUD and the government doesn't want property that has been devalued."
Adames says her property had been devalued because it was nestled within the toxic triangle. "I told the loan officer that `the contamination` would be cleaned up in 10 years and everything would be okay," she says, shaking her head at the memory. "He said, 'Try 100.'"
Adames is one of many Kelly-area homeowners who feel trapped, unable to sell their homes because of their neighborhood's stigma of contamination. Many of these area residents are low-income senior citizens surviving on fixed incomes and who are depressed to find that the homes they spent their adult lives fixing up are essentially worthless.
It's a syndrome that Robert Alvarado compares to having his life "cut in half." Alvarado, 64, and his wife Guadalupe moved into their peach-colored Baker Avenue house 36 years ago and raised all five of their kids there. Seven years ago, Alvarado, then a Delta Airlines employee, suffered an aneurysm that left him legally blind.
"Doctors asked me if I had been out of the country in the last year. I said no," says Alvarado, founder of the Committee for Environmental Justice Action, a project affiliated with SWU. "Then they asked if I'd been exposed to radiation, and I said I hadn't. I didn't know anything about no contamination. He asked because he said that radiation could have caused it."
Alvarado's medical woes were only beginning. In recent years, he says his thyroid has malfunctioned and he's also experienced kidney problems. "I was taking steroids because I was leaking too much protein into my urine," he says. "Right now my feet are so swollen I can't wear socks or anything. I'm retaining too much water."
In addition, Alvarado's wife and his 38-year-old daughter Lisa have suffered from thyroid cancer. These days, Alvarado, a short, stocky, gray-haired man with a mustache, walks with the aid of a cane and wears dark shades to protect his permanently damaged eyes. His physical disabilities forced him to retire in 2000, and because his monthly income of $760 is not enough to support his family, his wife took a job at a laundromat to help pay the bills.
click to enlarge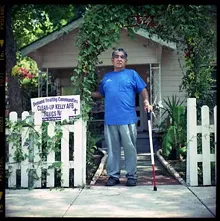 Robert Alvarado stands in front of the home he's lived in for 36 years. He is legally blind and suffers from thyroid and kidney problems. Opposite page, purple crosses litter the front yards of cancer victims in the toxic triangle.
"I wanted to finish my tour of my life and enjoy my family, and retire and take my wife on trips, or whatever," Alvarado says. "But it all stopped when I lost my eyesight. I can't drive, I can't go nowhere. It makes me feel like I might lose my family because I'm not good enough to do anything. I can't even go outside like I used to, enjoy my evening barbecuing. We feel that everything we pick up might have some kind of contamination."
As his own health deteriorated, Alvarado began to notice that many of his neighbors were stricken with cancer. "Barbara, was a young girl, maybe 24 or 25, and she had stomach cancer," he says. "My neighbor across the street, she also died of stomach cancer. Another neighbor, Paula, she died of breast cancer. Then there was Emma, who's still alive, but had a kidney transplant. She worked for Kelly, and says Kelly didn't affect her, but I know it did."
Carmelo Casillas is one former Kelly employee who doesn't hesitate to target the base for his health problems. Casillas, 69, worked for more than 25 years in Kelly's plating plant and handled TCE on a regular basis. "Nobody told us it was dangerous and we had no protective masks," he says. "They didn't know anymore than I did about it."
Casillas and his wife both suffer from thyroidism and his son has glandular problems. He's grappled with health troubles for 15 years and says, "It's not something that'll kill you right away, but it depletes your energy." Ten years ago, the Agency for Toxic Substances and Disease Registry began an extensive study into the effects of contaminants from Kelly and it found above-average rates for liver cancer, kidney cancer, cervical cancer, birth defects, and leukemia in various zip codes near Kelly. But it failed to provide a smoking gun, a definitive causal link between disease incidences and contaminants flowing beneath area homes.
If there is disagreement about what the numbers mean, residents also question the reliability of the numbers themselves. Patti Radle, District 5's councilwoman, points out that some former toxic-triangle residents have moved to other parts of the city, potentially elevating disease figures in other areas and artificially reducing cancer rates near Kelly. Rendon and other members of the SWU also point to an ongoing questionaire study administered by the ALS (Amyotrophic Lateral Sclerosis) Association, identifying 142 potential cases of former Kelly employees contracting ALS, better known as Lou Gehrig Disease.
Antwine argues, however, that no conclusions can be drawn. "All the studies we've conducted to date have shown that there really is no direct correlation between the contamination in the ground water and any of the health concerns," he says. "Obviously, a combination of environmental factors can cause all kinds of disease. Medical technology has not reached the point where it determines which combination of factors can cause cancer."
More than 70 people gathered at Hoelscher Elementary on the morning of Saturday, June 24, to hash out environmental concerns near Kelly. Patti Radle was in attendance, as were representatives for congressmen Ciro Rodriguez and Charlie Gonzalez. Antwine brought members of the Kelly cleanup team. The Southwest Workers Union, Port of San Antonio, Texas Commission on Environmental Quality, and the City of San Antonio Metropolitan Health District also were represented.
For the first hour, attendees broke into small groups. Each table included a mix of people with diverse agendas, who compiled three or four questions that could be topics for discussion by the entire gathering. An air of nervous civility dominated the early exchanges, with Kelly reps maintaining a facade of forced cheerfulness and residents offering anecdotes, like Maria Gongora's detailed description of brown water flowing from the faucets in her bathtub, and plants dying in her yard after being watered. About an hour after the meeting began, Antwine and his team gathered their maps and graphs and set out to answer questions posed by residents. At that point, all hints of civility collapsed like a faulty permeable reactive barrier. "We've been talking for 15 years and nothing has been done," snapped one male resident.
Another man interrupted facilitator Linda Ximenez and said, "Let's talk about the issues. We ask them when they'll clean up the contamination, and getting information from them is like pulling their teeth. We've known about this since the 1980s and they still haven't fixed this."
Things became so testy that when an elderly man addressed the crowd to say that all of the information on Kelly's cleanup progress was available from the Air Force, and that sitting through a Kelly presentation was a waste of time, a voice in the back hooted, "You're wasting our time right now."
Other residents complained that Kelly's containment approach is based on the theory that natural attenuation will wash away the contaminants in 100 years. It was a contention that the Kelly team neither accepted nor denied.
Underlying the palpable tension was the long-held notion among residents that they're victims of environmental racism, that Kelly would be moving with much greater urgency if the affected neighborhoods were not filled with low-income minorities.
"We want the complete cleanup, and the other thing is that we want active health care and treatment for the folks who have been living this reality for decades," Rendon says. "You have people that have lost sons and daughters and mothers and fathers because of illness.
"What the scenario has been is study after study after study. People are sick, there's elevated levels of cancer, but the activity to take care of these problems has not been seen. And that's really what's needed."