Rivercenter Comedy Club is looking for the best of the buffoons
It's a Monday night, and the bar I'm in is filled with wall-to-wall funny — potentially.
A dozen stand-up comics from Austin to Del Rio to San Antonio — collectively, the inaugural leg of the first Search for the Funniest Person in South Texas competition — are milling restlessly about the lounge area of the downtown Rivercenter Comedy Club. I'm trying to remain slyly inconspicuous. Having never presided over so much as an impromptu pie-eating contest, I have nonetheless been asked (and graciously so) to be part of the judges' panel for the first three Monday-night showdowns. And I'm not about to blow my cover.
click to enlarge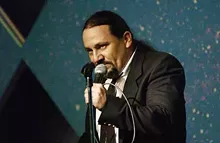 San Antonio comedian "Mouse," breaks out a karaoke parody in Round Four of the Rivercenter Comedy Club's Funniest Person in South Texas contest.
(Photos by Mark Greenberg)
The five-week competition, held by the Rivercenter and Hollywood's Laugh Factory, runs Mondays at 8:30 p.m. through March 27 and will showcase close to 50 comics. Three finalists from each of the first four rounds advance to the final Monday evening, with the winner netting a week's booking at the Rivercenter, performances at the L.A. and New York Laugh Factories, and $750 cash. Second place gets $500 and booking at the Rivercenter; third gets $100.
"We've been trying to put this together for years, and we finally got all our ducks in a row," says Rivercenter manager Ben Huerta. "It gives us the opportunity to look at some comics that we haven't seen, from different cities."
Back at the bar, I've blown my cover. I've let it slip to one contestant that I'm not a fellow comic, but a writer-panelist, soon after which we agree to end our conversation in the interest of fair play and relative objectivity. I wish him luck; he quips that he refuses to sleep with me in order to curry favor. Sheesh. On the job 15 minutes and already I'm entering Paula Abdul territory. I'm relieved when people finally begin filing in for showtime; not so, others:
click to enlarge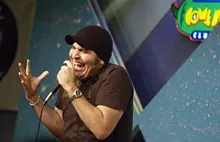 Mark Riojas works his hat for laughs.
"I'm terrified every time I go onstage," says Jay LaFarr, a San Antonio comic with three years under his belt. "I want to throw up. Once I go onstage, I'm fine, but prior to that I always have to pee three times. You need to have a certain nervousness;
I think it makes you better, pushes you a little bit."
Nerves are evident in varying degrees throughout the first round of competition. Sets of note include Andre Meadows, a self-styled "nerd-gro" (black nerd), two 20-something Hispanic comics who cleverly list differences between North Side and South Side Mexicans, and a diminutive girl who goes well over the allotted time and then smacks herself in the forehead with the microphone, allegedly drawing blood. Finalists are Cleto Rodriguez, a clean, Christian, touring comedian from San Antonio who pokes fun at himself and his family, Charlie "Chuck" Watkins, a twitchy, Austin-based fellow who plays like a combination of Spade and Sandler (with a dash of Mitch Hedburg, perhaps), and Chris Keimling, another Austinite who dons lederhosen to perform as Klaus Schicklgruver, a hyperbolic, rapping über-German.
"You've got to think about everything," says Keimling, 33, of perfecting an act. "You've got to think about facial expressions, you've got to think about the gestures you use, the rhythm of your speech ... A little rehearsal, I think, goes a long way."
click to enlarge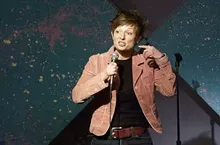 Austin-based British comedian Maggie Gallant keeps the crowd entertained.
"They told me, 'The first time you go up, you're going to suck,'" says Aaron Cheatham, 25, who has been performing for two years, "'and you're going to suck for a few months.' And I was like, 'I'm not gonna suck.' First time I went up there, I froze."
The story of "sucking" one's first time out is often repeated, and seems more or less standard among comics. Many, however, have since learned to consistently deflect "sucking," some with calculated precision.


FUNNIEST PERSON IN SOUTH TEXAS FINALS

8:30pm Mon, Mar 27
$8

Rivercenter Comedy Club
849 E. Commerce
229-1420



"I'm an engineering geek," says Jose Sarduy, 29, a Cuban-born Del Rio comic who by day is an Air Force flight instructor. "I've actually got a spreadsheet for my jokes. I have jokes that work 50 percent of the time, I have jokes that work 90 percent of the time. Because I know percentages, I never have a completely terrible show ... When I do a joke and it gets a laugh, it gets added to the spreadsheets. For me, it's like a numbers game: I start with a 99-percent joke, end with a 99-percent joke, and in the middle I put the new jokes."
Sarduy's Excel-driven brand of stand-up is put to the test in Round Two, as he and 11 other hopefuls vie for three finalist spots. All that math, it turns out, belies an energetic (and decidedly sex-themed) act; Sarduy gets his laughs and moves on, along with LaFarr, who swallows his nerves and delivers with some in-your-face-ish (read: race-related) material, and Walter Campbell, a fellow Air Force instructor-yukster who eschews cursing but gets results with bits on Rockets star Tracy McGrady and how techno music turns you gay. Honorable mention: Matt Golightly, with local humor (e.g. Puffy-Taco-chasing), and David Cole's stoner "act."
The label "comedian," like "rocket scientist," has come to occupy a rarified and peculiar pocket within the American idiom. (Example: "You don't have to be a rocket scientist to figure that out." "Brain surgeon" or "Harvard graduate" fit nicely there, as well.) Along these lines, the question, "What are you, a comedian?" implies the expectation at play. Far worse than this, though, say many who carry the title, is the customary reaction to meeting a comic: "So, tell me a joke."
click to enlarge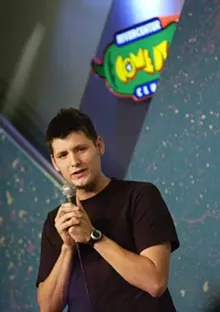 Doug Jones on stage for Round Four of the contest.
"Don't ever ask a stand-up comic to tell you a joke," says Todd "The Gooch" Larson, 32, a San Antonio comic who works construction part-time, "because you have no idea how much they want to punch you in the face."
"We have 'off' switches," says Keimling. "If I meet a lawyer, I don't say, 'Do your closing argument! Do that thing you do for the jury!'"
Larson, meantime, seems to have worked out a system:
"If it's a hot girl, I'm a comedian," he says. "If it's some Joe Schmo, I'm a construction worker."
Come Round Three, Larson is the former, riffing on drinking, women, and more drinking on his way to the finals, accompanied by affable St. Mary's grad Cesar Cervantes, who picks mostly on himself, and Austinite Kerry Awn, who goes off on garage-sale patrons and Texas IQs, among other things. Other notables: 71-year-old psychiatrist Dr. Lew Richmond, performing what he bills as "hardly-able-to-stand-up comedy," wherein he calls himself old in sundry ways (and asks, memorably and rhetorically, "Do you like porno?"), D.E. McNary, who picks on "little white girls" in the audience, Aaron Cheatham's "church cheerleaders," Tommy "Rock On" Muñoz, and a dude named Whitecotton, who ends his set by stealing some poor girl's nachos.
Even in a comic community as comparatively small as San Antonio's, variety abounds: there's the "dirty," the "clean," the "religious," the "not," and perhaps most inclusive of all, the "edgy-borderline psychotic."
Campbell sums it up simply: "It's like a big soap opera, man ... full of guys."
"I think you do have to be a little crazy to want to get up in front of many people," says Rodriguez, echoing the words of virtually every other comic interviewed. "You have to be a little off."
"If someone doesn't get offended when I'm doing a set, I'm doing something completely wrong," says LaFarr. "If I don't piss off at least one person, I don't know what I'm doing up there." •