On the buttons, that is, as Bill Carlton battles his way into video-arcade history
Jeremy Mack fell in love with filmmaking when his parents purchased a video camcorder to record family vacations and outings. He was a student at San Antonio's Krueger Middle School at the time.
click to enlarge
Video-arcade gamer Bill Carlton stands next to the Missile Command terminal where he mades his bid for immortality, a quest documented in Jeremy Mack's film High Score.
"I started playing around, making movies and using ketchup as blood and all that kind of stuff," Mack, 28, who was born and raised in San Antonio and graduated from MacArthur High School, told the Current via phone from his home in New York. "I had a lot of fun being behind the camera. As I grew up, I thought it would be interesting to extend that and see what I could make of it."
What he's made of it is High Score, a documentary that follows one man's quest for the world record for the video-arcade game Missile Command. High Score, which is being released by Mack's production company, MackAttack! Films, will make its world premiere on March 13 at the Dobie Theater in Austin during the 2006 South by Southwest Film Festival. It has also been accepted to the Longbaugh Film Festival in Portland, Oregon, and the Brooklyn Underground Film Festival in New York City.
After graduating from New York University in 1999, Mack took some time off to decide what to do with his newly earned bachelor's degree in film production. With Super Nintendo controls in hand, he and his roommate spent much of their free time in their apartment eating fruit and power pellets, maneuvering through complex mazes and steering clear of bad-tempered ghosts in Ms. Pac-Man.
"We kept on trying to beat each other's scores," Mack said, "but we always wondered where we ranked compared to other people on a larger scale."
Mack was pleasantly surprised when he discovered Twingalaxies.com, a website that bills itself as the "Official Electronic Scoreboard" and database of all video-game world records, player rankings, and related news and statistics. Researching through the site, Mack said he quickly found out he and his roommate were nowhere near the upper echelon of video gamers.
"We realized we were nothing in the world of Ms. Pac-Man."
click to enlarge
Mack also found that in this video-game universe, which had evolved constantly since the first home console, the Magnavox Odyssey, was introduced in 1972, was made up of gamers from different generations, some of whom refused to adapt to the ever-changing game systems.
It was on Twingalaxies that Mack first read about Bill Carlton, a video-game traditionalist from Portland, Oregon, who had chosen to overlook things like the Powerglove, Game Boy, PlayStation, Xbox 360, and other technological innovations of the last 30 years, and continued to invest money in coin-operated arcade games, which were most popular during the mid-'80s Golden Age of Arcade Games.
Mack was fascinated by Carlton's 2003 attempt to break the world points record for the arcade version of Asteroids. The record, set in 1982, is 41,336,440 points. After standing and playing for 27 straight hours, the game's power board malfunctioned and the game unexpectedly reset, ending Carlton's bid for the top score. He was in fourth place at the time.
"When I heard about him, I was immediately captivated," Mack said. "He is not what you think of when you first hear about someone playing old arcade games — the stereotypes that everyone might have of a pasty guy with no friends and with awkward social skills hanging out at arcades all day. He doesn't fit that at all, and that really drew me to him as a subject."
"A lot of these games have an immediacy to them that is lacking in the more advanced games. There is an 'eat or be eaten' kind of idea."

– Jeremy Mack
After contacting Carlton to talk about his gaming aspirations, Mack learned that Carlton was planning an attempt to break a 20-year-old world record for points scored in the arcade game Missile Command. Developed by Atari in 1980, Missile Command has a Cold War-inspired plot in which a player's country is attacked by intercontinental ballistic missiles. As a regional commander of three bases, the player must defend six cities from annihilation by using a trackball (like in the game Centipede) to launch counter-missiles to intercept the enemy.
Carlton, who is currently ranked 13th in the arcade version of Asteroids and fourth in the arcade version of Astro Fighter (no spoilers on whether or not he actually breaks the record for Missile Command), invited Mack to film everything leading up to the record-breaking attempt and the venture itself. To earn the necessary 80 million points to surpass the record, Carlton, who works as an electronic-repair technician by day, figured out that he would need to play the arcade game for more than 55 hours on only one quarter. Along with testing a player's endurance, this style of game play, called marathoning, rewards players with extra lives at certain intervals. By accumulating these extra lives, skilled players are able to keep a single game going for more than 24 hours.
"`A film on video games` was something I had germinating in my mind for a while," Mack said. "When I found this really cool story, I knew there would be a lot to explore and play with."
click to enlarge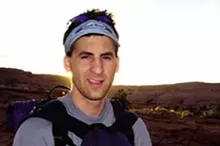 Jeremy Mack
Mack says High Score was inspired by the wildly popular 1997 documentary, Hands on a Hardbody, a film that monitors 24 contestants as they compete in an endurance and sleep-deprivation contest to win a brand new Nissan Hardbody truck. Mack, whose earliest memory of video games was waiting around for his older brother to die at the hands of the Koopa Troopas in Super Mario Bros. so he could get a chance to play, said he was interested in understanding why his film subject was only attracted to classic arcade games. He came to the conclusion that, along with a nostalgia factor, such games as Space Invaders, Frogger, and Donkey Kong force players to focus on the essential tasks required to move from level to level: "There isn't a lot of graphic capability with these machines," he said. "But these are the games they grew up with. A lot of these games have an immediacy to them that is lacking in the more advanced games. With games like Pac-Man, there is an 'eat or be eaten' kind of idea. It's very intense."
While watching Carlton vie for the Missile Command record in Portland's Galaxy Video Games, eating peanut butter and jelly sandwiches between games, Mack admitted that Carlton was taking a risk by putting all his trust in a machine that was built in the 1970s.
"It's an old piece of equipment," he said. "But I figured, win or lose it would still be an interesting story."
Part of telling an attention-grabbing tale, Mack said, was creating a film that, although based on capturing a video gamer in his natural state, would also appeal to moviegoers who are not avid gamers.
"I try not to get too technical," Mack said. "This is not a film about video gaming as much as it is a character piece about someone who is trying to fulfill his dreams." •
For John DeFore's guide to the SXSW film festival, visit sacurrent.com.