Gas prices are up again, the monthly high has topped 100°, you used your vacation time for the kids' Spring Break but you need to GET OUT OF TOWN. Fortunately you don't have to go far for a quickie summer fix.
It's late June, but it already feels like August in San Antonio. The mailman is grumpy by noon, his poly-blend shorts pasted to his butt, the neighborhood dogs too catatonic to provide any reprieve from the mailbox-stuffing routine. The kids, bless their hearts, are tired of the local pool, but the camp allowance is depleted. Even if you could take a week or two off from work to entertain the little dears, the CPS bill looks just like airfare — which is to say less than the cost of driving to the coast, but more than your last paycheck.
How, then, to stave off the alternate road rage and beer-fueled apathy that characterizes the prisoners of SA's dog days? With a quick escape to one of dozens of nearby adult- (and also kid-) friendly playgrounds located in the hills and plains surrounding our fair city. Our staff, also overworked and undercapitalized, picked 90 miles or less as the rule, making for easy one-day round-trips that should cost the average driver well under $25 in gas. Following are six suggestions for spending the rest of your pocket money, from the Shiner brewery to the Snake Farm.
What about south of town, you might wonder. In our experience, the best reasons to head south are to cross the border or catch a bullfight at Fred Renk's Plaza Santa Maria Bullring `oh, yeah, bring it on`, which are outside our mile range in the first instance, and out of season in the second. Or to visit a friend's ranch for a little night spotlighting, roadie in hand. But that, too, is a story for another time.
If you have a favorite area day trip (in any direction), email us at mailbag@sacurrent.com, and we'll post your travel advice (within reason) at Sacurrent.com. Drive friendly, now, and don't mess with Texas.
---
click to enlarge
click to enlarge
click to enlarge
Summer break is a short drive away: 80 miles to Krause Springs, top, in Burnet County. Under 30 minutes to Gruene Hall, located conveniently close to great river-floating areas. An hour-and-a-half puts you in Austin, where the flagship Whole Foods store is a fabulous place to refuel after a swim at Barton Springs.
The jewel of the creek
What's the big damn deal about Texas? Nature. And being natural. That includes those sun-dried, Burnet County locals, whom you can find at an elevation of around 1,100 feet, being their colorful, lovable selves along the northeastern edge of the Texas Hill Country.
"We're not cliquish like the German town of Fredericksburg. We're really open and friendly," says Vince Reed, a FedEx employee whom the Current first met taking a break in a Marble Falls parking lot. He will, however, allow that this area some 80 miles north of San Antonio has had "some odd things going on."
Such as dearly departed Funeral Annie. Local lore says she was the consummate county hitchhiker; even 10 years ago you could find her out west in Kincaid, down south in Marble Falls, up top near Lake Buchanan (near the county seat, Burnet), and southeast in Spicewood.
If you pulled up to a light, she'd tap on your window and ask for a ride to a funeral. "She was kind of a funny lady, didn't smell too good," Reed recalls. "Had a grown son that had died and no one came to his funeral. From that day on, she went to every funeral. Everyone 30 and over who lives here knows about her."
When the Current mentioned it was hoping to learn something offbeat and of the swimming-hole variety, Reed gave praise and directions to Krause Springs in Spicewood.
The high water trying to reclaim the road that leads to the privately owned Krause Springs gives you an early introduction to Cypress Creek (if it's too high, go back to the Exxon station, turn left down 71E and make another left at the fire station). Enter the property, and a dirt road takes you on a Texas safari past the Krause family's rust-colored Red Brangus.
"You don't milk those when they're red. Those are T-bones, those aren't milkshakes," explains Terry, who's worked at Elton and Jane Krause's property since 1982. The Krauses have run the 25-acre park and campground since the mid-'50s.
Your relaxing visit begins adjacent to the parking lot at the Butterfly Gardens (get a load of that 8-foot, 176-pound Balinese wind chime. "It's the biggest tuned wind chime you can buy," says a gold-and-diamond bedecked Elton, 83. He made his fortune as a rancher and bought the creekside property where he swam as a child.)
Head up to the office and pay your pittance for access to two spring-fed pools, being pumped each minute with 70 gallons of fresh water hovering at about 70 degrees year-round. The rectangular 70x20 swimming pool up top is reminiscent of your Olympic-variety, and though surrounded by ferns and rocks and natural beauty only mature senses can appreciate, it is largely the domain of pre-teens. A more adult experience awaits you at the pool down the rusty stairs to the left: limestone rocks (too slippery to be negotiated by tweeners in flip flops), moss-dyed refreshing water, clay-caked walls, and a canopy of cypress trees best enjoyed on your back. Stay away from the 30-foot cliff unless you want to feel like an old Burnet County local, the kind that jumped off bridges into Cypress Creek until the sheriff got better at catching them.
Keli Dailey
Getting there: Take Hwy. 281 to 71E, make a left at the Exxon (Opie's BBQ is across from the gas station). Open every day, 9 a.m. to dusk, swimming $4. Overnight camping: $4 kids, $8 adults. Electricity $5. Reservations for RV spaces at (830) 693-4181. Picnic tables (stop into Opie's BBQ for the 4-inch thick pork chop, but be forewarned: They're popular, so sometimes they sell out by noon). No pets. No lifeguard. No loud music. No drinking water from the hydrants. No credit cards.
(Don't miss the big, fifth-annual firework show on Saturday, July 1! But be aware hundreds of people can show up to the property. Be courteous. And know that even if a movie is shooting on the property — Spy Kids and some Matthew McConaughey unmentionable were shot there — the Krauses won't shoo you away.)
---
Not weird, but fun
Once upon a time, San Antonio felt inferior to Austin, and Austin was happy (in a laid-back way, hombre) to play the part of cool sibling, encouraging its southern sister to feel unfashionable and socially conservative with media-friendly slogans (Live Music Capital of the World, Keep Austin Weird) and frequent "quality of life" nods that, verbage re: green space and small-town-feel aside, were no doubt inspired by a sense that Austin's soul was eternally young and eternally hanging out at one of the city's multiple spring-fed pools or a bar where Janis Joplin's ghost was cheering on Bob Schneider and Slaid Cleeves.
But then it turned out that, like many a popular party girl and boy, Austin had forgotten to take care of some very important business — say, building highways to support all of its adoring techies-turned-residents.
Which is why, on a Sunday afternoon at 3 on the southern edge of the Texas capital, we hit rush-hour-style traffic not seen in SA outside of de-facto rush hours. Fuck it, you might say, and peel off on Highway 71 to search for barbecue and junque on the way to Bastrop or McKinney Falls, but we had the 68-degree waters of Barton Springs in mind, followed by a trip to the Whole Foods World Domination Headquarters, which boasts a gelato bar, beer and wine tasting, and an entire display case devoted to smoked fish and seafood. Also, shoe shopping at Goodie Two Shoes, the trendiest, most reasonably priced filles ferrier in the Southwest.
Two hours later, chilled and effervescent like bottles of expensive bubbly, we lazed on the pool's green banks, our traffic frustration forgotten. As crowded as Barton Springs gets on the weekend, there's always room for more sunbathers (alas, no topless ones this week). We had tots in tow, so we spread our towels at the shallow end, where guppies to catch and rocks to skip are plentiful, but all-adult parties should camp at the deep end, far from the frequent cries of "Where's Baby Davey?" etc.
We vanquished the quick-tempered famishment stoked by our swim at the nearby Whole Foods Market — which was inspired it seems by Harrods of London's infamous basement bazaar (I visited it once tipsy, which only added to the sense that here were the fabled Hanging Gardens of Babylon, canned and cured for consumption). Tucked among the circular displays of fig spread, specialty vinegars, baked goods, and just about anything else you can legally put in your mouth, are small in-store bistros and a sushi bar. The Italian-themed restaurantette in particular feels like a culinary friend's busy kitchen, complete with enviable appliances. We ordered champagne for ourselves (you can pick out a bottle or select from a by-the-glass wine menu) and sent the kids to fetch sodas while we chose pasta dishes — spaghetti and meatballs for the sprites and a primavera blend of zucchini, asparagus, and mushrooms over pesto pasta, and spinach and walnut stuffed ravioli in a spicy red cream sauce with chicken sausage for us. All of which was nigh-gourmet and not too filling, leaving room for the house-made gelato (Basil and Sea Salt and Panna Cotta Pomegranate, mmmmmmm) but not time for new shoes.
Alas, next time we'll spend the night and hit the Continental Club or Stubb's for some live music, too. Austin's the capital, after all, even if it's not as weird as it used to be.
Elaine Wolff
Getting there: Take I-35 North to the Riverside Drive exit. Turn left on Riverside. Take another left on Barton Springs Road and follow it to the park entrance on the left. Parking is $3 on the weekend (unless you park on the back side, off of Robert E. Lee Road). The pool is open 5 a.m.-10 p.m. daily, except Thursday, when it's closed 9 a.m.-7 p.m. for cleaning. Lifeguards are not on duty during some early-morning and evening hours. See Ci.austin.tx.us/parks/pools_schedule.htm#BartonSprings or call (512) 476-9044 for a complete schedule. Pool entry fees range from $1 for children under 12 to $3 for adults. The Whole Foods flagship store is located at the intersection of Fifth Street and Lamar. From Barton Springs Road, turn north on Lamar, right on Fifth, and left into the parking lot. Call (512) 476-1206 or visit Wholefoods.com for info. Goodie Two Shoes is located at 1111 S. Congress. Call (512) 443-2468 for store info.
---
Floaters (and cheeseburgers) in paradise
If the swimming-hole situation in San Antonio leaves something to be desired, despair not: A 30-mile drive north on I-35 can beat the summer heat. New Braunfels, located between Austin and San Antonio, is a little bit of Germany in the middle of the Texas Hill Country. The city is primarily known for its German cultural events and popular river camps and resorts. Clear, cool, spring-fed pools, tubing chutes, rapids, and scenic settings all within a short drive of one another make for a great place for family day-trippin'.
A native New Mexican, I was puzzled the first time I heard the term "floating." But as a freshman in college, I quickly learned that it meant lounging in a tube on the river, preferably with a drink. Hard-core tubers, bear with me for some explanation. The Comal and Guadalupe rivers are floating staples; your choice usually depends on the length of time you want to spend on the water.
Though several New Braunfels outfitters provide raft, canoe, and tube rentals with shuttles at reasonable prices, frequent river rats often buy their own tubes. Tubes can be bought for $10-20 at most tire shops or Wal-Mart or Academy locations, while tube rental with a shuttle costs anywhere from $10-18 per day.
The Guadalupe is a longer float (length can range from two to seven hours depending on the drop-in point), but the Comal is often more convenient for those who have their own tubes. The entrance and exit of the horseshoe-shaped river are proximate, unlike those of the Guadalupe, so walking between the two is no problem if you don't buy a shuttle ride.
Schlitterbahn can also complement a day-trip to New Braunfels. The water amusement park has slides, tube shoots, swimming lagoons, and a giant hot tub to keep both kids and adults entertained. Though most of the attractions use chlorinated municipal water from Canyon Lake, several of the original chutes and pools use spring water from the Comal that circulates back into the river. The park is open weekends in May and September, daily from Memorial Day through Labor Day. Admission ranges from $19.25-52.50 for midday, one-day, and two-day rates for adults and children.
A day of sun and water will leave most people tanned and starving. Fortunately, New Braunfels has a few different barbecue and burger joints that are inexpensive, filling, and don't mind slightly damp patrons. Though the traditional post-float grub is Rudy's BBQ, great hamburgers and sandwiches can be found at TJ's Burgers, 263 Loop 337, and Pat's Place, 202 S. Union Ave. TJ's has a build-your-own-burger bar, grilled chicken sandwiches, and a variety of hot and cold subs.
If you and your charges get the opportunity to dry off or shower, I recommend a visit to the Uptown Piano Bar, 295 E. San Antonio. Located in the cellar of the historic Prince Solms Inn in downtown New Braunfels, the bar boasts two talented ivory-ticklers who play and sing audience favorites of all genres six nights a week. Artwork, antique furnishings, and comfortable seating create a relaxed atmosphere good for conversation or just lounging.
The trip wouldn't be complete without visiting historic Gruene, the former ghost town revived in the 1970s. Antiques, a dancehall, a grist mill-turned-restaurant, and wood-fired pottery studios take visitors back to late 19th-century Texas. Gruene Hall, one of the few businesses in continuous operation since the town's founding, is known as the heart of Gruene and hosts high-profile musicians such as Jerry Lee Lewis and the Dixie Chicks as well as local fave Robert Earl Keen. If you've a passion for the vine, quench your thirst with the large selection of Texas wines, available for tasting on a daily basis. The Grapevine offeries selections from wineries such as Chisholm Trail and Texas Hills Vineyard.
New Braunfels's greatest day-trip appeal is its proximity to San Antonio. Drive time in the car won't waste your day. You can combine a couple of activities for a day-long itinerary, or pace yourself for a long weekend. And, if you don't get it all in, there's always next Saturday.
Nicole Chavez and Angela Chambers
Getting there: 25 minutes up I-35 North. Follow the signs. These tubing outfitters are friendly and affordable: Corner Tubes, 120 S. Liberty Ave., (830) 626-6687. Rockin' 'R' River Rides, 1405 Gruene Rd., (800) 55F-LOAT, (830) 629-9999. Texas Tubes, 250 Meusebach St., (830) 626-9900. A few tips for citation- and incident-free floating: Wear suitable footwear and sunscreen, drink plenty of liquids (um, in addition to beer). Obey laws (river cops will issue tickets). No littering. Respect private property. No glass or Styrofoam products on the river. No jumping from bridges. Pets must be on leashes at all times. Use designated shuttle stops and parking.
---
click to enlarge
click to enlarge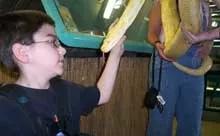 click to enlarge
Belly up to the bar at the Spoetzl Brewery in Shiner, Texas, overcome your fear of reptiles at the Snake Farm in New Braunfels (no, there's not a brothel in back), or chill in the cool waters of quiet Concan.
Beer run
The summer heat was already heavy when I arrived at my parents' driveway and honked. My sister, Amanda, in town from Chicago, wasn't ready, of course. She'd gotten sidetracked on the internet, looking for vegetarian cuisine in Shiner, Texas — the day's destination. Our plan: Shoot over to Shiner, take a free tour of the Spoetzl Brewery, sample some fresh Shiner beer, eat lunch, and be back in SA before rush hour.
I'd told my sister 9 a.m. sharp. It was 8:57, and in typical Baugh fashion, she wasn't dressed yet. This gave me a few minutes to get on the 'net to doublecheck the best route to Shiner. Then we went to pick up our fellow adventurer at his apartment.
It shouldn't take more than about an hour-and-a-half to get to "The Cleanest Little City in Texas," if you don't stop. But we hit a bit of a hiccup outside of Gonzales, where a road crew had shut down one of two lanes. Charles quickly coined it a "goddamned Gonzales traffic jam," and we filed it away in our ever-growing list of phrases to describe clusterfuck situations.
When we finally made it to Shiner, we cruised through town — and right past the turnoff to the brewery. WARNING: There are no signs pointing the way.
About three miles east of town, we knew we'd missed it. So we backtracked, and with just a few minutes before the scheduled tour was to start (so I thought), I sent Amanda into Snowflake Donuts for directions. Just over the hill and on the left, she was told by two locals, who bade her farewell with a warning not to drink too much beer. "It'll hurt," one said with a smile.
Sho' nuff, the brewery, a series of castle-like white buildings, was just where it was supposed to be. The three of us jumped out of the car, hustled past a Harris County bus idling in the parking lot, and headed to the brewery's hospitality room, cussing along the way. I'd planned our trip based on a tour beginning at 11:30 a.m., but found out that they begin at 11 a.m. (I'm not the first person to misread the brewery's website, said tour guide Anne Raabe).
Thankfully, we got to join the tour that had just begun, almost a half-hour late. The AARP group of retirees from Houston hadn't made it on time, either.
The four-part tour begins and ends in the hospitality room (aka: gift shop). It includes a video introduction, a brief history of the brewery and its founder, Kosmos Spoetzl, and an explanation of how Shiner beer is brewed and bottled. Anne, our blue-ribbon tour guide, told us everything you could ever want to know about the Spoetzl Brewery and Shiner beer. (The 99-year-old company has always been family-owned, employs about 50 people, brews 24 hours a day, fills 635 bottles a minute ... )
Back at the hospitality room, wooden nickels in hand, Charles and I ponied up to the bar and ordered a col' beer — the Shiner Hefeweizen, which has, of late, become my favorite (it's best with a twist of lemon). We also tried the brewery's other beers: the Blonde, the Bock, and the seasonal Kolsch, which is brewed March through September (October through February, Dunkelweizen is brewed instead).
By our fourth sample, people began to arrive for the first afternoon tour. They couldn't have been more different from the AARP group. They included three twentysomethings who looked as if they'd walked straight out of an A&F catalogue, a biker clad in black leather chaps, and two middle-aged men who might have been on hiatus from a sailboat tour of the Gulf Coast.
It was time for the three of us to say so long and head to one of the fine dining establishments in town — Werner's Restaurant. (Note to vegetarians, my sister included: Shiner is known for good beer, not meat-free cuisine — pack a lunch.) I chose the chicken-fried-steak lunch special and Charles opted for the chicken-fried chicken from the dinner menu. Amanda made do with a pricey trip to the salad bar. She returned with a plate of mainly iceberg lettuce, slightly wilted. We ate up, under the dazed stare of a mounted bull.
Josh Baugh
Getting there: Take I-10 East toward Houston. Exit on Highway 183 South toward Gonzales. Hang a left on Highway 90-A (east) toward Shiner. In Shiner, turn left (north) at the only light in town. It's the intersection of 90-A and 95. Go over the bridge and turn left into the brewery's driveway.
Summer tours through August: 10 a.m., 11 a.m., 1:30 p.m., and 2:30 p.m., weekdays. There's no charge for the tour or the samples at the end, but plan on buying something at the gift shop — there's all kinds of cool swag. Though you must be 21 to sample the beer, the tour is all ages, and families are welcome.
---
Water works
The first time I heard someone rave about the wondrous waters of Concan, I instantly assumed they'd mispronounced "Cancún."
Four years after moving to San Antonio, I'm no longer quite so ignorant. I've discovered that Concan is a small Hill Country escape about 85 miles west of San Antonio. You know you're about halfway to Concan when you drive through Hondo and see the town marquee that proclaims: "This is God's country. Don't drive through here like hell." You know you're five minutes away when you pass the lonesome cardboard sign by the side of TX-127 advertising "Beer Butt Chicken."
Concan is known as the "Land of 1,100 Springs," and those springs feed the Frio River. While Concan is hardly devoid of tourists, it's far enough out of most popular driving paths to retain the feel of a secret enclave, or at least as much of a secret as any town settled 160 years ago and within five minutes of a state park (Garner) can be. Even with its long history and aesthetic beauty, the town has grown at the slowest snail's pace, with a current population of 225. Aside from a few steakhouses (vegetarians might be lost here), a country store, and some cabin lodging, Concan's amenities are scarce, but the raw, unadorned feel of the place only adds to the appeal.
For a $10 fee, you can park your car in a rocky semblance of a parking lot only a few feet from the river. The waters of the Frio are shallow and relatively calm, and they don't make for the most exciting kayaking or tubing action. But it's hard to think of a Texas river environment that's more relaxing or serene. Families routinely pitch tents and cook by open fires along the cypress-tree-shaded riverbank, and kids seek out the most impressive boulders for cannonball jumps. Most people are content to wade in the remarkably clear waters, watch the guppies nip at their feet, and soak in the sun. During a recent stop in Concan, my 17-month-old daughter delighted in retrieving rocks from the river bottom and watching them make ripples in the water. I had the feeling she would have been content to spend the entire day there.
For those eager for a bit more action, a trip to the Frio River Canyon offers the promise of seeing Mexican free-tailed bats make their daily sunset escapes from a cave, and Garner State Park has six miles of trails for adventurous hikers. But at Concan, the best times are usually spent doing nothing.
Gilbert Garcia
Getting there: Take 410 West to US-90 West (exit 6). Stay on US-90 West for 50 miles, then turn right on TX-127. After 20 miles on TX-127, you'll be in Concan.
---
Snakes on a farm
It was while on one of the several northward treks embarked upon as a bench-denting member of a barnstorming seventh-and-eighth-grade boys' basketball team that I first properly noticed the singular, declarative phrase "Snake Farm," stamped onto a raised white sign and skating silently by off the port-side coast of I-35. Wedged (or, if you like, artfully Jenga-d) with four or so other 14-year-old bodies into one leg of a two-or-three-car caravan — bound headlong for some parochial-league tournament or other — I perked, then repeated aloud, struggling to compute: "Snake Farm."
It's the traditional reaction, I imagine.
"Oh, yeah," said one of my fellows, noting my greenness and leaping at the occasion (as adolescent boys have done for ages, and will ever do) to appear more worldly than his years should allow. "The Snake Farm. You know what they say about that place, right?" He shifted a little and leaned back grandly, taking a moment to relish the enviable feeling of every teenaged eye turning slowly his way. He wanted only for a cigar to smoke coolly. He was a pimple-faced Captain Quint. Following an appropriately extravagant pause, he spoke.
If you were raised in San Antonio during the past 30 or so years, you might anticipate what gleeful tale next issued from my friend's face-hole. I certainly didn't. For the uninitiated, as I was, the Snake Farm (5640 I-35, near New Braunfels) is subject to one of the most formidable (donkey-less) San Antonio-area urban legends this side of the Tracks.
"Sure," says John Mellyn, who has owned the Farm since 1994 and begins nodding immediately — and less-than-surprisedly — upon hearing a stumbling question pairing the word "rumor" with his establishment.
"I didn't know anything about it until we first took the place over," he says. "We heard it from customers I think it's like the Chicken Ranch, or something like that, how the reputation kinda came to the Snake Farm."
Here ends my own extravagant pause. The story, as I heard it, goes: Any day of the week, a body in the know can drop by the farm, sidle up to the front register and ask, natural as you like, for change for a hundred-dollar bill. (Some say the notorious bill-to-be-broken is a 20; general consensus is that this discrepancy points not to the legend's inauthenticity, but rather to an adjustment for inflation.) Whereupon, said body will be greeted with a sly smile from the cashier, then ushered summarily and surreptitiously into the back, to a cathouse that defies description — save perchance to say that it's the sort of cathouse that's kept in secret behind a snake farm.
It's a theory, faith, that's been tested.
"People would come in here and they'd say, 'Hey, you got change for a 20?'" says Mellyn, "So, I would always charge 'em. And I'd say, 'Entertainment's outside.' And then they'd come up all disappointed and I'd be like, 'Well, what'd you expect to see?'"
Certainly, there is much to see at the Farm, apocryphal hookers notwithstanding. The place is full of surprises, not the least of which is that "Snake Farm" doesn't come close to approximating its diverse residents, not by a long shot. Try monkeys, crocodiles, and mandrill baboons (oh, my). Try longhorns, llamas, ostriches — and a zebra, for crying out loud — all in the same pen (Mellyn is variously licensed, and says it's safe). Snakewise, try a rattlesnake pit in the gift shop (it's covered, but still), boas and sundry pythons, an enormous yellow one of which is occasionally let out of its case to serve as a fascinating, if somewhat unnerving, living display.
"We've added quite a bit," Mellyn understates, saying the Farm had mainly snakes and small animals when he acquired it. Now, it wouldn't be an enormous surprise to turn a corner and find a brontosaurus, with Jeff Goldblum tsk-tsking nearby.
Judging from my own visit, the farm attracts avid herpetologists and piqued passersby alike, and assuming he or she can weather the foreseeable saddish-zoo-animal storm, it seems the perfect place for your scientifically inclined young'un.
As for the other bit, Mellyn says, perhaps finally, "I don't think this place was ever a house of ill repute. I don't know how that came together."
Note: He said "think."
Brian Villalobos
How to get there: Take I-35 North to 5640 I-35, New Braunfels. The Snake Farm is open 10 a.m.-6 p.m. every day. $6.75 adults, $4.75 kids, free for kids age 3 and under.