Got moxy and a mad desire to skate? The Alamo City Rollergirls want you
There's not much grrrl power in the 1972 roller derby classic Kansas City Bomber. The team is owned by a sleazy womanizer in a suit and the girls, catty and cliquish in the locker room, are as likely to knock one another down on the rink as they are an opponent. In one scene, teammates K.C. Carr (Raquel Welch) and Big Bertha Baglioni (Patti 'Moo Moo' Cavin) stage a two-woman bout and the loser has to leave Kansas City forever. While Big Bertha knees K.C. in the chest, K.C. returns the favor with a knock-out punch to the face.
click to enlarge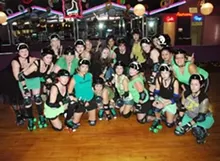 "I wouldn't go so far as to say there's been a reclamation of the term 'girl'," says Cate Compton, Alamo City Rollergirls co-founder, "but there really is no other term that's going to convey sports, feminity, and strength like rollergirl. I'm proud to be a rollergirl."
(Photos by Laura McKenzie)
Ask any Alamo City Rollergirl and she'll tell you roller derby is no longer about corporate ownership and choreographed cat-fights. "We always get people asking, When does the beer and girl fighting start?" says DeAnne Cuellar, media reform activist by day, Paloma Negra 404 by night. "But rock 'n' roll derby is not just girls in skirts. It's a female-skater owned and operated sport, and it's an aggressive sport - girls get their teeth knocked out - and there's a lot of training, strategy, and gear involved."
Alamo City Rollergirls started up in May and already has 42 skaters. Even so, they still need to recruit at least 20 more skaters before they can break into teams and compete against one another, and many of their members haven't skated in more than 10 years. But with two practices and a roller-derby boot camp behind them - not to mention the sisterly advice of Austin's enormously popular Texas Rollergirls to guide them through the pitfalls of organizing a league - they seem to have their bearings. So it's not hard to imagine that in a mere eight months these girls are going to be kicking ass and taking nicknames on the flat track.
According to internet historians, roller derby was invented by Leo A. Seltzer in 1935. His original concept for the game was based on the walking and dancing marathons that were popular during the Depression: Couples would skate thousands of miles - the distance between New York City and San Francisco - around a flat, oval track. On opening day, the Transcontinental Roller Derby drew 20,000 people. Seltzer took the derby on tour and discovered that the crowds went wild if players collided or a fight erupted on the rink. In response, he created a banked rink that allowed players to skate faster and more easily perform dangerous stunts. In 1937, he dropped the marathon concept and created a new game, which evolved into the modern roller derby.
Roller derby's popularity continued throughout the 1950s and '60s, but petered out in the mid-'70s because of high overhead and low attendance. Although there were several attempts to revive it, none stuck.
Then, in 2001, the game resurfaced in Austin with Bad Girl Good Woman Productions, founded by four women who were not skaters but nonetheless created a viable sports league that drew crowds of 1,200. In 2003, philosophical differences caused four of the league's five teams to break off and form a new league, the Texas Rollergirls.
"We are looking for women with a good sense of humor, a strong personality, and a history of not giving up. You don't have to be an expert skater, you just have to show up with a strong desire to skate. You'll figure out if you're a rollergirl or not."

- Cate Compton
"We wanted a league run by skaters, where the decisions could be made by the people who participate," says Lacy "Whiskey L'Amour" Attuso, public-relations maven and Texas Rollergirls' marketing director. "The good news is we had 60 girls right off the bat, the cream of the crop, and the institutional knowledge."
The Texas Rollergirls' rules of play are loosely based on Seltzer's. To begin, five players from each team line up on the start line. Each player has a position: Pivots set the pace of the pack and provide the last line of defense against jammers, blockers keep the jammers at bay, and jammers push through the pack, scoring points for every opposing team member they pass. The first jammer who breaks through the pack becomes the lead jammer. In a bout, four teams compete, each playing two 14-minute games. Each game is broken into two-minute jams, or intervals of play; a lead jammer is the only person who can call off the jam early.
While BGGW, now Lonestar Roller Derby, now skates on banked tracks, Texas Rollergirls have opted to stay with the flat track. Banked-track leagues are rare because the tracks cost up to $50,000 or more to buy, and thousands more to store, move, and handle. Flat tracks, on the other hand, can be created with a ring of lights on any flat surface. "Flat track, all you need is skates and girls with attitude," says Attuso. "The fans love the flat track because it puts them right up in the action, and there's always a good chance that a roller girl is going to miss a corner and land in their lap."
The Texas Rollergirls is the first female-skater owned and operated league. All profits go back into the team, and every skater in the league can vote on everything from financial decisions, to what charities they support, to when the season starts (This year it runs from April 7-August 3). Add live rock 'n' roll bands, rough-and-tumble sportsmanship, saucy costumes, and naughty poster art, and you have a league that in two years has developed a mighty fan base, not the least of which is an adoring media.
click to enlarge
"I let my friends choose my name," says Deanne Cuellar aka Paloma Negra (foreground). "I am always trying to get people involved in the peace-making process, but, obviously, my (derby) name needs to be something kinda rough."
The Texas Rollergirls has become the gold-standard of roller derby; today there are more than 30 leagues. "I went to my first `Texas Rollergirls` bout and it was like, This is who I was meant to be," explains Cate "Nita Spankin'" Compton, "As someone once said, You don't become a rollergirl, you just realize you have one in you."
A criminal defense attorney, artist, and single mother of two (her kids think it's "the coolest"), Comptons' roller derby name suits her. "I'm always teasing and spanking and being the mother hen," she laughs. "My number is a question mark. I'm like the Got Milk? lady of booty swattin'."
After watching that first bout, Compton contacted the Texas Rollergirls to ask about establishing a team in San Antonio. She was forwarded the number of Kat Perez, who had also contacted the Austin league and already formed a group that met on Tuesday evenings at the Rollercade to skate. "Once Cate came on board everything moved a lot faster," says Perez. "It was like dominoes; all the pieces just fell into place."
Perez' day job as a veterinarian technician is the origin of her roller derby name, Kitty Glitter. Like many of the girls, she has played team sports throughout her life, but hadn't skated since she was a kid. "My sister and I used to skate on Saturdays, teaching each other how to skate backward and limbo," she says. "She thinks I'm crazy 'cause I'm doing this, but, you try so many things, and nothing has ever felt so natural. I've never given so much effort or had anything come so easy."
"`My sister` thinks I'm crazy 'cause I'm doing this, but, you try so many things, and you try so many things, and I've never given so much effort or had anything come so easy."

- Kat Perez
Although Alamo City Rollergirls are modeled after the Texas Rollergirls, Compton and Perez keep a tight rein on organizational matters and will until the league is more established. "We vote on most things, but a lot of the girls show up having never seen a bout," says Perez, "And, with all the fluctuations, it's not efficient to give a vote or full ownership to skaters who don't know if they'll be able to skate, so a lot of the decision making is left to our board."
Each board member also takes on a specific task such as marketing, legal issues, public relations, training, fundraising, and inter-league relations. "Right now, we are intentionally focused on building a sense of sisterhood and team, a real loyalty to the league," Compton explains. "If the league doesn't survive, the teams are of no consequence. We are trying to start something that will outlast both of us."
For that reason, they have yet to divide up the league, though they do have names for three of the four teams: The Dragon Divas and the Missy Fits will be led by Nita Spankin' and Kitty Glitter, respectively, and Paloma Negra will head up the Prim Reapers.
Listed together, the girl's names sound like romantic foils in a James Bond movie. "At the grocery store, if someone knocks into you, you let them pass, but in roller derby you kick the shit out of them," Attusa says, "The name lets you step outside your nine-to-five persona and do what you have to do to win the game."
Attuso says she has only once received hate mail from a woman asking why they had to be "so sexy and sacriligous." "We chose to make the league this way; it's fun and tongue in cheek, and its also really athletic," she answered. "We have girls that can pummel a football player to the ground, and they can do it wearing roller skates and a cute skirt. That's cool." Although technically hitting, tripping, grabbing, holding, and pushing are all against the rules and punishable by penalties, pummeling happens. In a bout between Austin's Hotrod Honeys and The Hustlers, girls were grabbed and flung (also known as whipping) into the audience, spanked, swatted, tripped, and punched. One girl was scrunched so hard under an opponent she dislocated her shoulder.
click to enlarge
Kat Perez
"The No. 1 inquiry we get is, Will I get hurt?" says Cuellar. "Yes, you will. That's why you need insurance and a good helmet."
Back in the day, Cuellar's father worked as a DJ at Skateland East, and her mother was a jammer. They met and married in the '70s, and raised both their children to skate competitively; Cuellar was a figure skater, while her brother speed skated. "It hurts a lot more falling now," she admits. "Every day after practice I wake up feeling like a bag of rocks. I don't remember that."
She says the team has suffered mostly minor injuries; the skaters have cuts and bruises on the insides of their ankles from the skates - a roller derby badge of honor - and several have injured knees and tailbones.
At only their second practice, Devon Williamson, the league's volunteer coach, takes the skaters through a series of falls, including the all-fours fall, where the player lands on hands and knees. "Fall forward," he admonishes. "That way you maintain control of the fall and you won't get hurt."
Many of the girls are learning these techniques for the first time, but you wouldn't know it to see them hurl themselves at the floor. They practice T- and toe- stops, and then Devon takes them through slalom-like courses, working on speed, endurance, and turning. By the end, they still look like sexy street urchins - one wears a chartreuse camisole over a very mini jean skirt, while another looks like Tank Girl in short shorts and black-and-white-striped knee-highs - but they smell like a mens' locker room.
There's a lot of cheering and teasing at the league practices, and nearly every girl says there's a sense of sisterhood among players. "It's like when you were a little kid, you get out and play so hard you just wear yourself out," says Compton. "But it's also like the ladies bridge night out with the teasing and girl talk. It's social time, and we don't see enough of that, especially among women."
The challenge is to maintain that cooperative spirit as the league grows. "Basically, we're trying to start a small business with 100 girls," Compton admits. "But we have a shared vision of what we want this league to become, and our philosophy is there is nothing more important than the success of the league, not ego, not quibbles - 'cause they do happen and they are going to happen."
Alamo City Rollergirls won't start playing until spring 2006, but they already have scheduled a fundraiser for August 14 at Beethoven Hall and an exhibition bout in October. In the meantime, their priority is recruiting. Dues are cheap, just $20 a month, but the equipment is expensive, and interested women are sometimes intimidated. "We are looking for women with a good sense of humor, a strong personality, and a history of not giving up," asserts Compton. "You don't have to be an expert skater, you just have to show up with a strong desire to skate.You'll figure out if you're a rollergirl or not." •
By Susan Pagani