Trans-Texas Rail Shop puts private rail cars back on the track
As you climb aboard the Vista Valley, be sure to heed the sign that says "watch your step." The 1948 Pullman passenger car is strewn with machine parts, boxes, and buckets, wires dangle precariously from light boxes, and the air is musty with mold and oil. Yet, if you squint your eyes, you can see vintage luxury just below the surface: The water closet's sink is full of plumbing supplies, but all the original hardware is there and, down the hall, a fold-down sleeper bunk is just a new mattress away from providing a good night's rest. A little vision and a lot of time and money, and the Vista Valley will be ready to ride the rails again. "It's a whole lot like rebuilding an antique home," says Harold Schroeder.
click to enlarge
The Trans-Texas Rail Shop is one of few in the country that restores vintage rail cars to their former mechanical and aesthetic glory, including this 1907 trolley, once employed pulling freight cars in and out of the Pearl Brewery.
(Photos by Mark Greenberg)
Schroeder owns the Trans-Texas Rail Shop, one of a handful of rail repair facilities across the country. If you visit the 100-year-old shop on Milam, you'll see all manner of railroad equipment, including modern locomotives and box, freight, and passenger cars, and while Schroeder says those are the primary focus of his 80-person staff, his heart is in repairing vintage private passenger cars like the Vista Valley, so that they can be hooked up to Amtrak and ridden again. "I usually have another guy, or several guys, to run the freight and engine repair," says Schroeder. "My expertise is in the private passenger cars and I prefer to do that because I can almost do it in my sleep."
Schroeder has been repairing trains since 1951, when as a 17-year-old boy he took a 1,044-day apprenticeship with Southern Pacific Railroad repairing box cars. Although necessity brought Schroeder to the train yard — "I needed to find a job that would feed my family" — he says it is nostalgia that draws private-passenger-car enthusiasts, a rare breed of romantics willing to pour thousands of dollars into what is surely one of the most expensive hobbies around.
A brief history of passenger rail in America: In the 1830s, at the advent of passenger service, travelers rode on hard wooden benches and warmed themselves over wood-burning stoves. By 1858, sleeping berths had been invented and more than 100,000 passengers a night were enjoying dining-car service and the luxury of a good night's rest in George Pullman's "hotel" sleeping cars. Following the addition of thousands of miles of track at the turn of the century, passenger rail service tripled, peaking in 1920 with 1.2 billion passengers; that same year, however, train-ticket prices went up and so did automobile sales. Even in the technical heyday of rail travel, the mid-'30s, when streamlined diesel-powered trains cut travel times almost in half and added such life-changing improvements as air-conditioning, passenger rail never returned, at least in numbers, to the popularity of the '20s. Throughout the '40s, '50s, and '60s, trains competed with the automobile and airplane for passengers and, by 1970, the airlines won with nearly 75 percent of travelers.
In 1971, President Nixon attempted to revive passenger rail service by authorizing the formation of a private company, the National Railroad Passenger Corporation, or Amtrak, to operate a nationwide rail service dedicated to passenger service. The existing railroads sold their passenger cars to Amtrak; the surplus flooded the market. "I saw cars going for $500," says Schroeder. "Scrap was cheap and cars were plentiful. A lot of people bought them and set them out on ranches and farms; in later years, we re-railed them and put them back into service."
click to enlarge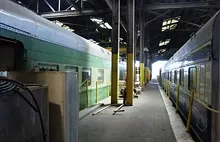 The unadorned exteriors of these passenger cars belie their luxe interiors, referred to by one client as "an 85-foot fiefdom."
Today, a passenger car can cost up to $25,000, "but that's not the half of it," notes Schroeder. Built in the mid-'50s or earlier, most of the rail cars that come to Schroeder's shop need to be brought up to current Amtrak codes. That includes upgrading the mechanical, electrical, and plumbing systems, which can cost up to $400,000, before any cosmetic work has been done, primarily because parts are difficult to find. "A lot of people will buy two cars, use one for parts and repair the other," says Schroeder. "Otherwise, we have to fabricate any parts we can't find."
Schroeder's shop also restores other types of rail cars. In the shop today is a trolley engine that came from the Pearl Brewery. Built in 1907, the little car was once used to haul freight cars filled with grain into the brewery, and newly minted beer cans out. Mid-restoration, the trolley is stripped down to its wood core and steel frame and looks a little like a tugboat. Schroeder shows me where his mechanics have fabricated a new side sill, replacing the original wooden under-frame of the car with one that is steel.
In a few months, the trolley will be fully restored, with all its bells and whistles in place, and on display at the Pearl Brewery site. Train repair doesn't always go so smoothly, or quickly. A 1911 Pullman passenger car from St. Louis sits idle in the train yard. "It can take a long time, and sometimes people get into it and run out of money," says Schroeder. "That car has been in the yard for 15 years, but some cars we turn out in a year."
The Vista Valley has been in the Rail Shop for a year, and Schroeder expects to have it rail-ready in four months. Although he plans to put in a shower and a small galley, most of his work on the car has been mechanical, such as switching the power source from an individual generator to head-end power, which uses one generator to power the entire train, as required by Amtrak.
click to enlarge
Pennsylvania Railroad President Martin Clement, whose portrait hangs over what was once a wood-burning fireplace, owns this circa 1925 Pullman passenger car, which was once used as a company office car for the railroad.
"I'm itching to work on the train myself," says William Amory, the car's owner and an opera singer in New York City. "I have rehabbed old houses before, but in terms of time, I'm a new father and I live out here, so it's hard to get to San Antonio to work on the train."
"I don't know what I'll be able to do," he jokes. "It needs some new mattresses."
Amory found his Pullman through a brokerage website. It originally ran on the Santa Fe Super Chief line from New York to Los Angeles and the San Francisco Super Chief, which ran between Chicago and Oakland. When Amory located it, the car was in Austin on the Georgetown Railroad. He says he fell in love with its four large sleeping compartments, originally called drawing rooms, which feature three bunks, two lower and one above ("So, if you have a couple, you don't have to have someone above, which is kind of fun."), and a set of "'50s-looking spaceman couches" in the observation lounge. "I really liked that all of the hardware was still intact," says Amory. "Any car will take a lot of mechanical work, but finding something this intact is pretty great."
When the Pullman is complete, Amory plans to charter trips anywhere that Amtrack goes. "I'd like to spend a little time traveling on the car, performing here and there," Amory says. "In the old days the Met used to travel by train. I guess there's always been sympathetic vibrations between music and trains, even the rhythm of the train is something people always point to as kind of jazzy.
"My wife's godmother is a jazz singer; I'd like to get a bunch of musicians on our car and have a lot of music going on it," he adds.
So just how did this bohemian opera singer and his train find their way to a tiny rail shop in South Texas? "I just started talking to people," says Amory. "It's a tiny community and people are very free and generous with their time and their knowledge; certain people just keep coming up, and more than a few people pointed me to Harold. He's probably the best in the business."
That tiny community revolves around the American Association of Private Railroad Car Owners. AAPRCO's 100 members work closely with Amtrak to establish codes and maintain the ability to pull the cars, and publish a yearly magazine for enthusiasts, called Private Varnish. It's $500 to join the club, says Patrick Henry, AAPRCO spokesman and a marketing agency owner, "but one of the perks is that the owners get together and take a trip. This year we met in Chicago and went through Santa Fe and the Grand Canyon — it's always quite a sight, 20 or 30 private cars, each one different."
click to enlarge
The master suite of the Martin Clement, just 8-feet wide, provides a new perspective on today's McMansions — who needs 5,000 square feet when you've got a double bed with a movable view?
Henry says AAPRCO members help one another locate cars for sale and find spare parts, but the group's primary function is to promote private rail travel. Many car owners rent their cars out for chartered trips, which function much like a cruise, with planned stops and excursions.
Henry uses his domed lounge car, "Warren R. Henry," and sleeper car, "Evelyn Henry," to entertain business clients, and leases it out for private charter trips during the in-between times. A group of 10 Texas bachelors recently rented his cars for a trip to Los Angeles, California, to watch the Rose Bowl. For $6,000 a day, the group not only had a mobile hotel room, but the run of the lounge car's dining room, bar, domed observation deck, and satellite TV. Two stewards kept the boys in clean sheets and towels, and a chef fed them elegant five-course meals, including such delicacies as lobster bisque and Black Angus steak.
The price tag also included the switching fee the local railroad charges for moving the cars to an Amtrak line (anywhere from $350 to $1,000), and Amtrak's fee of $1.75 a mile. If that sounds expensive, consider this: When they got to L.A., Amtrak dropped them in the train yard. No hotel fees, and they didn't mind the passing trains a bit. "Oh no, you love that, that's the romantic part," says Henry. "You love to hear the train whistles and the rumbling of the passing cars."
But it's not the ambience of the train yard, the tony beef, or the turndown service that makes private rail travel so expensive; it's the high cost of maintaining the cars. Henry says he spends $50,000 a year to keep his cars on the rail. "If a part goes bad, you can't run to Home Depot; that part was made special," he says. "So, while our cars probably run more than anybody's, twice a month, I still don't make a profit. But if you break even that's all you care about."
When he first started looking at vintage rail cars, Amory worried that private rail travel was a club for the very rich. "But that's not all there is to it," he says. "You need money, but most people are into it for love, because even the most intense, wealthy businessman would have a hard time with `the financial outlay`, except as a labor of love and a fantasy."
Amory has memories of traveling by rail as a child with his father in the U.S., Mexico, and Europe; the best involve sleeper cars. "I've had some good nights in coach, in my 20s," he says. "Riding across the country, there is something great about getting to know people. But for that feeling of luxury, and being in your own snug little world, there is nothing like a Pullman.
"I haven't been in my car yet, so I don't know what it's like to be in your own 85-foot fiefdom. But I know there won't be anything in the car that isn't railroady — Harold and I always talk about keeping it railroady."
Schroeder likes his railroad luxurious. He lets a few of his clients cheaply board their trains at the Rail Shop and, in return, they let him take the cars out for a ride every now and again. He and his wife also went to the Rose Bowl in a very luxe 1920s passenger car. He points out the lounge's gas fireplace and a built-in china cabinet with beveled windows and deco-style porcelain dishes monogrammed with the railroad's logo. But he is most proud of the galley, where he has retrofitted a wood-burning stove with electric burners — he doesn't cook there, however. "Oh no, we hire a chef and a steward," he laughs. "I've got to have someone to carry my margaritas."
Back in his office it's a whole lot more railroady. A mechanic has just returned from changing the wheels on a train — an all-day job, involving three men and a crane — a long line of engines are waiting for their 92-day tune-up, and the second shift is just coming on. "We run a second and third shift some days," says Schroeder. "That's life in locomotives, you've got to get the engines out." •
By Susan Pagani