The Silver Stars, that is. The WNBA team works and plays hard together all summer long
The WNBA has been around for just 10 years, and our local representative, the Silver Stars (originally the Utah Starzz), have graced the SA hardwood since 2003. With just 34 games in their season from May through August, these women have to bond quickly to create a well-oiled team. One way their management has eased the burden is by providing housing for the players in one gated Northside apartment complex, making the logistics of travel to and from practice and games that much simpler.
So, they're teammates and neighbors.
click to enlarge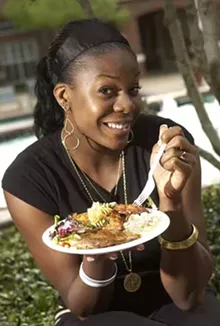 Forward Shyra Ely and assistant coach Sandey Brondello (below) dig in at the now-traditional Silver Stars Memorial Day Potluck.
Last year, Shannon "Pee Wee" Johnson started something that has inadvertently grown into a team event. Johnson is from South Carolina, and loves to grill.
"I used to come out and use the grill out by the pool when we'd have a weekend off — especially on Sundays. The other girls saw me out there and thought they'd get in on it," she says. "Iron Chef Pee Wee" was born, and so was the Silver Stars Potluck. "I'll grill anything and put my South Carolina secret sauce on it," says Pee Wee. "It's good on steak, hotdogs, fish, chicken wings — just about anything you can grill."
Four or five times a season, these women will gather poolside, watch Johnson grill, and bring their own contributions to the party. The informal get-togethers have grown to include all 11 players, the coaching staff, managers, travel coordinators, interns, a couple of friends, and Coach Dan Hughes's wife and kids. On Memorial Day, tables were overflowing with homemade side dishes and desserts, as everyone dug in after a full day of practice.
click to enlarge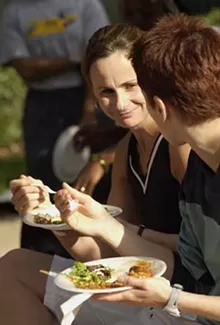 Assistant coach Sandey Brondello
Not every Star is a confident cook, so some folks chip in for the meat, bring store-bought fare, or supply sodas and paper goods.
"We can't be with our families today for the holiday, so we're with our second family," says forward Shyra Ely. "It's just like on the court," she adds with a faux-philosophical air. "We all bring our own strengths to the team, but in this case it's all about the food," she laughs.
It's a relaxed atmosphere around the pool, and you'd think it was just a regular group of friends hanging out and eating. The conversations center on travel, family, where to eat in San Antonio, and favorite foods. Occasionally, someone will yell out praise for the good food they just ate. Everyone has a cell phone, and several people walk away from the group to take calls from boyfriends, parents, and agents — then rejoin the gathering to provide a recap of the call.
click to enlarge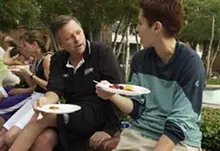 Silver Stars Head Coach Dan Hughes chats with guard Dalma Ivanyi over barbecue and sides.
Hughes is having a good time, too, talking to Agnieszka Bibrzycka of Poland and Hungarian Dalma Ivanyi about what it was like playing ball in their home countries. It's amazing he hasn't heard their stories before.




Cool Summer Fun

Don't lament the Spurs. Professional basketball lives on at the AT&T Center as the Silver Stars give San Antonio reasonably priced ($9-$95), air-conditioned fun all summer long. Details available at Wnba.com/silverstars.

Upcoming home games are scheduled as follows:

June 9 vs. Minnesota
June 10 vs. New York
June 16 vs. Minnesota
June 27 vs. Detroit
July 1 vs. Chicago
July 7 vs. Houston
July 18 vs. Houston
July 21 vs. Washington
July 22 vs. Connecticut
July 26 vs. Los Angeles
July 28 vs. Phoenix
August 1 vs. Charlotte
August 3 vs. Sacramento
August 10 vs. Seattle
August 12 vs. Phoenix





"We're focused on business during practice and games," he explains. "This creates an environment that allows us to find out more about each other on a personal level, in a more relaxed way. What's great is that this just happened on its own last year and has become a tradition. If I had suggested it, it wouldn't have worked; it came from within the team."
Plates are piled high with delicious-looking food — not all of it what you'd consider healthy, either. But these women burn a lot of calories every day, so they can afford to consume some serious fuel. And family recipes make them feel closer to home. There's a nut-topped sweet-potato casserole; a "Polish Salad" made of Agnieszka's favorite things: chopped ham, cheese, eggs, corn, and cucumber held together with mayo; two kinds of pasta salad; Vickie Johnson's "famous" baked beans; a beautiful strawberry cake served in huge slices; and, yes, a salad of field greens mixed with feta. Plus, platters of Pee Wee's sauce-drenched chicken wings, steaks, salmon, and hot dogs.
After a while, the table next to the grill is cleared for a game of dominoes. Johnson, obviously in her element (on court she's a force to reckon with, too), corrals a group into the game. The players' competitive natures take over, and the tiles click and bang against the table as play gets heated. Just another typical poolside barbecue? Not with this crowd of professional athletes, where anything worth playing is worth winning.
---
Silver Stars Recipes
Make your next barbecue a slam dunk with these dishes from the Silver Stars
Vickie Johnson's
Baked Beans
VJ says this is a friend's recipe that she's been making for years. Everyone raved about these thick, tasty beans.
1 lb. ground meat
1 box Velveeta cheese, cubed
1 large can Bush's baked beans
1/2 bottle of barbecue sauce
Cook the meat and add it to a pot with the cheese, beans, and barbecue sauce. Cook on top of stove until cheese is melted. Place in a baking dish and bake at 350 degrees for 20 minutes or so.
Shanna Zolman's
Mac & Cheese
"The secret is the soup."
1 box (1 lb) elbow macaroni
1 box Velveeta cheese, cubed
1/2 cup milk
1 can cream of chicken soup
Black pepper to taste
Cook and drain the macaroni and put it back in the cooking pot. Add the rest of the ingredients and stir over low/medium heat until cheese is melted and everything is mixed well. Transfer to a baking dish and bake at 350 degrees for 30 minutes or until bubbling hot.
Kendra Wecker's
Green Bean Casserole
"The corn gives it even more crunch."
1 can French-cut green beans
1 can white corn, drained
8 oz. cream cheese
1 can cream of celery soup
1 can sliced water chestnuts, drained
1 sleeve of Ritz crackers, crumbled
1/2 stick butter, melted
Combine everything except the crackers and butter and place in a baking dish. Mix the crackers and butter and sprinkle the mixture on top of the casserole. Bake in a 400-degree oven for 40 minutes.