Preservation Texas designates five SA neighborhoods as threatened
On a recent humid afternoon in the Beacon Hill neighborhood, Mountain Laurel trees atomized a grape mist from their blooms. It was shortly before 5, and a rush-hour train whistled from the west, overpowered by a bass guitar booming from megawatt speakers inside a house and a choir of yipping dogs chasing a passerby from behind their fence.
Among the melodious 1920s bungalows, Spanish colonial revivals, and the occasional two-story mansion, Beacon Hill hits a few flats: A refrigerator is chained to a swing set in one front yard. Statues are broken and overturned inside a shrine to the Virgin Mary. And the sourest note of all, the Kingdom Hall of the Jehovah's Witness, a monolith of windowless, pasty brick with a white concrete apron consumes a lot from Magnolia to Mistletoe streets.
click to enlarge
1920s bungalows and other mid-20th century homes are common in Beacon Hill, one of five neighborhoods designated as threatened by Preservation Texas. The view on Mistletoe is characteristic of this inner-city neighborhood, which was one of San Antonio's first suburbs.
(Photos by Mark Greenberg)
Wedged beneath Hildebrand and between two railroad lines that run along Capitol Avenue and Fredericksburg Road to the west and Aganier to the east, Beacon Hill is the quintessential first-ring suburb: From the 1890s to mid-20th century, the city's northward expansion was propelled by streetcars shuttling people from downtown to San Pedro Springs Park. During the post-World War II suburban flight, residents moved to Loop 410 and beyond; Beacon Hill is now considered an inner-city neighborhood.
Like many first-ring suburbs throughout the United States, Beacon Hill is threatened by an influx of new construction that clashes with its historic and architectural charm, according to a report by Preservation Texas, a non-profit group based in Austin. Released last month, the report lists the state's endangered or threatened historic resources, including five San Antonio neighborhoods. `see box, this page.`
Cultural and economic forces are conspiring to alter these neighborhoods to the structural equivalent of the endangered whooping crane or American black bear: Whether it's to avoid long commutes from newer suburbs, to regain a sense of neighborhood, or to reconnect with a city's vibrant core, people are trickling back to the inner city. And when they arrive, some property owners are demolishing older homes - many of them admittedly undervalued and rickety from neglect — and replacing them with anachronistic McMansions. Cities and neighborhood associations that try to protect these areas by designating them conservation or historic districts, set up the familiar battle of preservation versus property rights.
Julianne Fletcher, executive director of Preservation Texas, says San Antonio neighborhoods made the threatened list at the urging of neighborhood associations and individuals. After Preservation Texas receives nominations, it forwards them to a committee of people from throughout the state who are knowledgeable about the area's history, heritage, and culture. It decides which structures or neighborhoods merit endangered or threatened status.
While advocating for historic resources, Preservation Texas does not meddle in local preservation decisions. "It's not us coming in to fix it," Fletcher says. "If people don't care, we can't make them care."
In the book Halfway to Everywhere, which examines the economic and cultural dilemmas of first-tier suburbs, author Bill Hudnut of the Urban Land Institute notes that these areas "are not isolated entities. They are bundled together, so what affects one, affects all." This domino effect explains the proximity of San Antonio's threatened neighborhoods to one another: Monte Vista, Olmos Park, Alamo Heights, and Terrell Hills draw a long swath across the inner city. Alta Vista, which is not on the Preservation Texas list, is sandwiched between Beacon Hill and Monte Vista, which are.



ENDANGERED SPECIES

In its annual report of Endangered Historic Places, Preservation Texas identified five San Antonio neighborhoods as "threatened" because of "a new pattern of demolition" of existing homes. Property owners are tearing down older homes and constructing larger, suburban-style houses on those lots and eroding the neighborhood's historical and architectural character, the report states.

San Antonio's threatened neighborhoods are Beacon Hill, Terrell Hills, Olmos Park, Monte Vista, and Alamo Heights.



Once a refuge for downtown denizens fleeing floodwaters, Beacon Hill has been designated a Conservation District, which primarily restricts alterations to a home's façade (Think of it as Historic District lite). The City's Midtown Neighborhoods Master Plan calls for the area to preserve its historic character and walkability and to encourage small mom-and-pop businesses to take root.
"We're committed to housing," says Debbie Huerta, president of the Beacon Hill Neighborhood Association. Three houses in the neighborhood could be re-zoned from residential to commercial, and she fears the change would erode the area's homey feel. Non-profits and churches such as the Jehovah's Witness Kingdom Hall are exempt from Conservation District restrictions, leaving a loophole for anyone to set up a fledgling 501(c) 3 or storefront congregation and elude the regulations. "You're ruining history," says Huerta.
Neighborhood character often changes as a result of "demolition by neglect." Elderly homeowners, absentee landlords, and careless property owners allow houses to fall apart. People looking for cheap property buy the houses, which are worth much less than the lot, then tear them down and replace them with new homes, but ones that are incongruous with the neighborhood.
"This is the tear-down, rip-up, and rebuild model," says Char Miller, Trinity University professor of Urban Studies. "It hurts the integrity of the neighborhood."
It is possible to keep historical character of a neighborhood intact, adds Miller, and still incorporate variety in housing styles. Miller cites the example of King William Historic District, which, although mixing turn-of-the-century mansions with Art Deco homes, feels cohesive. "There are ways architecture can talk across property lines and generations. With the right materials, you can modernize an old house and not savage the landscape."
In addition to mixed-income areas such as Beacon Hill, upscale neighborhoods are also at risk. Three neighborhoods on Preservation Texas' list are among San Antonio's tonier addresses. Barbara Johnson, executive director of the San Antonio Conservation Society, lives in Alamo Heights, where there are no historic or conservation districts or preservation guidelines. (For example, the Conservation Society has a conservation easement on the Pegasaus sign atop the old Mobil station at the corner of Broadway and Austin Highway, but not on the building itself.)
"There are ways architecture can talk across property lines and generations. With the right materials, you can modernize an old house and not savage the landscape."

– Char Miller
"There are some homeowners who are taking it upon themselves to do sensitive updating to homes," says Johnson. "But others don't."
Johnson says it's not only the suburban architectural styles of the new homes (pejoratively referred to within the architectural community as "insta-houses" because of the speed with which they're built, or "snout houses," because of their prominent garages), but their scale is often out of proportion to the neighborhood. This phenomenon occurs throughout the inner city: A Dominion-size home near the McNay Museum looms over its smaller neighbors; on the southwest corner of Woodlawn Lake near the Jefferson neighborhood, a pair of elephantine McMansions dwarf every structure around them. "There is an influx of new people who appreciate the charm and character of the neighborhood, but do not fully value or understand the history of the community," says Johnson.
Jeff Fetzer, an architect with Ford, Powell, and Carson and chairman of the City's Historic Review and Design Commission, calls the "tear-down, rebuild" syndrome a "potential problem" in San Antonio's inner city. "Some people think the best thing is to tear down the property and build new," Fetzer says. "But that's not always the solution."
In San Antonio, every demolition permit must be reviewed by the City's Historic Preservation office, even if the building isn't in an historic or conservation district. Buildings outside those zones can avoid the wrecking ball if the City designates the structures historically or culturally significant.
click to enlarge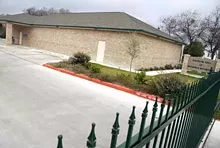 Non-profits and religious organizations are exempt from Conservation District regulations. The Kingdom Hall of Jehovah's Witnesses is architecturally incongruous with the neighborhood's historic housing.
The Architectural Subcommittee of the Historic Design and Review Commission often consults with property owners, some of who can receive tax abatements for large renovation projects. "We've been able to discuss with them remodeling or renovating in their financial best interest and for the good of the neighborhood. What people think is beyond repair usually isn't, especially wood-frame houses. Wood is very forgiving."
The Alamo Heights City Council has passed a demolition-delay ordinance to allow for a "cooling-off period," for the neighborhood residents and architectural review board to examine at-risk structures and determine if they can be salvaged.
There is a careful balance to be struck between preserving the historical significance of an area and being perceived as insular by potential newcomers to the neighborhoods. Inner-city neighborhoods and first-ring suburbs, in essence, need new blood in old houses. "You're seeing a demographic transition," Miller says. "People are getting older and they're moving on or deceased, and new and younger couples come in. Regeneration is essential, but you don't want to crush the life out of neighborhoods architecturally speaking."
Critics of historic districts argue that the designation infringes on property rights and boosts property values, penalizing the elderly who can no longer afford the taxes. However, Miller notes that with the passage of a public referendum last year, property taxes have been frozen for Bexar County homeowners ages 65 and older. Inner-city neighborhood Tobin Hill is divided on the issue of historic designation, but its opponents have successfully fought off attempts to do so. (A sign on Main Street reads: "Tobin Hills Historic No.")
Yet, there are signs that property owners outside of conservation and historic districts still are invested in the historical nature of their homes. Last week, the City's Code Compliance department wanted to tear down a house in Tobin Hill, but the property owner petitioned the City to have it saved and restored; the City agreed.
"If we lose our historic housing," says Fetzer, "then we've lost a good portion of our history and culture."
In contrast, property owners within historic districts may not value the significance of their homes. The City recently thwarted controversial plans to demolish a house on Ashby in historic Monte Vista and is suing the homeowner for "demolition by neglect."
"It's your property," says Miller. "But no person is an island. You live in a community. Sometimes the logical thing is to tear down, but there are ways to do that and enhance the neighborhood, not degrade it. In the end it's trying to turn these neighborhoods into Loopland and we already have that." •
By Lisa Sorg