In Texas, 6,000 Katrina victims are about to be turned out of their FEMA-subsidized homes
Just below ground near the intersection of East Travis and Navarro, toward the end of a narrow hallway framed by textured, lime-sherbet walls, a man sits quietly in an electric wheelchair. He doesn't move much. Dark, oval-lensed sunglasses clasp the temples of his great, smooth head; he removes them and the eyes beneath are heavy almonds, reddened and tired-looking. A brushy fringe of steel-grey bends like a bristled strap across his upper lip. Four teeth are visibly absent from their posts about the lower edge of his mouth as he opens it to speak; when he does so, it's with a deep, oaken voice that carpets the hall like a bass line.
click to enlarge
Gloria and Willie Williams, in the living room of their Fredericksburg Road apartment, wait uneasily to hear if they can afford to stay there.
"The greatest help for a man in my condition, with the legs like I had, was the water," says Walter Jenkins, 65, recounting his journey from New Orleans to San Antonio nearly a year ago in the aftermath of Hurricane Katrina. Occasionally there are glimpses of his kinetic counterpoint, his 8-year-old daughter Macey — a pretty, charged-particle of a girl in a pink shirt spangled with blue and yellow flowers, accessorized smartly with a moonbeam smile, big as her face. Her head is a seething tangle of braids as she bounds from one room to the next in the basement of the Travis Park United Methodist Church, plastic sandals (pink again) slapping the green tile floor.
Hard to imagine she was ever unhappy.
"When we touched down in Baton Rouge for a few minutes ... that's when the separation happened," says Jenkins, who was choppered out of the Crescent City after swimming his way to higher ground with Macey on his back and spending a hellish three days in the violent and chaotic New Orleans Convention Center.
"They wouldn't let my little baby come with me," he recalls. "And I passed out and I was out for, I'd say, about seven to eight, nine hours. I wasn't sleepin', I was out." Jenkins, who is a diabetic and has been on dialysis for the past four-and-a-half years, had to be airlifted to San Antonio to receive care, as Louisiana facilities were already teeming with patients. Macey was left in Baton Rouge, and father and daughter didn't see each other for six days.
"Yeah, and I got left behind, and I kep' on runnin' an runnin' and crying, crying, crying, crying, crying," she says. They were reunited, Jenkins says, when one of Jenkins's caretakers spotted Macey on a CBS telecast and called in to the network.
"`A` nurse and two other social workers came in here, and `said` 'We got a little surprise for you.'" he says. "I said, 'What?' 'That is your daughter, and CBS gon' pay for her to come here, and they want to know, is it all right they could film the whole thing?' I said, 'They gonna pay `for` my daughter to get here, they can do anything they want, as long as they don't do her nothing.'"
Then, proudly, he says, "There's one statement that they were showing me on the video, that she said, 'I'm not worried, I'm gonna be with my daddy tomorrow.'"
Macey lights up.
"And then I was by my daddy on the first day after," she says, just as proudly — almost I-told-you-so proudly. "I came ... in there and I say, 'Daddy, I got you, I got a ham-and-cheese sandwich, and I had a juice for him.'"
"You know why?" Jenkins smiles. Then, to Macey: "What's my favorite sandwich?"
"Ham-and-cheese."
Things have since looked up for the pair — relatively, at least. They have settled into an apartment in a "very nice complex," received help from a local Baptist church ("If it wasn't for Reverend Richardson ... " says Jenkins, who was a pastor himself in New Orleans), and, with his monthly $633 Social Security check, are somehow scraping by.
The biggest aid, however, has come from the Federal Emergency Management Agency, which currently pays every bit of Jenkins's $700-plus rent. But come the end of this month, according to a letter Jenkins received in mid-June from FEMA, that aid will no longer be there.
"Nobody didn't know nothin' about that," he says. "That wasn't a surprise, that was a shock."
click to enlarge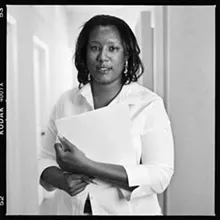 Henrí Stewart is one of three I.D. recovery specialists working to help Katrina victims take the first steps toward employment — or just prove they're who they say they are.
Macey and her father are among the 46,634 evacuee families across Texas — and the 1,058 such families (approximately 2,700 individuals) in San Antonio — currently receiving FEMA rental assistance under the Robert T. Stafford Disaster Relief and Emergency Assistance Act, designed in 1973 (and since amended) to direct federal-aid response in emergency situations. The president officially declared Katrina a "major disaster" on August 29, 2005; thus, under Section 403 of the Stafford Act, FEMA has, since September or so, provided temporary rental assistance for evacuees while their eligibility for extended aid under the longer-term Section 408 plan — based, essentially, on verifiable New Orleans residency, head-of-household status, and the extent of property damage sustained — can be determined.
The transition's the thing, says Texas FEMA spokesman Don Jacks: From the 403 plan (whereby FEMA reimburses public entities like the San Antonio Housing Authority for aid given), which was intended to be a one-to-three month program, to the 408, whereby FEMA gives aid to individuals.
The most crucial difference between the two programs is duration. Section 408 requires FEMA to help eligible survivors until 18 months after the August 29 declaration date, or February 2007. As of July 31, however, FEMA will cease to pay rent for anyone whose eligibility for transition to the 408 has been declined or remains pending — approximately 6,000 people in the state of Texas, Jacks says. Effective end of July, then, there may be some new faces showing up on San Antonio's streets. Jacks says the July 31 cut-off could have happened far earlier.
"We were going to end the program last December 1," he says. "Then it got extended into January, and then into February, and then into March, and then it was going to end on June 30, and we have continued to work with these evacuees, because there is a group of them that will not qualify for any assistance after July 31."
A group, apparently, that includes Jenkins and his daughter — though he is appealing that decision.
"We sent a letter in, seeing what's gonna happen," he says. "They said either we'll know something within two weeks or three weeks ... We don't know, we don't know. We're in the dark."
Gloria and Willie Williams, 56 and 57 respectively, received a similar letter not long ago and are also appealing their status.
Gloria has breast cancer and back trouble; Willie has a prosthetic left leg and no toes on his right foot, and, like Jenkins, is a diabetic. FEMA currently foots their monthly $590 rent payment, and the two pull about $1500 a month from Social Security; Gloria is on Medicaid.
"We don't want to go back," says Gloria, who tells of seeing rape and other atrocities while holed up in the Superdome, waiting for rescue. "It's messed up."
Willie agrees, and says they'll be at a loss for answers come July 31.
"I don't know ... we're catching problems right now, `and` FEMA's payin' rent," he laments. "I'll be honest with you; we don't even have food right now ... The food I eat, the diet food, it's very expensive."
The Williams's monthly expenses include: a $260 car payment, $250 for life insurance (on which they're behind, Gloria says), bedroom-furniture rental at $200, car insurance at $67, and $159 for digital cable. Willie frequently goes without his high-blood-pressure and high-cholesterol pills, he says.
The Williams seem confused at their apparent 408 ineligibility; they feel they meet every criterion. Proving it, however, might be a different matter.
"There was a lot of extended families in New Orleans," Jacks says. "And the mother and father lived there, and their older children lived there, and their children, and so you had all these family groups under one roof. Well, the father or the mother who owned the home were really technically the only ones who were eligible for disaster assistance."


"Nobody didn't know nothin' about `the discontinuation of rental assistance`. That wasn't a surprise, that was a shock."

- Walter Jenkins



More troublesome, though, is the particularly sticky challenge of replacing and/or attaining identification, without which any hope of proving eligibility for aid, applying for a job in Texas, or signing up for just about any in-state service imaginable dims considerably.
"We have to have some proof that says, you know, that you were the head of household and that you owned the home, and that it was at this particular address," Jacks says. "We've had people tell us that they owned a home at this particular address in New Orleans and we checked and it was an empty lot, and there was no record of them having paid utilities there, having a phone there, or anything like that."
San Antonio's Katrina I.D. Recovery Program operates under the auspices of the Christian nonprofit organization Corazon Ministries, out of the gauzy-green basement of Travis Park United Methodist Church downtown. The service began at Kelly Air Force Base in September, about a week after Katrina hit, and moved to its present location early this year.
"We get people coming in with nothing, nothing, to people who are coming in with everything to walk into DMV other than the money," says Henrí Stewart, one of three full-time I.D.-recovery specialists employed by the program. She says most people still show up with insufficient proof of identity, and that's where the legwork starts.
"There are some people we've been working on for months," she adds.
In order to attain a Texas I.D. or Driver License, an applicant must present acceptable documentation, which falls into a rather distinct hierarchy. Primary Identification, such as a current U.S. passport, a military I.D., or a U.S. citizenship certificate with photograph, is the gold standard, and requires no additional support to legally establish identity. A single piece of Secondary I.D., such as a birth certificate, a current out-of-state driver's license, or a certified court order, cannot stand on its own; the applicant must also present either an additional Secondary I.D. or two lesser "supporting documents." These supporting documents constitute the third tier of identification — bits like school records, Social Security cards, insurance policies, vehicle titles, marriage or divorce licenses, or — don't-leave-New-Orleans-without-'em — pilots' licenses.
"It's set up to where it's kind of a Catch-22," says I.D. Recovery Director Dennis Maricelli. "If you do have a Social Security number but you don't have a card or any record to prove it, if you go to the Social Security office, they'll give you a little piece of paper saying that somebody with the name that you gave them has that number ... but they won't verify that it's you because you don't have an I.D. But you can't get an I.D. unless you have ... a Social Security card, and a birth certificate, and at least one other piece of ... paperwork ... But you can't get any of those, unless you have an I.D. to get them."
Worst-case scenario:
"We have a gentleman `from New Orleans` that we can't find any paperwork that shows he even exists," Maricelli says. When he was born, he was born by a midwife and she was late turning in the paper, and she turned it in with wrong dates, and his mother left him to be raised by ... his aunt and she's now passed away and he's kind of mentally defunct ... He doesn't know what school he went to so we can't pull school records. He's almost persona non grata. We've been working on him for like eight months, and made like no headway. We've managed to help him get services simply by vouching that to the best of our knowledge he is who he says he is, and we've not proven otherwise ... We've have taken him down and gotten him fingerprinted and sent 'em off to the FBI to have them validate it, but ... any bureaucracy takes a long time. Something a lot of these people don't have is a lot of time." There are also plenty of successes down in the lime-green basement. Asked how much personal I.D. he had upon leaving Louisiana, Jenkins lets out a sarcastic whoop.
"Hahaaaaaaaa. Haaaaaaaaa," he says. "No I.D." Then, earnestly: "Praise God for these people here. They're helping me get that. Thank God." Jenkins says he would like to get, among other things, a job as a "sitting-down" security guard, as a financial cushion. On the day he spoke with the Current, he was at the office to pick up a Corazon-underwritten DPS check, the last step, for many, in securing a Texas I.D.
click to enlarge
Walter Jenkins and daughter Macey weathered Katrina, but can they survive the loss of FEMA housing aid?
At a glance, the Artisan at Willow Springs seems eminently interchangeable with any other by-the-numbers, "affordable luxury" apartment complex you've seen: same rubric of limestone and earth-toned concrete (taupe, in this case); same sharp, clean lines; same mild, innocuous, poetic-lite handle, calculated to evoke pastoral idyll in the face of enveloping city-sprawl. It's larger than some, to be sure, with its 248 units occupying almost a dozen-and-a-half acres at the edge of Gembler Street — just a good, hearty spit from the hulking aluminum widget known as the AT&T (née SBC) Center. It's a nice-looking, if aesthetically unremarkable, place, and just about brand-new, too; construction wrapped in February of this year.
What sets the Artisan apart lies not without, but within. Developed under the San Antonio Housing Finance Corporation to cater to low-income tenants, the complex began leasing in the summer of 2005, reserving all units for families whose earnings amounted to less than 50-60 percent of the Area Median Income. Appropriately enough, between September 15 and October 15 of last year, United Apartment Group, which manages the Artisan, moved onto its fledgling site no fewer than 40 families fleeing the wide and woeful swath of Hurricane Katrina.
"This whole complex is from New Orleans," says "Michael," a 32-year-old Artisan resident and hurricane survivor who, asked about the house he owned with his wife back home, gives a quick, tight head-shake and says wanly, "Gone." He has a tallish, slender build, part of which is draped in a loose white T-shirt. A dark ballcap brims quiet, steady eyes, and he speaks in a low voice tinged with more than a wisp of guarded detachment. He has neither a job nor an I.D. His wife works at a grocery store for extra money, and FEMA's assistance is the only aid they currently receive, he says. The little money that does come in, he says, doesn't stay long: "We spend every day. Ain't no budget. Comes and goes." He doesn't even know, he says, how much his rent is. "It go straight to the office," he says matter-of-factly.
Michael seems surprised to hear of the 403 discontinuance; he says this is the first he's heard of it.
"We gotta start saving up," he says. "We gotta find somewhere else to go. I don't know this city. I'm gonna call `FEMA` tonight."
Jacks, in turn, is surprised at Michael's surprise.
"That has to be an exception," he says. "Because these people have been notified with letters that have been put under their apartment doors by the apartment managers, and then they also know the phone numbers that they could call.
"What we have given ourselves is 15 days to have the jurisdictions, the cities ... notify the applicants that they are eligible and may continue under the 408 individual-assistance program, or that they are ineligible because they didn't turn in paperwork that we had been asking for for months and months and months or it was determined by utility records in New Orleans, various other records, that they were not a homeowner and that they possibly were even homeless before the storm and did not qualify for any FEMA assistance, but had been getting it since September," explains Jacks. "And so, those are the people then that on July 31 will not be eligible for continued rental assistance from FEMA."
Susan, 25, an Artisan resident who has transitioned to 408, is perhaps better prepared. Her fiancé, she says, travels back and forth between Texas and Lousiana for work.
"Basically they supposed to cut us off on the 18th month after the hurricane," she says. "I'm aware of that. I think that was enough time for us to all get ourselves together."
Other people will probably feel differently.
Case in point: Michael.
"I'm just findin' out," he says. "Some people might know way before me ... some people might still `not` know."
While it's comforting to be surrounded by fellow New Orleaneans, Michael says, his and their presence at the Artisan has been met with some tension. "They don't want us here," he says. "All the kids fightin' every day ... New Orleans against Texas ... Soon as they straighten us out, I'm goin' back home."
He might soon get part of his wish.
This is the first of a two-part Current series concerning homelessness in S.A. Next week: A look at the plight of those already on the street.