San Antonian James Garner talks about the Civilian Conservation Corps, a federal program that helped families, including his own, survive the Depression
At Garner State Park north of Uvalde, cypress trees arch over the Frio River, which on this febrile late summer day cools a swimmer's bones to the marrow. Nearby hills swaddle the campground dotted with tents, cabins, and RVs, including one whose owners have run a power cord to their satellite dish.
In the 1930s and '40s, there was no electricity or television in these foothills when thousands of young men, such as San Antonian James Garner, helped build and refurbish the Texas parks system through the Civilian Conservation Corps, a national New Deal program to help the poor and alleviate the economic woes of the Depression.
(Garner State Park is named after John Nance Garner, vice president under Franklin Roosevelt. James Garner is not related.)
click to enlarge
As a truck driver, James Garner also chauffeured CCC members to church in Uvalde each Sunday.
On a national scale, the CCC enrolled 3 million men ages 18 to 25 throughout the U.S., who reforested barren areas, built dams, erected telephone lines, worked in soil-conservation programs, and helped repair communities after national disasters.
Although the CCC existed for just nine years before Congress defunded it in June 1942, the program left an indelible mark on the men who participated. "Life would have been harder without the CCC," Garner says. "It would have taken longer to learn what life was all about."
During the Depression life was about doing without. Consider the economic conditions under which President Roosevelt created the CCC: After the 1929 stock market crash, a quarter of the American workforce was jobless. From 1933 to 1940, the unemployment rate never dipped below 15 percent. Without food stamps, unemployment insurance, or other government programs, "There were people, families, walking on the roads trying to go somewhere," Garner recalls, "and they would stop at farmhouses and people would give them food. We gave them food."
Although Garner's family initially was insulated from the Depression because they farmed crops and raised livestock, they eventually succumbed to the effects of the economic disaster.
click to enlarge
James Garner served in the CCC from 1938-1940, and worked as a trucker, mail carrier, and doctor's assistant.
(Photo by Mark Greenberg)
"We had food; we never suffered from that," says Garner, 85. But in 1935, when Garner was 15, his father sold his farm equipment and the family drove in a Model T Ford from the Texas Panhandle to Eagle Pass. His father grew food for the family and later worked for the Works Progress Administration, a national public-works program for older men. His mother set up a boarding house to earn money. Garner began working for a farmer, irrigating fields for "50 cents a day and my lunch."
In FDR's view, the Depression wasn't the only national crisis. The President, who loved nature, saw the environmental degradation that had occurred in America over the past 50 years. "The federal government had to cope with ... the disfiguring marks that three generations of waste and ill-usage had left on the American landscape," including forest and timber destruction and soil erosion, writes John Salmond in The Civilian Conservation Corps, 1933-1942. "Franklin Delano Roosevelt brought together two wasted resources, the young men and the land, in an attempt to save both."
County officials recruited men primarily from poor-relief rolls. In the CCC, a man earned $30 a month, $22 of which was sent back home to help support the family. If the man had no relatives, the funds were allocated to another needy family. Garner's older brother had served one six-month term in CCC camps in Colorado and Arizona. In 1938, with the unemployment rate at more than 19 percent, Garner, 18, decided he, too, would enroll to help his family.
"We helped people and they accepted us as normal human beings they'd associate with.

James Garner
The CCC was run by the Army, although there was strong national resistance to allowing the CCC to become part of the military. "We had retreat and honored the flag," Garner recalls, "but no marching."
Six men stayed in each 16-by-16-foot hut, which had one door, three windows, a wood stove, and one light hanging in the middle of the room. "There was no electricity, only generators," Garner says, and a small, battery-powered radio helped pass the evenings.
Everything was built by hand, and the camp included a sawmill, a blacksmith, and a powderhouse, that stored dynamite used to blast rock from the Frio and Sabinal rivers. CCC workers chipped the rocks by hand and built the Garner State Park Pavilion, which stands intact today.
There were trade schools in woodworking and leathercraft, and for men who hadn't finished high school, those classes were offered in the evening.
CCC members awoke at 6 a.m., cleaned out their wood stoves and made their beds (which passed inspection only if a commanding officer could bounce a quarter off the mattresses) and worked until the evening. On weekends, bands such as the Tune Wranglers and South Texas swing king Adolph Hofner played music for dances, and twice a week the camp showed movies. Some CCC camp members played baseball and volleyball. "And there was a boxing ring," recalls Garner. "If there was a disagreement, they would go in and work it out there."
One time, the camp took its disagreement with the kitchen staff not to the boxing ring, but to a modified picket line. "I drove in one day and everybody's on the lawn a-sitting and laying down the whole company. They were on strike," Garner says. "They didn't like the food. After an hour or so, they locked the door and the boys went back to work in the afternoon with no lunch. Later, they got a man from a cooking school at Fort Sam to teach them how to cook a little better. I didn't think the food was bad."
click to enlarge
Edward Tackett joined the CCC when he was 16 and worked as a surveyor near Fort Griffin. "It was great camaraderie," he told an oral historian from Texas Parks and Wildlife during a CCC reunion last month. Tackett later served in World War II, the Korean War, and Vietnam.
(Photo by Lisa Sorg)
On Garner's first day in the CCC, he was sent to pick up lumber near Waco. On the way back, he stayed at a CCC camp in Temple, which was full of World War I veterans. With an average age of 40, the vets technically were too old to serve in the CCC, but eventually 225,000 WWI vets enrolled without age restrictions. They worked according to their ability and physical health. "Often impaired in bodily health and mental stability by their war experiences, thousands of former soldiers had endured a long period of hopelessness and were among those hardest hit by the Depression," Salmond wrote. "To many veterans, the CCC became a rehabilitation center, a place where they could regain health and self-respect."
During his two-year tenure, Garner worked as a trucker, mail carrier, ambulance driver, and doctor's assistant. He hauled lumber, groceries, 300-pound blocks of ice, and film reels, and chauffeured fellow CCC members to Uvalde for Sunday church.
Throughout the nation, CCC camps jump-started local economies by purchasing food, supplies, and other commodities from merchants. The same held true for Uvalde, located about 30 miles from Garner State Park. "We had quite an impact on Uvalde," Garner says. "We went there every day."
After the town doctor in nearby Leakey left, the camp also served as a de facto medical center for area residents and park visitors. Injuries were common at the CCC camp and on local farms: A CCC member died after a cypress tree he'd been cutting fell on him. A local girl who had injured her arm arrived with it wrapped in a Life magazine. Another local man had nearly cut off his toes with a cedar ax. As a doctor's assistant, Garner sewed up wounds, treated broken bones, and transported critically ill patients to San Antonio and Uvalde.
click to enlarge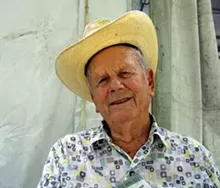 Orville Keilman, 89, worked in the CCC Company No. 840 at Livingston, Texas. He now lives in San Antonio.
(Photo by Lisa Sorg)
"People knew they could be treated there," he says. "We helped people and they accepted us as normal human beings they'd associate with. I had heard there were other places not so accepting of people."
There were also racial tensions, not in the camps, but between local politicians and the federal government, over the inclusion of blacks in the CCC. Although a non-discrimination clause had been written into the legislation that formed the CCC, townspeople and their elected officials, particularly in the South and Texas, resisted integrating the CCC camps or forming ones for African Americans. (Native Americans were allowed in the CCC and generally worked on projects on reservations.)
Although no blacks worked in Garner's camp, about 50 percent of the men were Hispanic. "We worked side by side. There were no problems," Garner says. "But at dances, we didn't intermix. They'd have their dance and we'd have ours."
By 1940, the CCC was winding down. As the economy improved — the unemployment rate had decreased to 10 percent — and World War II began, enrollment dropped as many CCC members were drafted, joined the military, or went back to work.
click to enlarge
James Garner as a young man at Garner State Park.
After his stint in the CCC, Garner worked a civilian job at Kelly Air Force Base, and was later drafted and served in the Marine Corps, where he studied radio communications. The CCC helped prepare him for military service, he says. "It was beneficial. I knew what was coming."
CCC critics, including some CCC members themselves, pointed out that, while men learned new trades in camp, those skills didn't guarantee them better jobs on the outside. "I'm lucky," says Garner, who later worked for Alamo Aircraft in his 70s and early 80s. "If I'd chipped rocks at the CCC, that's all I would have ever learned. I gained a lot of experience; it was a turn of fate."
Garner's family also benefited from his CCC service. With the $22 Garner sent home from his salary each month, his mother left Eagle Pass and traveled to San Antonio, where she rented a small room on Avenue A behind the First Baptist Church. She attended the Johnson Beauty School in the Majestic Building and later became a licensed beauty operator and opened her own shop.
The CCC, and the era in which he lived, helped Garner become self-reliant. He and his wife of 63 years, Tressie, still live in the wooden South Side home Garner built — all the doorways still meet at right angles — in 1947. On the kitchen table, he unrolls a sepia-toned photograph of his CCC company dated October 20, 1938. Two-hundred young men are sitting and standing in a semi-circle; Garner is in the front row, grinning, with his white socks peeking rolled down at the ankles.
"I don't know if the CCC would work today. Society is different. People are more self-centered," he says. "Discipline is the most important thing I learned: to take orders and respect authority, to be honest and do a day's work. And to get along with those around you." •
By Lisa Sorg