Four critics take their notebooks on a tour of some of San Antonio's most notable installations
Under the practical title "design enhancement," public art has become a staple of city development. The airport renovations, the new animal-care facility, the Brackenridge facelift, and library expansions, to name just a few, include art installations selected by a committee from RFPs. All told, the city has spent almost $4.8 million over the past decade, and this total doesn't include private projects and donations such as the giant votive candle mural at the Guadalupe, and the Torch of America that anchors Convention Plaza downtown. The City is currently accepting proposals for a $75,000 public-art master plan.
click to enlarge
Advocates say public art enhances the city's image and drives real-estate growth. Following a Current story about new development on South St. Mary's and Pereida streets, Office of Cultural Affairs Director Felix Padrón remarked that the city had sponsored design enhancements along those thoroughfares — most notably Anne Wallace's pocket-park installations.
We're not going to delve into the chicken-egg debate here. We wanted to take a look at some of the most notable — and noticeable — examples of San Antonio public art from a (mostly) purely aesthetic perspective. Does the Torch deserve the verbal beating it often gets? Are the Light Channels worth the $155,000 we ponied up? Is public art by committee less compelling than the personal vision expressed in Reverend Seymour Perkins's ongoing yard-art installation? We asked a writer, an artist, a philosopher, and a regular Joe to take a tour and share their thoughts. The final grades are an average of grades awarded by the four critics. Names have been changed to protect the opinionated.
Elaine Wolff
---
click to enlarge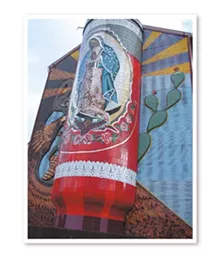 Our Lady Of Guadalupe Veladora
1300 Guadalupe Street
Artist: Jesse Treviño
Completed: December 2003
Price tag: $300,000
Who Picked Up the Check: The Guadalupe raised private funds
Controversy: Critics, including former GCAC employees Kathy Vargas and Pablo Miguel Martinez, criticized the mural's religious association and asked whether the center should be spending so much money on an art installation while simultaneously cutting staff and programming because of funding shortages.
The Writer: I actually find this one to be kind of tacky and over-the-top.
The Philosopher: But that's what's so good about it.
The Writer: You think?
The Philosopher: Well, the layers, the details, too. The craftsmanship is nice. It's intelligent.
The Everyman: It should be in a really big H-E-B aisle.
The Philosopher: I think as far as public art goes, it's approachable, it's spectacular
The Artist: It's sculpture, craft, and painting.
The Writer: So it's approachable, spectacular, and vernacular. Do you like the fact that you can't see the garden benches from the street because then it's a surprise?
The Philosopher: If it's closed, it's closed to traffic, which our traffic in this society is cars. You have to be involved with this building to be a part of it, so that's kind of a downside.
The Artist: What are you talking about?
The Philosopher: I just have a traffic issue.
GRADE: A-
---
click to enlarge
Rev. Seymour Perkins's Yard-Art Installation
Corner of Nevada and South Hackberry
Artist: Reverend Seymour Perkins
Completed: Ongoing
Price tag: Indeterminate
Who Picked Up the Check: The Reverend
Controversy: Perkins takes on crime, sin, and corruption in his East Side neighborhood with pointed commentary
The Writer: I like that animal head over there. What do you think is his organizing principle?
The Philosopher: It seems to me to be the community. Like this whole "Carl Lee Hill was murdered last Friday." There's a big sign over there: "Create a fund for Carl Lee."
The Writer: I like the fact that it changes over time; it gives people a reason to keep coming back to check it out, which ties into what you're saying about being engaged.
The Philosopher: It really is about the neighborhood and what's happening here, and we would not even know the name Carl Lee Hill, or the fact that he was murdered, or the fact that anyone cares enough to try to do something about it. But then again, if every neighborhood was rampant with this stuff it would drive me crazy. Like, Oh my god, some of you, go to school, go to school!
The Writer: But if they go to school, they'll probably make it big and red.
The Artist: In one respect it's talking to the whole community, but then it's giving us this feeling like we don't belong there, but I don't know if that's us or him.
The Philosopher: I don't see anyting in there that says "get out" or that's exclusive. In fact it's inclusive in that we're in the neighborhood.
The Everyman: In terms of what it's trying to say I would give it a B.
The Artist: It's self-critiquing, too. Like that whole thing, the hookers' bench, and the "buy crack at the jailhouse." I appreciate those things; it's not like they I don't know, I don't want to get into it.
GRADE: B+
---
click to enlarge
Torch Of Friendship
Intersection of East Commerce, South Alamo, & Losoya
Artist: Sebastián
Completed: June 2002
Price tag: $650,000
Who Picked Up the Check: La Asociacion de Empresarios de Mexico and the Mexican government.
Controversy: A commentary published in Voices of Art warned that wealthy Mexicans were trying to impose their culture on San Antonio rather than embracing the city's Mexican-American heritage. A member of the Empresarios privately joked that one day God will pick up the Torch and use it to smash the Alamo.
The Everyman: It's all twisty and orange.
The Artist: It's actually very art-nouveau.
The Writer: I think as a piece of public art it works very well because it's eye-catching. People are going by very fast and it makes a strong impression.
The Artist: This is why Dr. Chiego wanted that big red Liberman `at the McNay`, because red metal equals public art.
The Philosopher: When I was in design school, they told me, If you're really not sure about it, you should make it big, and then to really be sure it's gonna be a hit you make it red or black It's easy and approachable, and that's what the public needs.
The Artist: It's like a street sign, a red sign you don't ever have to explain a street sign, you just react.
The Writer: Everyone should declare up front what their personal biases are for public art. I think I'm hearing from the back a preference for the small, detailed things that you really get up close to and look at.
The Artist: I don't know, I think sometimes those installations where you have to follow treasure maps and shit, I don't have time for that.
The Philosopher: I guess I like public art that is more personal and it becomes part of the public and it's usable, interactive.
The Artist: But public art is part of an advertising program. You have to be able to show an image of your city and recognize what city it is right away.
The Philosopher: It works; it's average, though.
The Artist: The city's average!
The Philosopher: That's a good point. We are average, and if we want to be above average, do we want to be challenging in any sort of way, or do we want to be just slightly palatable?
GRADE: B-
---
click to enlarge
Light Channels
East Commerce and Market streets at the I-37 underpass
Artist: Bill Fitzgibbons
Completed: May 2006
Price tag: $155,000 (the city's portion)
Who Picked Up the Check: TXDOT, Bexar County and the City of San Antonio
Controversy: Some critics have said privately that it's not art so much as a big PR investment for Sunset Station and other near East-Side businesses.
The Artist: I don't like the metalwork; I just like the lights. I don't know what the metal's supposed to be doing, unless it's hiding the working parts. But it looks like the ship Darth Vader rode in
The Philosopher: Well, it smacks of the '80s.
The Artist: Stay on target, stay on target
The Everyman: They look like death cannons.
The Philosopher: But at night it does make it quite exciting to pass through there to go to Sunset Station and the more we can encourage foot traffic, the better.
The Artist: It's the only one in town that's experiential. In a sense it's too bad that it doesn't work during the day, so you've only got a half-time thing. But I like that it has movement and it pushes light — it's kind of Flavin-esque. Because not everyone wants to go to Marfa and stand there and look at a blue tube. Plus, really, going through it is like being reborn.
The Philosopher: There's a stretch! I mean, it's easy. It does work on that level, so I think it's at least a "C." It's unfortunate that it only works at night, but then it doesn't really exist during the day, other than it's painted blue.
The Writer: I'd give it a "C" I think, because in the daytime I think it's downright ugly. But I do like the way it glows at night.
The Philosopher: Which is technology that can be used at any auto show.
The Writer: I think that a lot more could have been done with it. And I agree that its strength rests to some degree on a gimmick.
GRADE: C+
---
click to enlarge
Glorieta
Brackenridge Park
Artist: Anne Wallace
Completed: July, 2006 (official date)
Price tag: $60,000
Who Picked Up the Check: City of San Antonio
Controversy: None yet, and we hope the discussion below doesn't provoke any.
The Philosopher: Look at the approach on this. It's really nice and the fact that they've planted some new trees around it.
The Artist: Those are redbud pansies. In part it's about the glory hole. It's called "Glorieta" and she's making a comment on the fact that
The Philosopher: Sex in the park? Really? Nice!
The Artist: And those bloom pink and they're pansies.
The Philosopher: God love Anne Wallace!
The Writer: I love the way she does her research. She always comes up with those secret histories `"Glorieta"` is also what they call the giant traffic circles in Mexico.
The Artist: I don't need `the wooden tree rings that lie to the south of the circle`
The Writer: I like how they break the circle; they pull you out.
The Philosopher: It's like you said: It's about traffic, it's about circulation.
The Writer: And the fact that it's a circle makes it feel magical, a magical clearing in the forest.
The Artist: I think it gives the park self-respect.
The Philosopher: And it has that ritual quality. It has places to sit and be a part of the space, but it's still part of the park, part of the nature. Look at that rock over there that's carved into a bench.
The Everyman: Oh, that's cool.
The Philosopher: It has that sense of adventure, too. You stumble on it and you can be here. Like the boys in the park. It's really an interesting kind of bridge between underground, socially unacceptable behavior and acceptable gathering in a youthful, really kind of playful way.
The Artist: I don't know. It's not that big red flashiness. I love her sidewalk piece, but I also love that this one is completely silent and it's not trying to tell you anything. Reverend Perkins is trying to tell you something and you're working hard to get the message, but I think sometimes silence is really nice.
The Writer: I feel like I get everything want out of public art, everything I hope for for public art, out of this.
GRADE: A-