Age is nothing but a number for the players of the Men's Senior Baseball League
Let's put this in perspective. In 1939, when ailing legend Lou Gehrig took himself out of the New York Yankees lineup after 2,130 consecutive games, Adolph Hoffman was a junior pole vaulter for the Somerset High School track team.
Three years ago, when Hoffman showed up at a tryout for the San Antonio Men's Senior Baseball League, veteran players assumed he was merely inquiring on behalf of his son. After all, how often do you see an octogenarian shag fly balls or drive a sinking, knee-high fastball to the warning track?
click to enlarge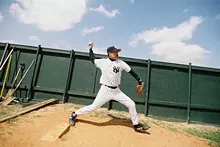 Mario Reyes has played baseball for 46 years, many of them in the professional leagues of Mexico.
(Photos by Mark Greenberg)
Hoffman, 83, underwent triple-bypass surgery in 2001 and tore the cartilage in his knee two years ago while rounding the bases at the Men's Senior World Series in Phoenix. But he's back this season for another whirl with the MSBL, the oldest player in a league in which 50-year-olds are affectionately called "babies."
Like many of his cohorts, Hoffman gave up the game for decades, and assumed he'd never play again. But the lure of a hardball league with divisions broken up according to age (28+, 38+, 48+, etc.) brings these graying men of summer back for a chance to recapture a piece of their youth, if not always their youthful physiques. Most of these players are realistic about their ages and physical limitations, and they realize that the fate of the world doesn't hinge on their team's success. But when they talk about returning to the game, they could just as easily be talking about seeing their first love at a high-school reunion and rekindling a long-forgotten romance.
One of the league's most enthusiastic members is Nelson Wolff, Bexar County judge and former San Antonio mayor. Wolff joined the senior league 12 years ago and continues to play at the age of 65. At a season-opening league banquet at Pedrotti's North Wind Ranch, Wolff takes the stage and speaks of baseball with the romantic reverence usually reserved for a George Will column or a Ken Burns documentary series.
"Baseball is a great game," Wolff tells the assembled crowd of players, managers, and umpires. "It's an American game. It's apple pie and motherhood. It's Cracker Jacks, cold beer, and hot dogs.
"Our great-grandfathers, our grandfathers, and our fathers played that game. You and I are playing that game today with our children. It's a lifelong game. It's a game where every week we find an oasis for us, between the white chalk lines, where we find camaraderie, competition, and ourselves."
No one talks about basketball or football this way. Baseball may be mired in an ongoing steroids scandal that has tarnished the achievements of this generation's greatest sluggers; it may lack the hip-hop glamour of basketball and the cathartic aggression of football; but baseball represents tradition. It's the one major American sport usually handed down from fathers to sons, and it's the one sport that really rewards students of history.
Wolff has spearheaded San Antonio's recent effort to land the Florida Marlins franchise, and he's obviously motivated by more than the prospect of an economic stimulus for the city. Baseball is a passion for Wolff and he argues that for all of San Antonio's post-Katrina lobbying for the New Orleans Saints, professional football is not as natural a fit for the community.
"I have nothing against football. I like it; I played it. But let me tell you, the heart and soul of San Antonio is baseball," Wolff tells the banquet gathering. The audience responds with thunderous applause.
The Marlins' decision to remain in South Florida or relocate to South Texas will be based on the usual factors: the construction of a new, revenue-generating ballpark, and the presence of sufficient corporate muscle to sustain a franchise.
But if the team's ownership needs proof of baseball's viability in the San Antonio market, the Men's Senior Baseball League makes a pretty persuasive case. For one thing, the SAMSBL is a marvel of cultural and demographic diversity. You'll find doctors, lawyers, construction workers, and custodians cheering each other on. You'll find a 28-year-old bachelor dissecting the finer points of a squeeze bunt with a 60-year-old grandfather. And you'll find veterans of the Mexican leagues, who speak practically no English, bonding with natives of the Midwest, who speak no Spanish.
These players receive no money for their efforts and pay $400 annual league fees. They've pitched in to refurbish one of their most popular game sites, Sanchez-Spencer Field, transforming what one player described as a "dirt pit" into a legitimate baseball park (even painting the green-and-yellow outfield wall). And in many cases, they battle the encroachment of the aging process with strenuous workout regimens.
Yet, with most of them, you get the sense that they'll gladly play as often as their schedules (and bodies) allow.
Glenn Grossenbacher, 52, is a federal-false-claims attorney who plays catcher for the 48+ Crusaders. Last year, he also participated in the 28+ and 38+ divisions, and even played a few games with an Austin team. "So really I'm an amateur baseball player, but I do get some law practice in," he says with a laugh.
click to enlarge
58-year-old Jesus Muniz gets high fives from his teammates after hitting a home run over the left field fence.
"We all get to know each other in this league," says Earl Smith, 59, an emergency-room physician who plays for the Crusaders in the 48+ division. "I know their first names, half of them I don't know their last names, and more than half I don't know what they do for a living, and it doesn't matter.
"You just come out here and we're all ballplayers."


The Men's Senior Baseball League formed in 1986 in Long Island, New York. The concept was the brainchild of Steve Sigler — father of Sopranos star Jamie-Lynn — a baseball fanatic then in his mid-30s. Sigler felt frustrated by the fact that the only viable playing option available for adults who loved baseball was to join a slow- or fast-pitch softball league. He started with four teams and, with the help of national media attention, has overseen an expansion that currently includes more than 45,000 players around the country. Sigler's league mantra, "Don't Go Soft: Play Hardball," overtly makes the case that just because a player has hit middle-age (or beyond), he doesn't have to settle for a watered-down version of the game he played as a kid.
The SAMSBL has developed over the last 12 years under the leadership of Skip Bradley, a tireless advocate for the game whose efforts earned him induction into the national MSBL Hall of Fame last November at the World Series Banquet in Phoenix. During his tenure, the SAMSBL has sent nearly 200 teams to national tournaments and 103 teams to the World Series, with two local teams earning World Series championships. Bradley earns praise from the league's rank-and-file for maintaining high-quality fields (a problem for the MSBL in many cities) and insisting on a strict code of conduct for players and managers. He prohibits alcohol and chewing tobacco in the dugout, and shows no tolerance for team forfeits: "Forfeits are poison," he states on the league's website.
Bradley's players admire him, but they also enjoy making wisecracks about him. Before the league banquet they joke about his penchant for making long-winded speeches. And his teammates on the Crusaders — for whom Bradley pitches — use him as an example of why the league allows courtesy base runners. "Skip is slower than molasses in January, so we run for him," one says. Another recalls Bradley being thrown out at first base a couple of years ago after hitting a screaming line drive to the outfield.
Bradley is hardly the only speed-deficient runner in the SAMSBL. Ben Flores, an umpire for the league, while working a wild slugfest between the Yankees and the Crusaders, says: "This is typical of the 48-and-over league. They can hit the hell out of the ball, but they can't run or catch."
Grossenbacher notes that older players who lack healthy wheels often end up playing first base. "The way we're going," he jokes, "we'll have a whole team playing just first and second base."
Grossenbacher is a graduate of Churchill High School who played "a little bit of everything" as a teenager. With his long white hair combed back, he bears a vague resemblance to former Oakland Raiders quarterback Kenny "the Snake" Stabler.
When approached about playing in the senior league years ago, Grossenbacher declined, considering himself too old to get in adequate shape. "But I had a lawyer friend who I grew up playing basketball with," he says. "We were very competitive. I ran into him one night and he told me he was playing baseball. So I said, 'Man, if you can play baseball, I can still play baseball.'"
Mario Reyes, 57, pitches in the 48+ division for the Yankees and is a prime example of a baseball lifer who found his way into the league. The diminutive Reyes grew up in Nueva Rosita, in the Mexican state of Coahuila and has played baseball for 46 years. After moving to San Antonio in the early 1970s, Reyes would work various contracting jobs for six months a year, and then spend the other six months playing baseball in the professional leagues of Mexico.
"In Mexico, I played left field, but right now my legs aren't too good, so I pitch," Reyes says. "Playing hurts my legs, but I like it too much `to stop`."
Reyes is a crafty junk-baller with five effective pitches, rarely throwing hard, but keeping batters off-balance with his ever-changing speeds and locations. Few pitchers in the league can throw harder than 80 miles per hour, and most SAMSBL hitters you talk to say they're more confounded by wicked breaking pitches than blazing fastballs anyway.
One of the Crusaders' pitchers is Dick Evans, 64, a retired Air Force pilot and a 1960 graduate of Jefferson High School. Grossenbacher points out that Evans generally experiences greater success when pitching to players younger than those in the 48+ league, because young hitters tend to get anxious and get too far ahead of his off-speed pitches.
Evans recalls that the San Antonio School District didn't offer baseball when he attended high school, so he ran track at Jefferson. Subsquently, he competed in the pole vault at Texas A&M.
"I started playing after my kids grew up and I started coaching Little League and Pony League," Evans says. "I'm just lucky. People ask how I do it and I say, 'I chose my parents well.' I haven't really had any bad injuries. I've always worked out. I go to the gym about four days a week.
"We all slow down. You can't make the throw from shortstop to first as hard as you used to but the guy can't run as fast as he used to. So it all equalizes."
Senior league players love to tell stories of their encounters with greatness and/or celebrity. The talk about seeing former major-league stars such as Bert Campaneris and Bill "the Spaceman" Lee compete at national senior-league tournaments ("Lee was a real smart-ass," Evans says.). They describe a senior-league team a few years back composed of former University of Texas players, with even the smallest player looking a bit like Jose Canseco. One player talks about pitching to — and getting rocked by — former Spurs coach Doug Moe.
For some, like Richard Sarfin, a Long Island native who served in the Air Force, there's a fantasy-camp element to the senior league. Sarfin, 58, has been a New York Yankees worshiper since childhood, and now, as a member of the 48+ Yankees, he gets to wear the very same pinstriped uniform he dreamed about as a kid
Smith, whose medical expertise makes him a sort of unofficial trainer for many teammates and opponents, had not played baseball since his sophomore year of high school. "I'm really living a dream," Smith says.
"The toughest thing," he adds, "is remembering you're not 18. Because I'd go out and stretch like I used to stretch in track and I'd pull a hammy or a quad. I'd pull muscles I'd never pulled in my life. So I started doing some weight training to get the muscle balance back and I was still pulling muscles. And my wife suggested, 'Why don't you do yoga?' I'm like most guys. I thought: 'Yeah, right. Sit in weird positions and think strange thoughts.' But I got this video of yoga for athletes. Well, I don't know whether I'm an athlete or not, but I do it before every workout, every practice, and every game, and it's made a world of difference."


This year's SAMSBL's banquet feels like a combination of a player appreciation night, a pep rally for San Antonio's campaign to reel in the Marlins, and a karaoke show. There's a performance by an Elvis impersonator named Jeff Warren, who is also one of the league's perennial players. Bradley hands out awards and speaks emotionally of Tommy Yates, his right-hand man who was killed in an auto accident last August on his 52nd birthday.
Hoffman, the league's oldest player (and the Jim Thorpe of Senior Olympics competition, repeatedly dominating the field in pole vaulting, shot put, high jump, long jump, discus, and javelin) discusses his remarkable longevity.
"I was just reared right," says Hoffman, a World War II veteran who later farmed and served as the president of NWB Foundation, a company that drilled the foundation for the Tower of the Americas. "My mom and dad were terrific people and they were strict. They just taught us right from wrong, and if we got out of line, we suffered the consequences."
Bradley introduces Wolff to the crowd, and the county judge recounts the series of events that have made San Antonio a serious contender for a Marlins franchise which is struggling in South Florida. He reminds the audience that San Antonio's task is formidable, particularly considering that only one franchise (the Montreal Expos) has relocated in the last 34 years.
"We're going to work hard at it, and all of you can be a great help to us," Wolff says. "If we negotiate with them and we have to go to the voters, your help will be extremely important as we organize this community to support major-league baseball. If we don't get it today, we're not going to see it in our lifetime, I don't think."
At the end of the night, Bradley thanks the attendees for coming, and looks for Wolff in the crowd. "Nelson, I don't know if you're still here," he says. "But I think the first game in the Marlins' new stadium after it gets built should be played by the Men's Senior Baseball League."
He won't get an argument from Adolph Hoffman. •