At Mina & Dimi's Greek House, every other plate is smashing
If cinema culture is any clue, Americans love to blow up things. With the exception of an occasional food fight (the one in Animal House is classic), eating and explosive encounters rarely coincide (except, of course, for Mr. Creosote in Monty Python's The Meaning of Life). But at Mina & Dimi's Greek House, the urge to smash and the desire to dine merge perfectly during the restaurant's regularly scheduled wine-tasting parties. As the belly dancer gyrates, plates are reduced to rubble in an orgy of shimmering sequins and shattering plates.
click to enlarge
Kalamarkia (fried squid) is a speciality of Mina & Dimi's. The menu recommends a glass of Retsína, a resinous Greek white wine to accompany the squid.
(Photos by Laura McKenzie)
Remove the flying saucers, and ours was just an ordinary weekend evening at Mina & Dimi's: The noise level is punishing, the belly dancer is in your face, and the lighting in the net-draped dining room is low enough for the menu to require auxiliary illumination. Arrive with the proper attitude, and this is all just fine.
click to enlarge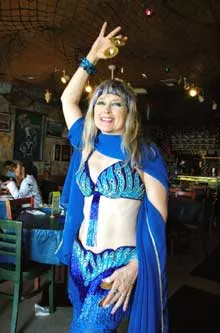 Belly dancer Debrah Wilson has preformed at Mina & Dimi's for 10 years. Dancers are known to break plates and entice diners to participate in their Friday and Saturday performances.
Among the meze, the spanakopita, a typical Greek appetizer, begs to be tried but not necessarily repeated. The pastry is flaky and the accompanying dill sauce is brightly herbal, but the spinach and feta filling is basically bland, with no hint of "Greek seasonings." On the other hand, the kalamarakia, better known to many as fried squid, provides a welcome variation on what's becoming a tiresome restaurant theme; these tiny critters are both crisp and tender, and the dense tzatziki sauce serves them well. As for the menu's suggestion of retsina with the squid, that depends on your tolerance for turpentine: This resinous white wine is definitely an acquired taste.
click to enlarge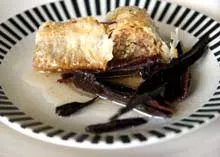 Mina & Dimi's baklava is so syrupy good it'll make you want to break something.
Greek fries accompany many plates and they're a bore, soggy and bereft of life-saving seasoning. The oven potatoes, on the other hand, are sensational. Same goes for the pitas. Though they don't make the flat bread in-house, they do grill it, and the result is almost pillowy - the perfect wrapper for anything on the beef, pork, or chicken combo platter. We picked pork, which comes with a pile of gyro meat, and were happy as pigs in, well, pita. The shish kebob provided some of the best pig I've had in ages, and though the gyro meat paled in comparison, it was nevertheless a notch or two above the norm and great with the ubiquitous tzatziki.
You could also pair the pita with the laudable lamb souvlaki that comes on the princely Lamb Combo Platter. The New Zealand baby rib chops, however, should simply be eaten out of hand; no sauce, no wrapper, no nothing required - they are that good. In comparison, the trio of lamb chops that rounds out the platter is gamey and dry; eat it with the grilled tomatoes and onions that form the bed of the fajita-style platter. A glass of Calliga, the house Greek red wine, comes in handy, too. It's not bad for cheap red.
Mina & Dimi's Greek House

7159 Highway 90 W.
674-3464
11am-8pm Mon-Thu;
11am-9pm Fri & Sat
Price range: $8-17
Credit cards
Bathrooms not
wheelchair accessible

Moussaka is another bellwether test at Greek restaurants, and it's often merely a mess of mulched eggplant smothered in bechamel sauce. Laurels to the layered rendition at Mina & Dimi's, an uncommon medley of oven potatoes, zucchini, eggplant, ground beef, and discrete bechamel. I'd only add a little black pepper.
If the moussaka has belly-dancer bounce, the unorthodox rolled baklava in orange syrup has sequin-like sparkle. Yes, it's the usual nuts and honey, but the syrup adds a new dimension. It makes you want to smash a plate in response. •