click to enlarge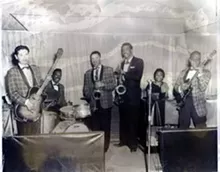 June Parker (second from right) and Spot Barnett (third from right) in a performance photo circa 1963.

San Anto Music Preservation Project collects oral histories
of SA legends
Saxophonist Spot Barnett has a soothing way of speaking: slow, smooth, and jazzy. And to hear him tell a story - of being hit on the head with a bowling pin, of hearing Charlie Parker on the radio for the first time, of performing "Mambo No. 5" - is to be swept away to another time and place.
Last year, Barnett told much of his life story in a video interview as part of the San Anto Music Preservation Project, whose organizers are recording oral histories of the city's music legends.
A collaboration between San Anto Cultural Arts and Conjunto Taller, the Music Preservation Project chronicles the evolution of the modern SA music scene from its mid-century roots to its '60s heyday to today's second- and third-generation players.
As a crossroads for multiple styles - Tejano, conjunto, Chicano soul, jazz, R&B, country, and blues - San Antonio music became integrated well before all races could drink from the same water fountain.
click to enlarge
Toby Torres Jr. and George Gonzales reminisce about the old days. "Here in Texas you have a lot of friendly musicians," says Torres. "It's all for the good times." (Photo by Mark Greenberg)


"Doug Sahm is a perfect example," says Manuel Castillo, San Anto Cultural Arts director, who spearheads the project. "Here's a white kid on the East Side playing fiddle and steel guitar on the radio at age 5, and he grew up down the street from R&B and soul players. Germans, Czechs, Poles, blacks, and Mexicans were mixing musically. The perfect ambassador to that is Doug Sahm."

Castillo, accomplished videographer Ray Santisteban, and several musicians, including George Gonzales, Rudy Lopez, and Toby Torres Jr., serve as interviewers and information sources to document San Antonio's musical legacy.

"We lost Randy Garibay and others, and no one ever captured their stories," Castillo explains. "No one ever sat them down and said, 'Tell us your life.'"

Now someone is.

In walks Bob Dylan. I've been playing black music all my life and I didn't know who Bob Dylan is. He's playing harmonica ... and he's not in synch with the music. We finally get the tune over and the guy splits. I say, 'Hey man, who's this Dylan guy? He can't play worth a shit.' 'That's Bob Dylan.' 'Who's Bob Dylan?' I don't know who Bob Dylan is, man. I live here in San Antonio.

— Jack Barber on meeting Bob Dylan in New York
while playing with Doug Sahm


Part ethnography, part musical reminiscence, the oral histories offer glimpses into small moments that comprise a lifetime as well as the pivotal events.

"When people are doing histories, they're doing politicians, sports figures, famous people of their times," says Santisteban. "It's a community history we're recording, with music as the thread. Working people happen to be musicians and through their stories you get a window into the life of San Antonians."

click to enlarge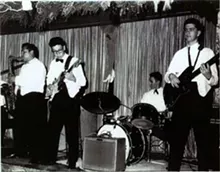 Jack Barber, far right, performing with the Del Kings, one of SA's legendary bands. Barber later went on to play with Doug Sahm in the Sir Douglas Quintet, and other bands.


That life includes long-gone SA landmarks, such as the Blue Note, now a Bill Miller's at the corner of Blanco and Hildebrand, where Jack Barber recalls meeting Augie Meyers. "Augie had a Prince Valiant haircut. The Beatles were out already and Augie already had semi-long hair."

In the interview conducted by George Gonzales, Barber embarks on hilarious tales: learning to dance "the Freddie" for the Hullabaloo show, introducing Flaco Jimenez to an ostentatiously dressed Elton John ("Who's the dude with goldfish in his shoes?" Flaco asked), performing at a black club in Del Rio, where everyone received his own bottle of Thunderbird. "We were doing all these black tunes," Barber explains, "and people are doin' the Alligator on the floor. They're begging us not to leave. I've played Carnegie Hall, the Hollywood Bowl, some big joints, but that place topped it all."

We had an upright piano in house ... This is where I started my interest in music. I had an older sister ... she was my first piano teacher. I would sit on stool with her and she'd show me different things on the keyboard. After she'd leave, I'd practice and pick it out. It got to where I could retain it ... I started listening to the radio. The DJs would play some black music and we'd try to remember as much as we could and we'd get on the upright and everybody would get a shot at it.

— June Parker, on learning to play piano at age 5


While many cities were markedly segregated before the Civil Rights movement, pianist and organist June Parker remembers San Antonio as more racially integrated, particularly in its music scene. She performed in the house band at a black establishment, the Eastwood Country Club, backing such national acts as Etta James, Ike and Tina Turner, and Gatemouth Brown. "When I played at the Eastwood it was outside the city limits. All races were coming. And after integration, around '62, it really got full of all races. People wanted to mix up. Music is universal. It will draw any color. It's just like a magnet."

Many of the musicians' stories center on experiences on the road, as they made the rounds of ramshackle Texas jukejoints and small San Antonio nightclubs that bore swanky names such as the Keyhole, the Ebony, or the Black Orchid.

When Parker performed with the Harold Stanberry Band, the quintet traveled in a Dynaflow Buick, which resembled a boat more than a car. "We'd get into that Buick and go," Parker told Manny Castillo. "Most of the time I'd drive. Most of the band drank and I didn't. I was the sober one."

Parker split her time between Texas and California, often driving to the West Coast by herself; she even unwittingly drove to Los Angeles during the Watts riots. "I didn't have a pistol. I didn't have nothing but trusting in God."

I was working at St. Gerard's Bowling Lanes in the basement of St. Gerard's High School in late '40s. And I got into a fight at the bowling lane with Leon Wilson. On the way home, he slipped up behind me and hit me with a bowling pin that weighed about five pounds ... They took me to Santa Christa Rosa and they lanced it. And where they shaved the hair didn't grow back for 40 years.

— Spot Barnett, on how he got his name


Several of the interviews are notable for their candidness. While speaking fondly of learning music - and playing his first solo - at the Bluebonnet Church of God and Christ, Barnett, one of SA's premier horn players, doesn't shy away from the 1967 Waco drug bust that landed him in prison. "I like to tell people that it's the best thing that ever happened to me. I was able to put my life in perspective I was able to completely devote my mind to music and discipline myself."

When the project gains some heft - the goal is to conduct at least 50 interviews and add to the body of work over time - organizers plan to deposit the material in an institution's archives and make it available as a multi-media presentation on a website.

Preserving San Antonio's musical legacy is a primary reason why Barnett, who performed with Sahm as well as led his own string of successful ensembles, agreed to be interviewed for the project. "We need to get the word out that people don't live forever, but books, words, and documentation do," he said. "And it's so important that somebody take note of what happens and who did what when. Else, when somebody dies without telling their story it is gone forever." •

By Lisa Sorg

Nine down, 50, 100, 200 to go

San Anto Music Preservation Project organizers have conducted nine video interviews with SA music legends, including,

• accordionist Sandy Sanchez, who mentored under the late Valerio Longoria

• guitarist Anita Espinosa, who started her career in the 1940s

• longtime bajo sexto and accordion player Juan Garcia

• multi-instrumentalist Rucco Villarreal

• bajo sexto master Toby Torres

• pianist and organist June Parker

• bassist, saxophonist, and bandleader Spot Barnett, who also performed with the Texas Tornados

• bassist Jack Barber, formerly of the Sir Douglas Quintet and other Doug Sahm combos

To contact San Anto Cultural Arts about the project, call 226-7466 or e-mail consafos@sananto.org. The website is www.sananto.org