February 20, 2019 Slideshows » News
Here Are Some Adoptable Animals at San Antonio Pets Alive! During National Adoption Weekend
It's National Adoption Weekend! So why not open up your home and take in a furry cutie that is currently cared for by San Antonio Pets Alive! From February 22-24, you can swing by SAPA!'s PetSmart location (8520 Fourwinds Drive) to adopt a new best friend. There will be adoption specials, goodies and door prizes for the first few adoptions. Best of all, there will be pets there!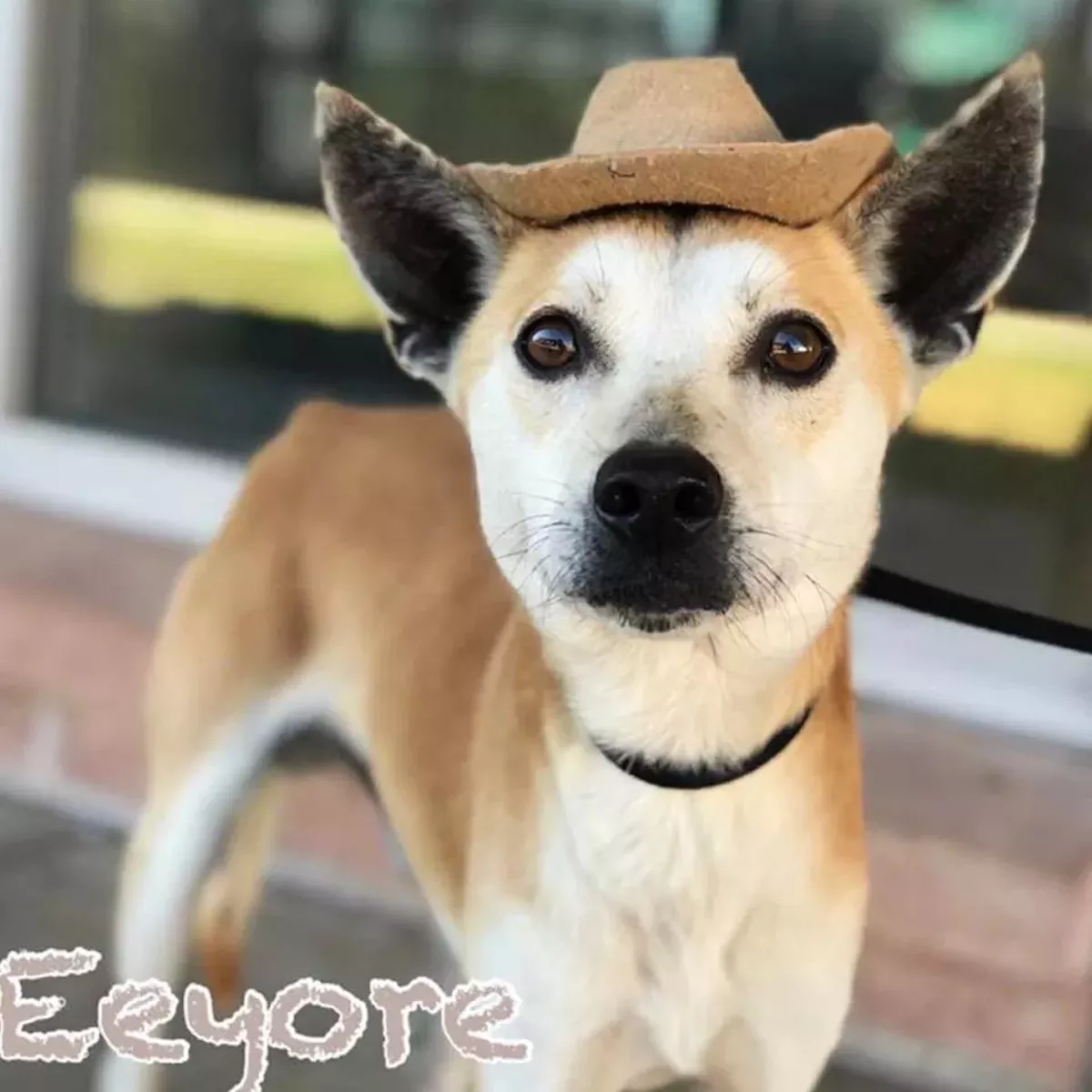 Eeyore
Howdy! Eeyore is a spunky one-year-old terrier mix that is ready to ride off into the sunset together! He can take on any rodeo and is a great fit for a smaller home or even an apartment (though he certainly won't complain about more space!) You may need to teach him how to square dance, but he's a quick learner and can astound you with what he can pick up with just a few lessons. Terrier mix, 1 year old.
Anise
This kitten's personality is shining through, a beautiful girl who is very curious of the world around her. Domestic shorthair, 5 months old.
Houston
Houston is adorable and very sweet. He will even offer his little paw to you as a handshake when first meeting someone! He is a little lover boy who is looking for someone's lap to sit on! Jack Russell Terrier mix, 5 years old.
Heart
Heart's name is perfect for this love bug of a girl. She absolutely loves going on walks and playing with humans and other dogs. But on those rainy days, she enjoys snuggling up and watching movies. Great with people. Retriever mix, 6 years old.
Allie
Allie has a very calm demeandor and is very sweet. She cant wait to find her forever family to play with. Shepherd mix, 3 years old.
Sammy
Sammy is a beautiful, sweet girl who will be your new best buddy and walking partner. She loves toys and loving up on people. Retriever mix, 1 year old.
Gina Rose
Gina Rose is a total sweetheart! She makes friends with everyone she meets. Her beautiful eyes melts hearts. Staffordshire terrier mix, 3 years old.
Honey Bunny
HEY! PICK ME! PICK ME! Honey Bunny is one happy girl, her tail is always waggin'. She loves to spend her time around people and giving sweet kisses. Staffordshire terrier mix, 1 year old.
Bree
Bree is the sweetest dog you'll ever meet! Everyone that meets her falls in love with her instantly. Bree is very intelligent and tries her best to communicate with you. She walks great on a leash and sits quietly in the backseat during car rides. Hiking is her favorite activity! Terrier mix, 3 years old.
Luke
Luke is the perfect candidate for someone looking for a mellow dog. He is extremely gentle and gives soft kisses. A total heart throb. Border collie mix, 2 years old.
Heather
Heather is a sweet little dog who really wants some lovin' in her life. She's the perfect candidate for your Netflix cuddle sessions. Corgi mix, 3 years old.
Louie
Louie is a mellow cat who is looking to spend his days with someone who loves him. Russian blue, 3 years old.
No No
No No is a big personality packed in a small body. He enjoys walks and playing with other dogs and toys. He's looking to be your new furry best friend . Chihuahua mix, 2 years old.
Lacy
LOVE SOME BIG EARS?! How could you not. Lacy is a sweet, mellow,friendly and lovable girl who loves going for walks and getting attention (including lots of cuddles!). She is housebroken and will patiently wait for a treat. Terrier mix, 4 years old.
JB
Jordan Brown (aka JB) is a handsome guy who knows how to draw you in. He loves to be scratched under his chin and seems to be a great cuddle-buddy to watch tv with. Black mouth cur mix, 5 years old.
Eggo
LEGGO OF MY EGGO! Just kidding, Eggo loves the attention. His long, soft fur is sure to impress you. Domestic medium hair, 3 years old.